This chic clothespin wreath project is a great way to get crafty with dollar store materials. This beautiful DIY magnolia clothespin wreath looks great from year round and requires next-to-no skill, making it perfect for any beginner.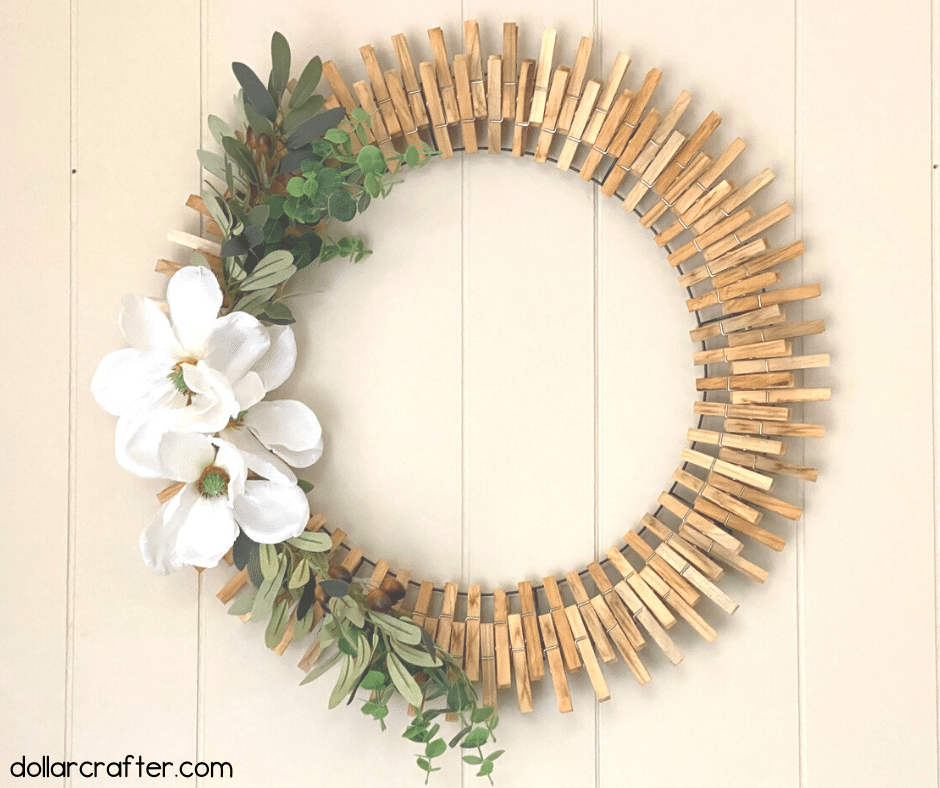 If you are trying to find a simple farmhouse styled decoration that just about anyone can complete, the dollar store clothespin wreath is your answer!
DIY Coffee Stained Clothespin Wreath
Supplies Needed:
36 Clothespins (Dollar Tree)
Coffee Grounds
White Magnolia Flower
Fig Bushel
Note: We chose to create our clothespin wreath using a magnolia flower and fig/eucalyptus greenery but you can easily switch this up to create a completely different feel! Grab whatever they have at Dollar Tree to make this a super affordable craft project.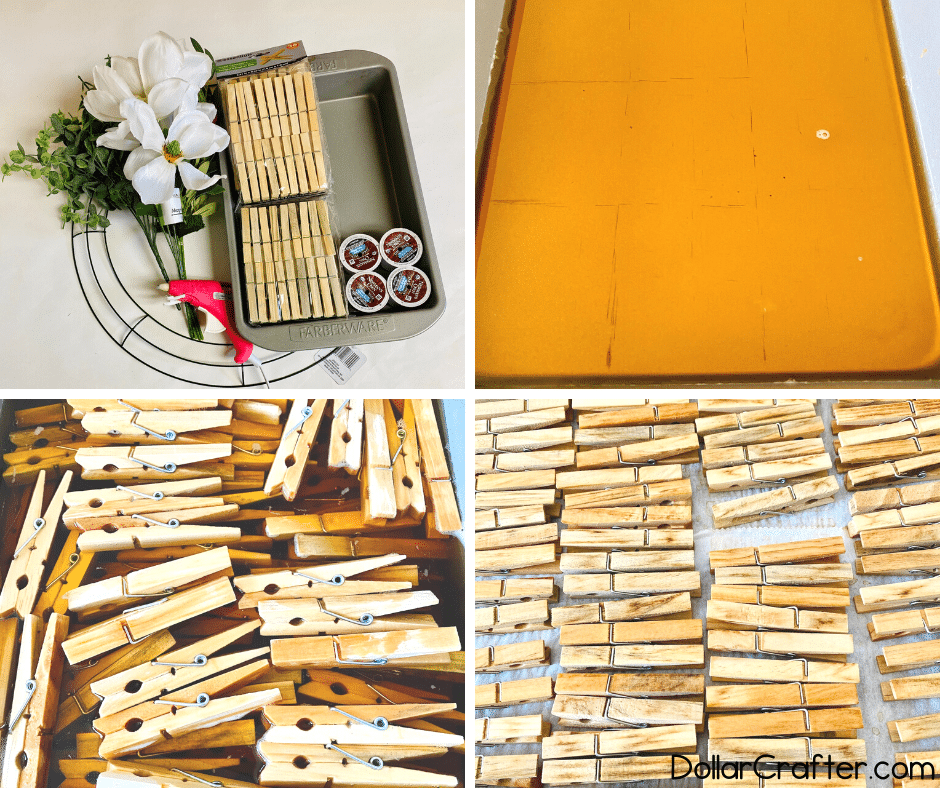 The longest part of creating this wreath was dying and then attaching the clothespins to the wreath form.
To get a nice caramel color on our clothespins we soaked them overnight. The longer you soak the clothespins the deeper the color will be. That said – be mindful of how long you allow the clothespins to soak so that you do not damage the wood and create splintering.
I love using coffee to stain our wooden crafts because it doesn't have any of those horrible fumes, doesn't get blotchy, isn't flammable, and you have more control over the outcome.
We have also used this method with our DIY Tiered Tray.
Once you have successfully dyed your clothespins then it is just a matter of alternating the wires where you clip the clothespins and then attaching the decorations with hot glue. Easy peasy with a super beautiful outcome!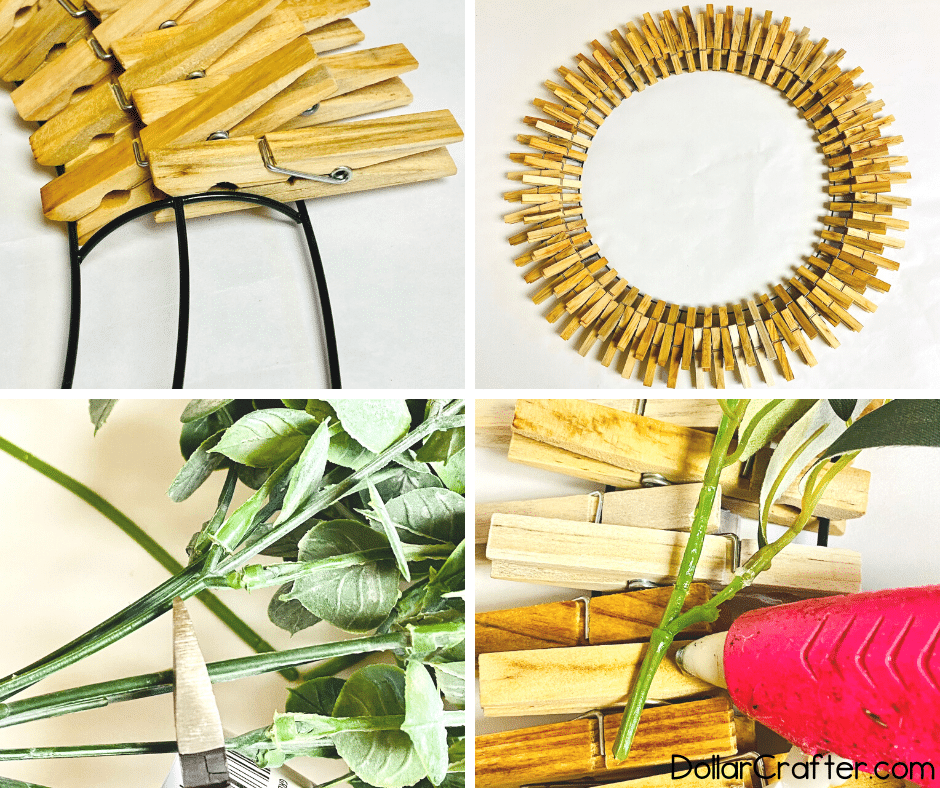 How to Make a Coffee Stained Clothespin Wreath
Ready to get crafting? You will find the full tutorial below!
Yield: 1 Magnolia Wreath
Coffee Stained Clothespin Wreath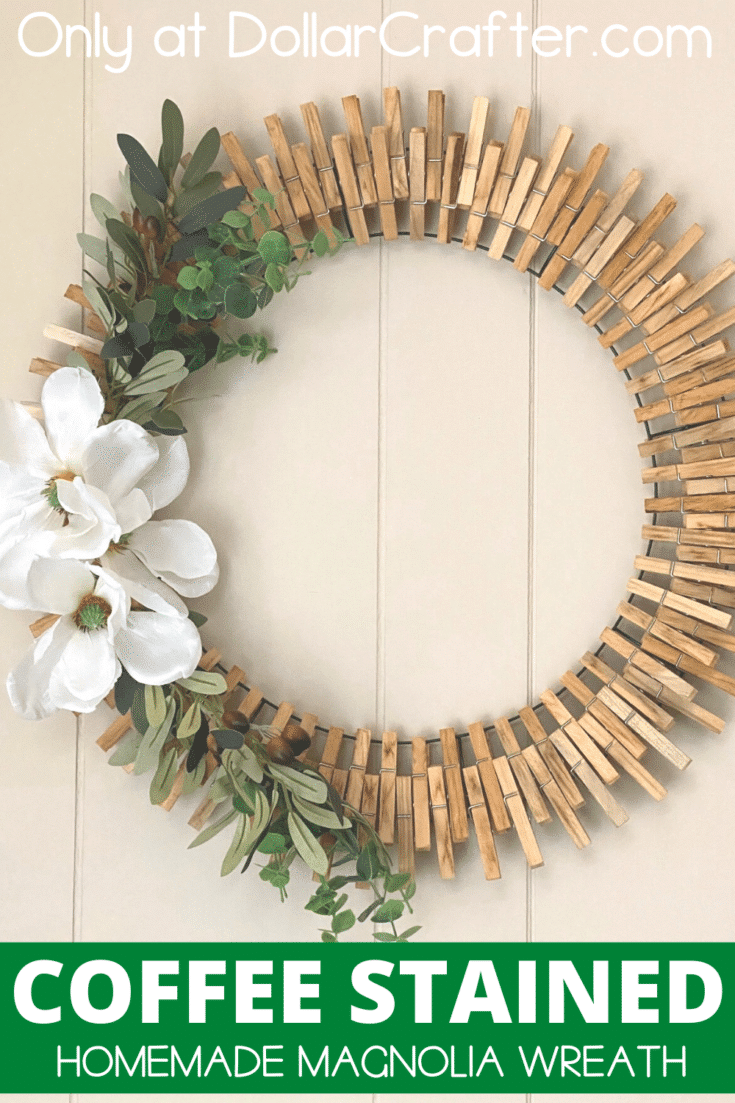 This beautiful DIY magnolia clothespin wreath looks great from year round and requires next-to-no skill, making it perfect for any beginner.
Additional Time
1 day
2 hours
Total Time
1 day
2 hours
45 minutes
Materials
18 inch wire wreath form, Dollar Tree
3 packages of clothespins, Dollar Tree 36
Glue Sticks
Coffee Grounds
White Magnolia Flower, Dollar Tree
Fig Bushel
Eucalyptus Bushel
Tools
Hot Glue Gun
Baking Tray
Wire Cutters
Drying Rack or Cookie Sheet
Instructions
Brew some coffee (used coffee grounds work) and let the clothespins soak overnight in a tray with the coffee to make sure they really absorb the color fully.
After they have soaked for a good amount of time, lay them
on a cookie sheet or something to dry. I put mine on a cookie sheet with parchment paper and put them in the oven for 2 hours on 200Degrees F to get them to dry faster.
Once they are dry you can start adding them to the wire
wreath form. Start by opening the clip and clipping it onto the first and second wire sections. The next one you only clip the first part of the clothespin onto the second wire section. Repeat until you have the entire wreath covered. This will use all of the clothespins from the 3 packages.
Next using your wire cutters, cut the fig branches and two pieces of the eucalyptus branches leaving just a few inches so that you can hot glue it down.
Then pop the Magnolia flowers off the stems (you don't
need wire cutters for this).
Hot glue the fig branches down first, then add the magnolia flowers and finally add the eucalyptus pieces to the top and bottom section.
Once dry put your wreath on display!
Notes
For more farmhouse wreath crafts visit DollarCrafter.com
More Wreath Crafts You Will Love!
Please Save This to Pinterest
Your shares are how this site grows and I am sincerely grateful. Know a friend who'd like this? Please share it on Facebook or save it to your favorite crafts board on Pinterest.