Create a beautiful homemade Easter Lilly Wreath with items you can easily find at your local Dollar Tree!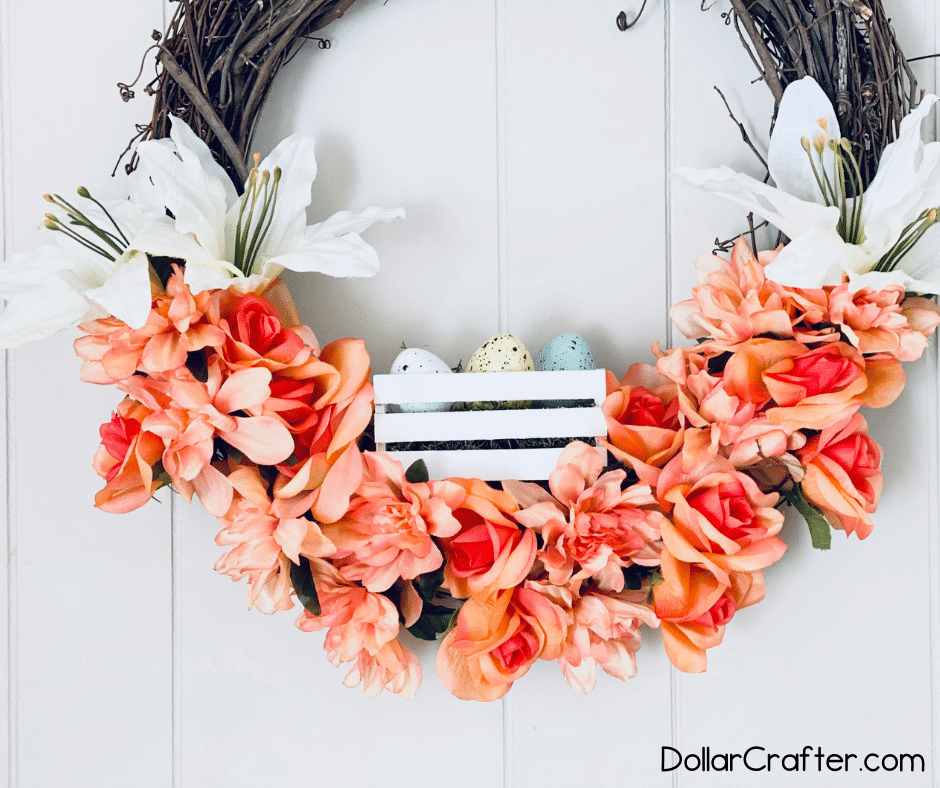 With Easter right around the corner, I have been itching to make a new wreath for my front door that would work for both Spring and Easter. This beautiful Easter Lilly wreath with Robin eggs was super quick to throw together, and if you ask me, it turned out beautifully!
We have been having a blast creating Dollar Tree Easter crafts this last month, make sure to swing by and check them all out for more inspiration!
DIY Easter Lilly Grapevine Wreath
I love making wreaths at home. However, when it comes to creating wreaths, there are so many different bases you can use. For example, I adore grapevine wreaths, but you could switch up the wreath form or shape if desired.
Supplies:
Grapevine Wreath (Joann is best with a coupon!)
Lilies (1)- Dollar Tree
Coral Color Dahlias (2)- Dollar Tree
Coral Roses (2)- Dollar Tree
Plastic Eggs- Dollar Tree
Pallet Box- Dollar Tree
Moss- Dollar Tree
Tips for Making an Easter Lilly Grapevine Wreath at Home
Before you get started making this Easter Lilly wreath, there are some tips and tricks you should know.
First, your supplies need to vary based on where you live and plan to hang up your wreath. For example, I live in the frozen north, so I use hot glue to secure my pieces to the wreath form when making wreaths for myself.
However, skip the hot glue gun and opt for zip ties if you live somewhere hot and humid. The same goes with any paints you choose to use – check to make sure they are compatible with your climate.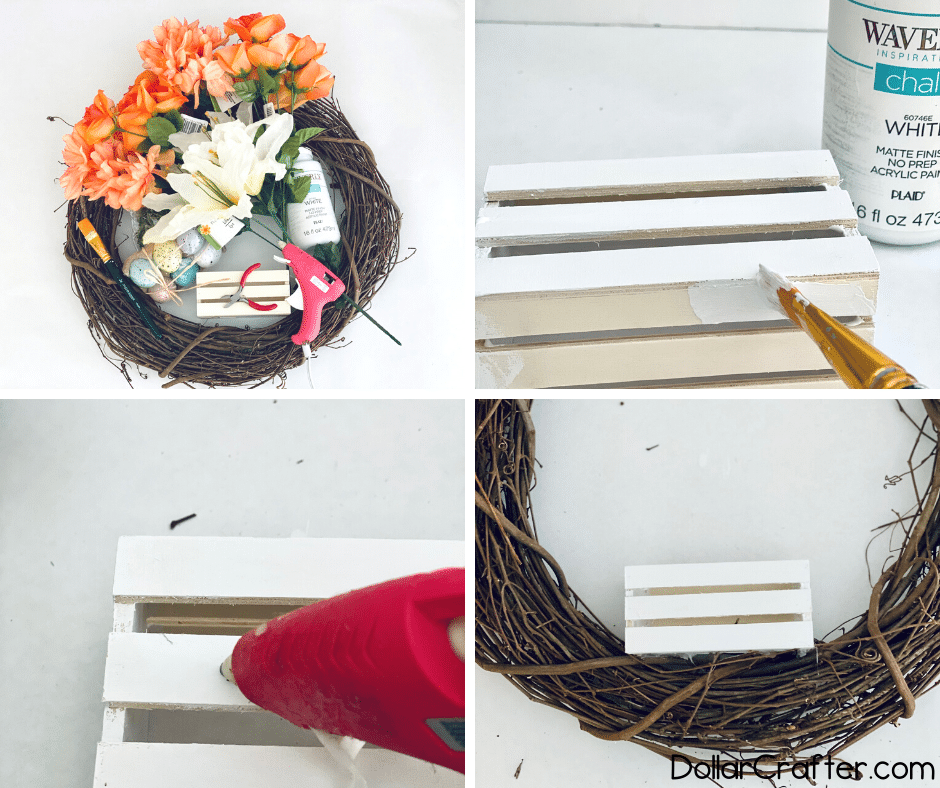 Next – hang your wreath up before you get to decorating. This is a super important step to do when working with grapevine. Your wreath is going to be bumpy, and it's not going to hang up the same way it looks while lying down. So that that five seconds and hang your wreath up to decide how you want it to look while it is hanging up.
I do recommend securing oversized items such as the box used in this wreath while you have your wreath hanging up vertically. This way, you know for sure you have your placement right where you want it.
After you have your wreath form positioned how you like, it's time to decorate!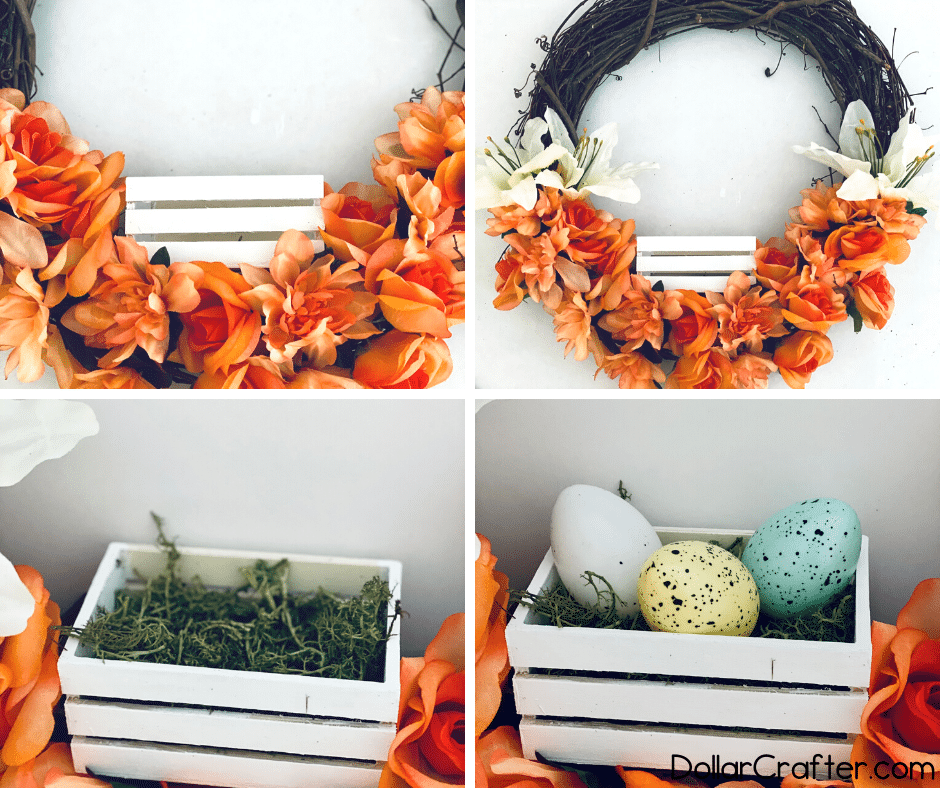 When adding flowers to your wreath, make sure you design it all, then secure the flowers. If you secure as you go, you will have to go back here and there to adjust, which can be a pain. If you have to readjust some flowers, hang your wreath to see where you need to make your adjustments.
Check out our Homemade Easter Egg Topiary; this would look great with this wreath.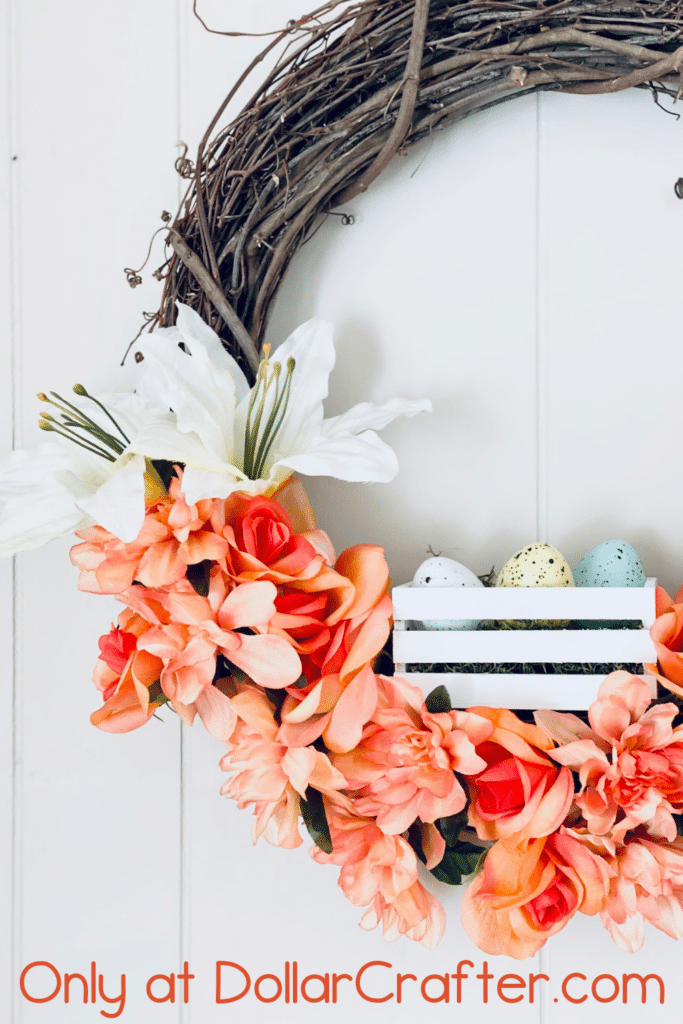 How to Make a Homemade Easter Lilly Grapevine Wreath
Ready to get crafting? You will find the full tutorial below!
Yield: 1 Wreath
Easter Lilly Grapevine Wreath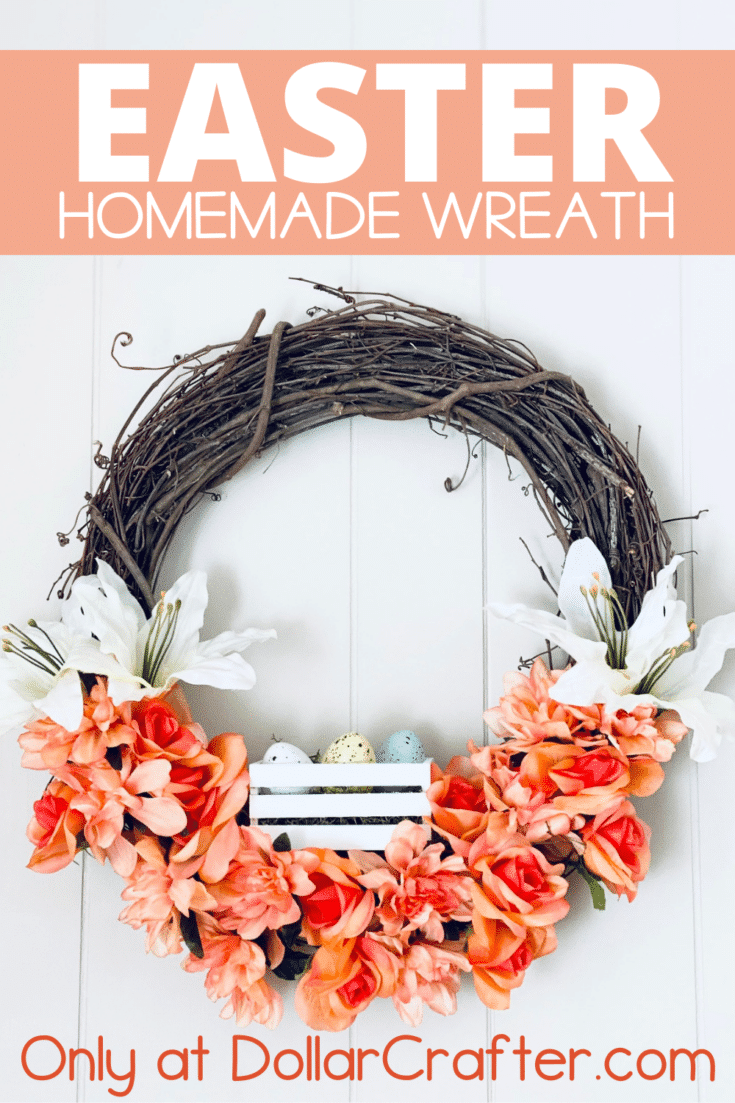 Materials
Grapevine Wreath (Joann is best with a coupon!)
Dollar Tree Lilies (1)
Dollar Tree Coral Color Dahlias (2)
Dollar Tree Coral Roses (2)
Dollar Tree Eggs
Dollar Tree Pallet Box
Dollar Tree Moss
Waverly White Chalk Paint
Tools
Paintbrush
Hot Glue Gun
Wire Cutters
Instructions
Start by painting the Dollar Tree Pallet Box with a coat of the Waverly White Chalk paint
While that is drying using the wire cutters cut all of the flowers leaving about 3 inches of the stem
Once dry, using your hot glue gun attach the pallet box to the grapevine wreath
Next start filling the bottom of the wreath with the roses and dahlias. I didn't use a real pattern I just filled in where I thought looked best.
Next add the lilies to the sides.
Once you have your floral arrangement how you like, hang your wreath vertically and secure the eggs into the pallet box using hot glue and enjoy your beautiful wreath!
Notes
For more fun DIY Wreath ideas visit DollarCrafter.com
Please Save This to Pinterest
Your shares are how this site grows, and I am sincerely grateful. Know a friend who'd like this? Please share it on Facebook or save it to your favorite holiday crafts board on Pinterest.