Kick it up a notch this holiday season with these Christmas Lights Bath Bombs. They're shaped as cute, colorful lights that kids and adults of all ages would love!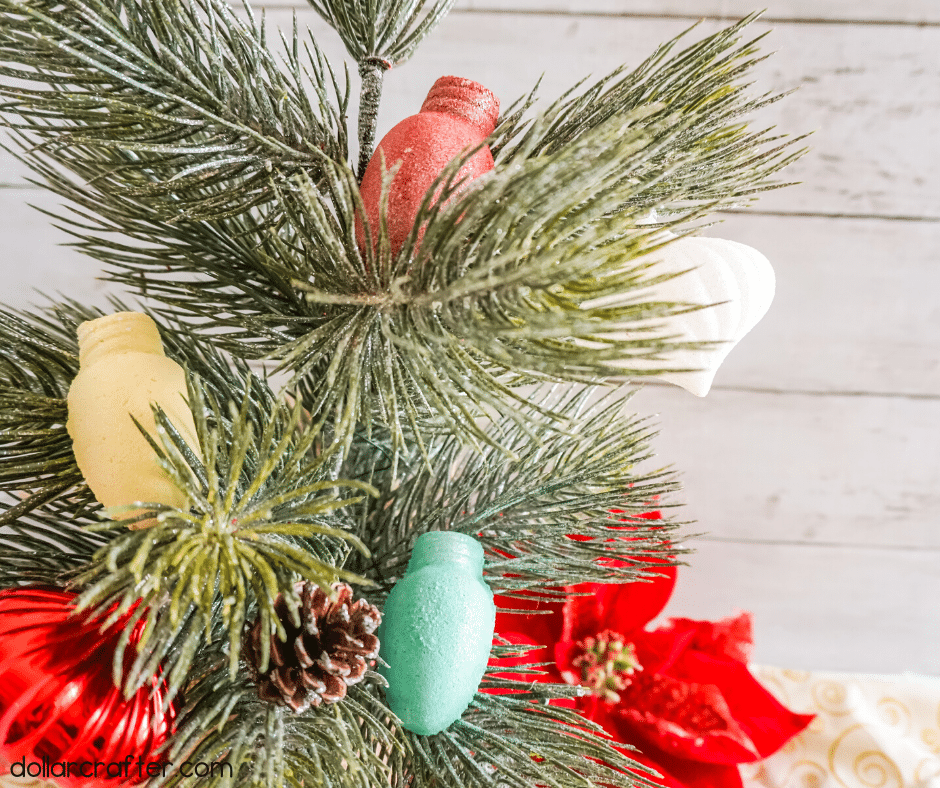 Find all our DIY Christmas Crafts and Ornaments here!
Homemade Christmas Light Bath Bombs
These festive little creations are an inexpensive way to give out goodies this holiday season. You can create these fun bath bombs for under $10, and they will definitely brighten someone's day!
A homemade gift is special because it shows you really care about the person and want to pamper them. I love receiving homemade gifts like bath bombs because soaking in a bath is time I can get some "me time," and I cherish every moment.
Supplies
Tips for Making Bath Bombs
To make your own bath bombs for Christmas, we have put together a helpful article with tips on making the perfect bath bomb.
This is a great craft to include the kids in but remember, if they help measure out ingredients, you will need to keep an eye on things. Tween/Teens might be more patient than younger kids, but this will be a fun craft to do together no matter what.
If you are giving these as gifts, please make sure you store the bath bombs in an airtight container to stay fresh. Or otherwise, you need to use the product immediately, which I plan to use a few, myself anyways.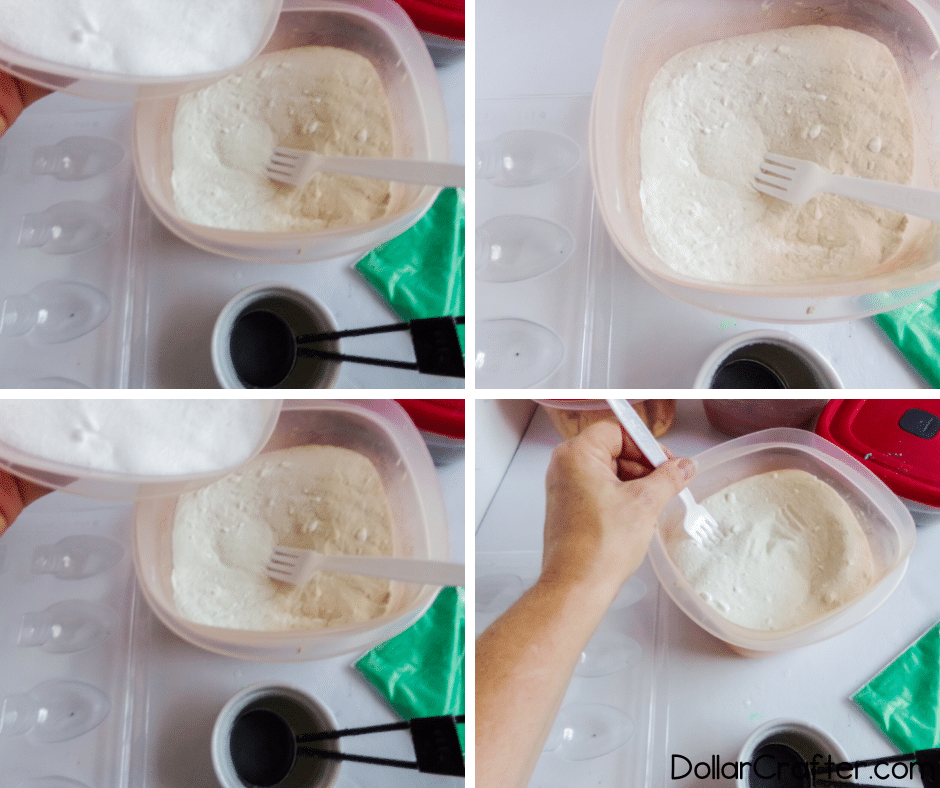 When making these bath bombs, there is a trick for avoiding creating a fizzy reaction before the bath bomb is to be used. To preserve the bath bombs ability to fizz in the tub, make sure that when you are adding liquid ingredients into your bath bomb mix, they are being added one teaspoon at a time into the dry ingredients and then slowly mix together afterward.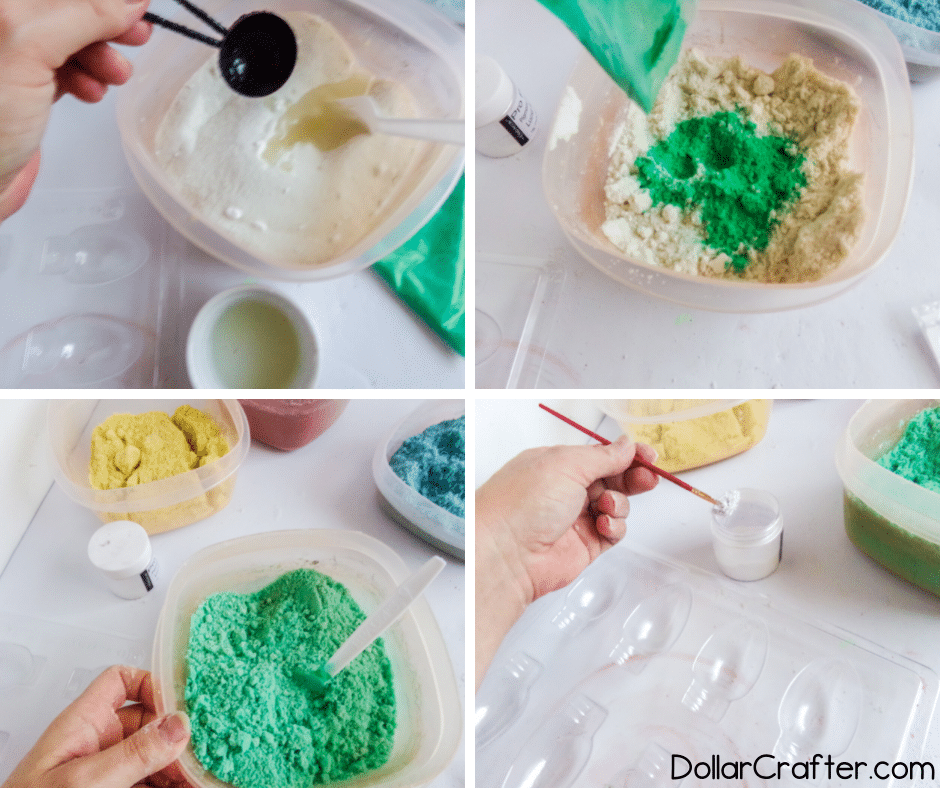 Then, once everything is fully mixed, it's time to pop your bath bombs into their molds. There are two reasons why you will want to dust the bottom of each bath bomb mold with cornstarch when making your own. One is that it will help hold onto the scent from essential oils, and another reason would be because it assists in the hardening process.
Keeping in mind these tips, you are ready to start making your bath bombs!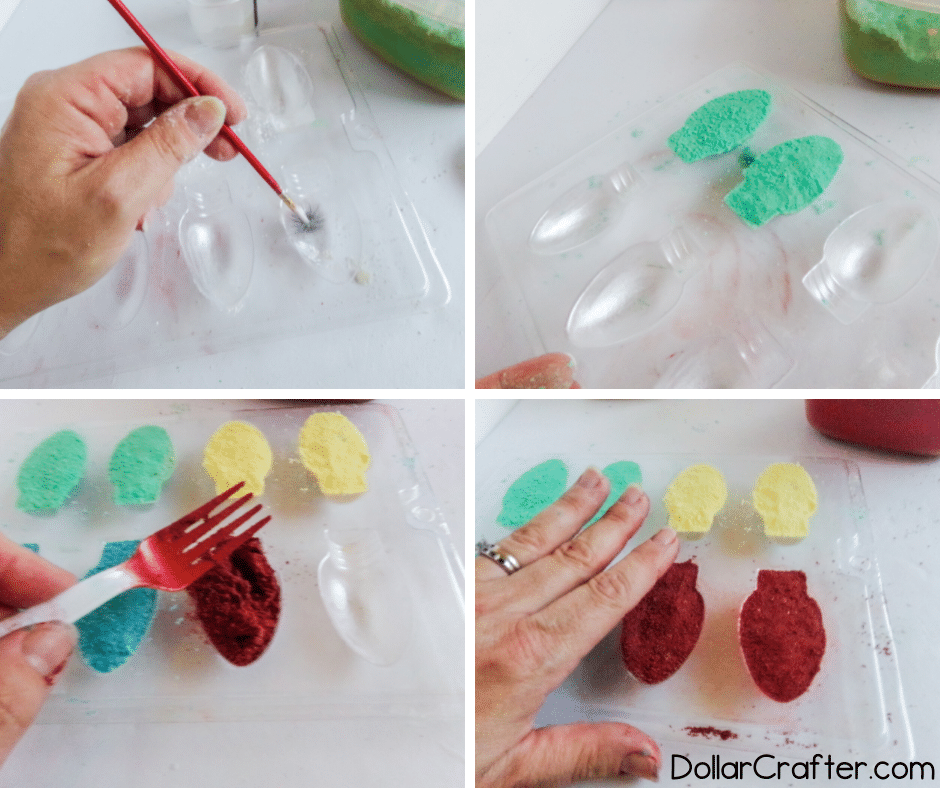 How to Make Christmas Light Bath Bombs at Home
Let's get crafting! Below is our written tutorial.
Yield: 6 Christmas Light Bath Bombs
Christmas Lights Bath Bombs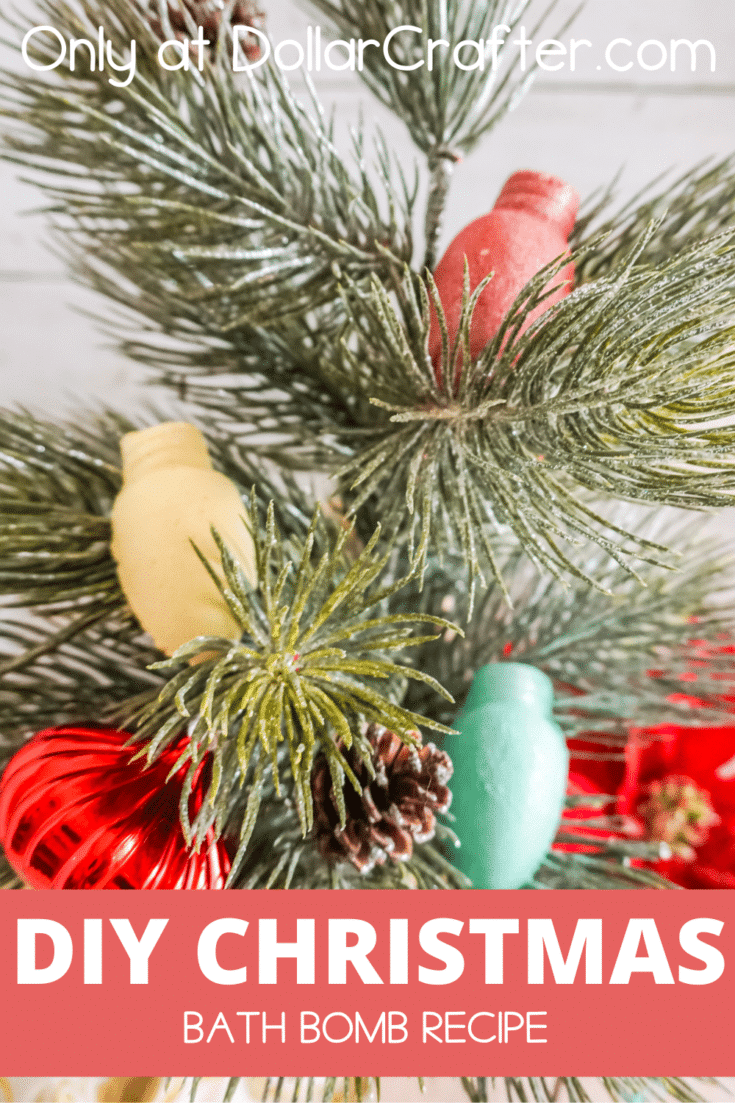 Total Time
1 day
30 minutes
Materials
1 1/2 cup baking soda
3/4 cup citric acid
1 tbsp bentonite clay
1 tbsp epsom salts
2 tbsp melted coconut oil
1/2 tsp essential oil blend desired
1/2 tbsp polysorbate 80
1 tsp red mica powder
1 tsp yellow mica powder
1 tsp green mica powder
1/2 tsp alcohol
1/2 tsp cornstarch
Instructions
Whisk together the baking soda, citric acid, clay and epsom salts.
In a second bowl, combine the melted coconut oil, essential oil blend and polysorbate 80 together, mixing well.
Add liquid ingredients 1 tsp at a time to the dry ingredients, mixing it together slowly so as not to start the fizzy reaction.
Separate the mixture equally into 3 bowls.
Add 1 color of mica powder to each bowl and stir until the color is consistent throughout. If you would like a more intense color, add more mica powder in 1 tsp increments, stirring between each increment until you have a dark color. Keep in mind that the color will fade a little when the mixture dries.
Dust the bottom of each bath bomb mold with cornstarch.
Immediately pack each mold with the mixture, pressing it down flat, compacting the mixture.
Allow the bath bombs to rest in the mold for up to 24 hours before gently tapping the bottom and side of the mold to release the bombs.
Use your bath bombs immediately or store in an airtight container until you're ready to use!
Notes
For more fun Christmas Crafts visit DollarCrafter.com
More Christmas Crafts You Will Love
Please Save This to Pinterest
Your shares are how this site grows, and I am sincerely grateful. Know a friend who'd like this? Please share it on Facebook or save it to your favorite homemade beauty board on Pinterest.