Get ready for the holidays with these DIY Poinsettia Hot Cocoa Bombs. They're not only delicious but also very impressive! They are pretty easy to make too.
A sweet treat that is sure to impress your friends and family this Christmas season – or anytime really- these homemade hot chocolate bombs are just what you need on a cold day spent at home alone watching Netflix by yourself (or wrapping presents).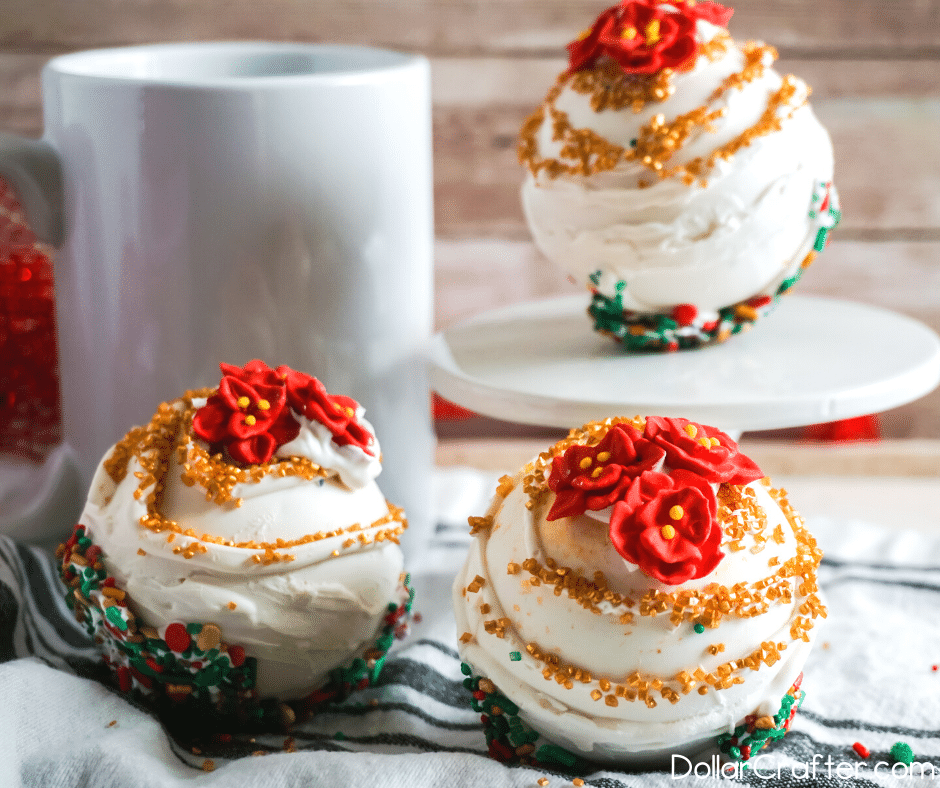 Find all our DIY Christmas Crafts and Ornaments here!
Homemade Poinsettia Hot Cocoa Bombs
These hot cocoa bombs are so cool! They would make an awesome homemade gift to give others or a fun addition for your holiday cookie-making night.
Supplies
Tips for Making Hot Cocoa Bombs
When it comes to making hot cocoa bombs at home we have some tricks for you that will help ya out when it comes to creating your hot chocolate bombs.
What Kind of Chocolate Can You Use?
While you can use chocolate chips or melting chocolates to create a hot cocoa bomb, we personally suggest using melting chocolates.
Melting chocolates are created for candy making and can handle the melting and reshaping process better than chocolate chips can. Chocolate chips on the other hand can be more prone to seize up. This is not to say that you cannot overheat melting chocolates and run into issues with them seizing up, it is just that it is less likely to happen when using melting chocolates.
How to Stabilize Your Hot Cocoa Bomb Molds for Filling
When it comes to creating and filling your hot cocoa bombs a muffin tin will be a sanity saver. Muffin tins are the perfect size for holding molds in place. Plus they are super easy to pick up and throw into the freezer if you are in a rush.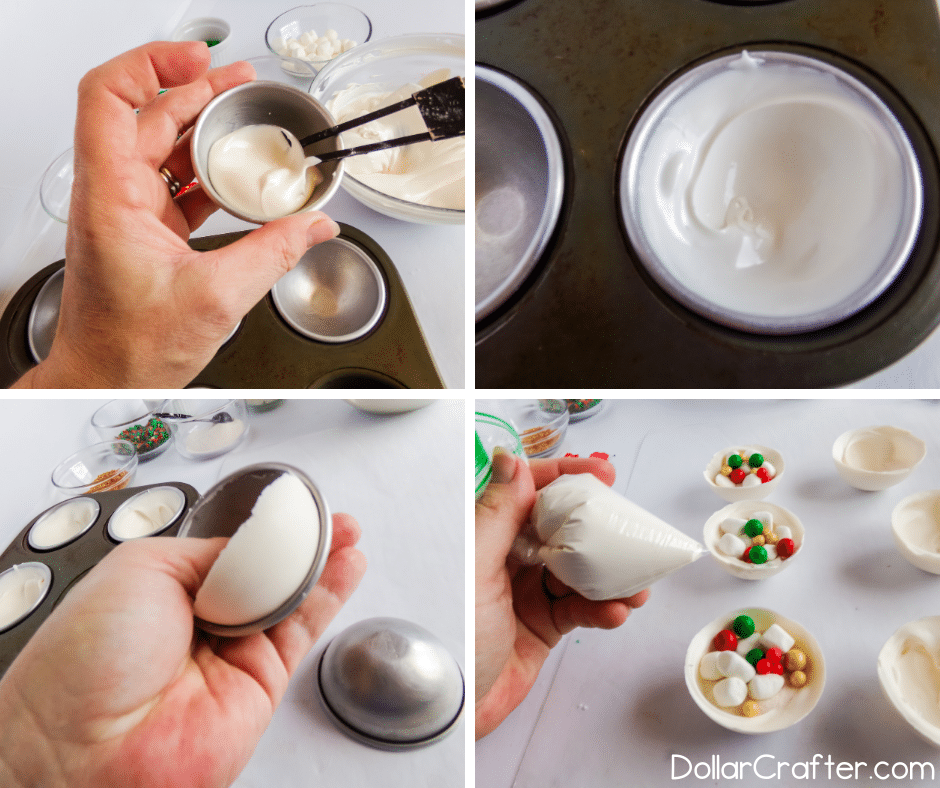 How Many Marshmallows Should You Put In?
There is never such a thing as too many marshmallows in my book. When it comes to filling your hot cocoa bombs stuff as much as you can into them. It is so much fun watching the marshmallows explode into your cup of hot cocoa!
What if I Want to Add Different Ingredients?
You totally can! Just keep in mind when you are adding ingredients to your hot cocoa bombs that you do plan on drinking this. Make sure your ingredients will melt into the hot milk so you don't end up choking.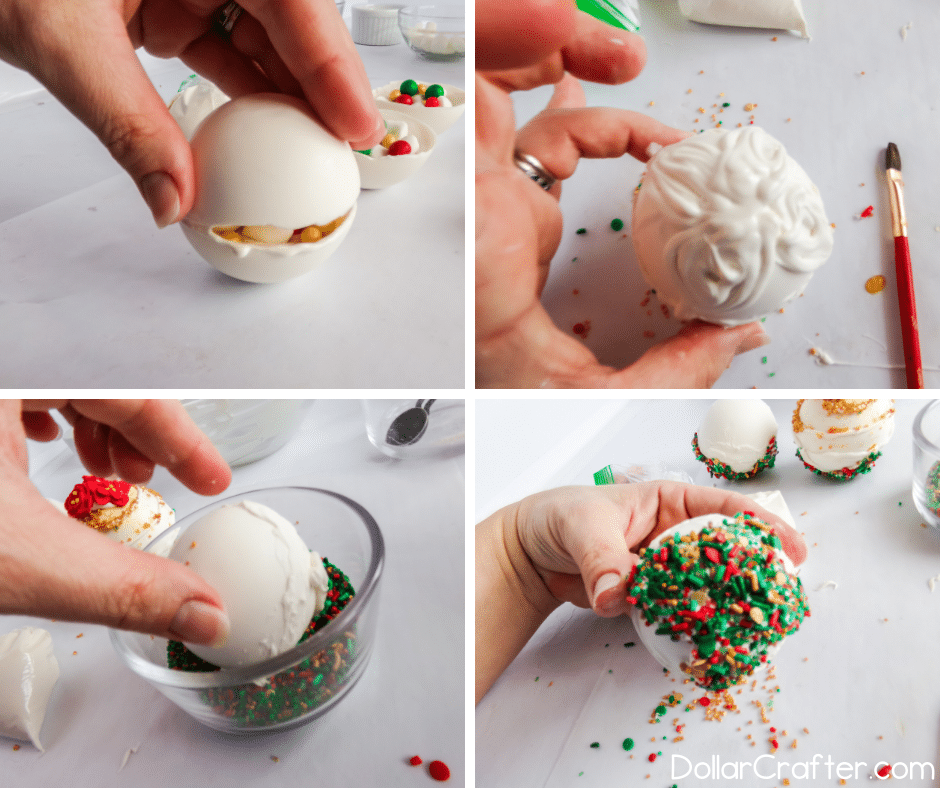 What Can I Use if I Cannot Find a Piping Bag to Decorate?
I will let you in on a little secret – I never ever use a piping bag. They are way too expensive for what they are. Instead, I always use a plastic sandwich bag and simply snip off the corner. Just make sure when you do this that you cut a small hole so you have control over the design. You can always cut the hole bigger if needed, but if you start off with a hole that is too big you can't make it smaller without grabbing a new baggie.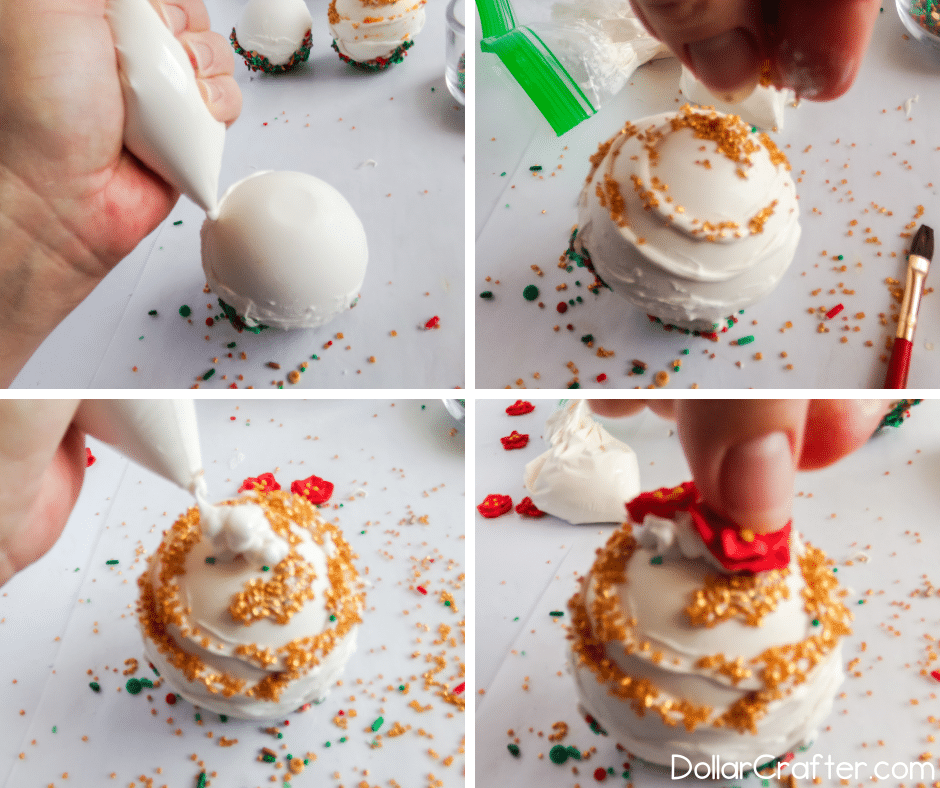 How Do I Make the Poinsettia Hot Cocoa Bomb?
Let's get crafting! Below is our written tutorial.
Yield: 6 Hot Cocoa Bombs
Poinsettia Hot Cocoa Bombs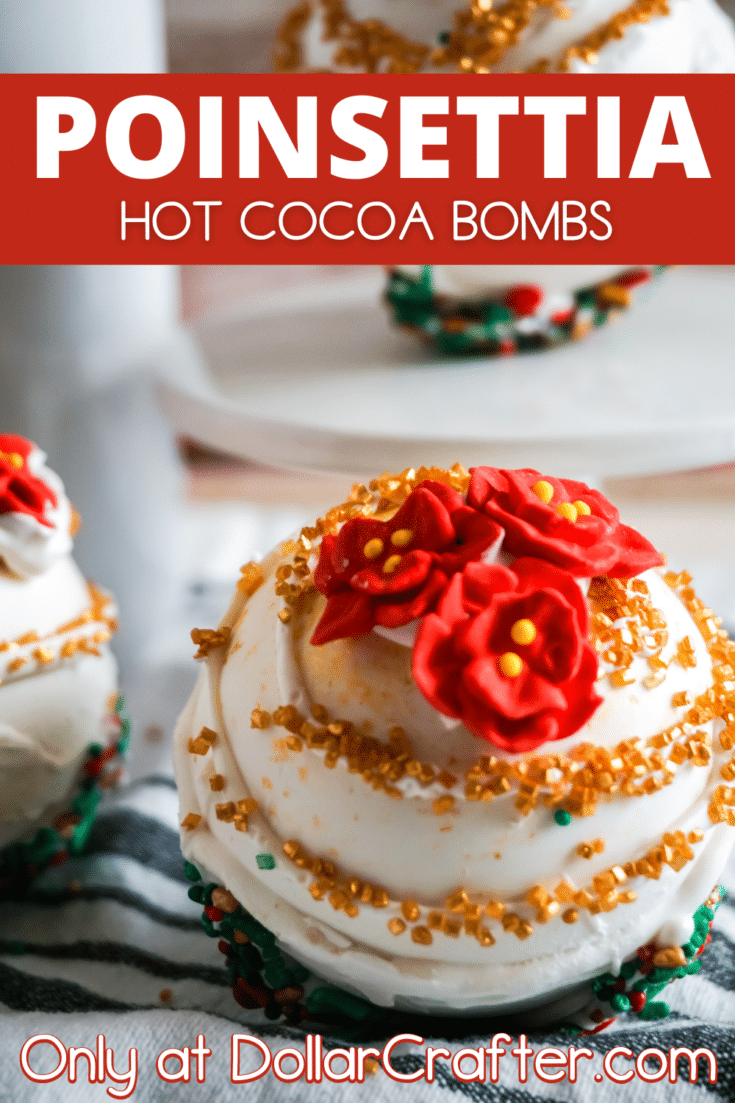 These DIY Poinsettia Hot Cocoa Bombs are a simple recipe with an elegant result. Your friends and family will be blown away that these hot chocolate bombs are homemade!
Ingredients
2 cups White Candy Melts
2 cups Hot Chocolate Mix
2 cups Mini Marshmallows
1 cup Christmas Past Sprinkles Mix
Gold Sparkling Sugar Sprinkles
Instructions
Place white candy melts in a microwave safe bowl and melt in the microwave per the directions on the package.
Place 1 tbsp melted candy melt into one half of a bomb mold and, using the bottom of your tablespoon measuring spoon, press the chocolate up the sides of the mold, keeping it thick but even. Repeat with 12 bomb mold halves.
Place the chocolate filled bomb molds into the freezer for 5 minutes.
Remove molds from the freezer and gently tap the sides of the mold, pressing on one side of the chocolate to make the chocolate slide out of the mold.
Fill 6 of the molds with 1 tbsp hot chocolate mix and 6-8 mini marshmallows.
Heat a plate or a flat-bottom bowl in the microwave until the surface of the plate is warm to the touch.
Press one of the empty chocolate bomb halves open-side-down onto the flat portion of the warm plate for about 10 seconds. This will gently melt the rim of the chocolate cup.
Immediately press this warmed edge chocolate cup to the top of one of the filled cups. This will join the two halves of the hot cocoa bomb.
Using a piping bag or a fork, drizzle a small amount of the remaining candy melts on the bottom of the assembled hot cocoa bombs then immediately follow by sprinkling some of the smaller sprinkles all over it. I shaped mine like leaves on the bottom of my bomb.
Place the hot cocoa bombs into the freezer for 5 minutes to get them to set, then remove and drizzle a small amount of the remaining candy melts in a large swirl around the outside of the hot cocoa bombs then immediately sprinkle with gold sparkling sugar.
Drizzle a small amount of the remaining candy melts on the very top of the hot cocoa bombs and press 3 of the flower parts of the sprinkle mix into the chocolate.
Place the hot cocoa bombs into the freezer for 5 minutes to get them to set, then remove and store in an airtight container until you're ready to use.
To use the hot cocoa bombs, place them in a mug and pour 2 cups hot milk over the top. Stir until the hot cocoa bombs are completely melted and enjoy!
Notes
For more fun DIY Hot Cocoa Bombs visit DollarCrafter.com
Recommended Products
As an Amazon Associate and member of other affiliate programs, I earn from qualifying purchases.
Nutrition Information:
Yield:
6
Serving Size:
1
Amount Per Serving:
Calories:

1106
Total Fat:

15g
Saturated Fat:

4g
Trans Fat:

0g
Unsaturated Fat:

10g
Cholesterol:

0mg
Sodium:

795mg
Carbohydrates:

234g
Fiber:

6g
Sugar:

171g
Protein:

10g
More Homemade Hot Cocoa Bomb Ideas You Will Love!
Please Save This to Pinterest
Your shares are how this site grows and I am sincerely grateful. Know a friend who'd like this? Please share it on Facebook or save it to your favorite holiday crafts board on Pinterest.