Now, if you want to make a cool gift to give someone this holiday season, Grinch Cookies Cake Mix Mason Jar Gift is it! How awesome would it be to have cookies in a jar? Plus, make sure to make yourself a few jars too.
Do you ever wish for cookies but don't feel like doing all the work that comes with baking them yourself at home? Wouldn't it be great to grab just one of these jars and have everything needed (well, the dry ingredients) included so that baking your own goodies will take no time at all?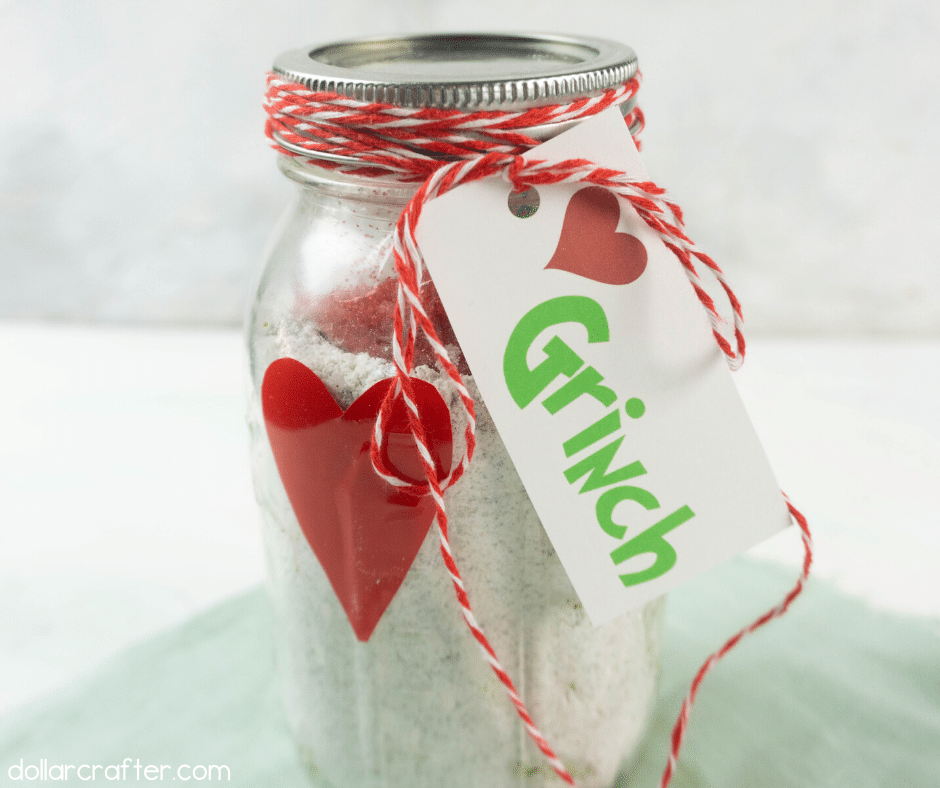 Find all our DIY Christmas Crafts and Ornaments here!
Homemade Grinch Cookies Mason Jar Gift
This has to be the easiest mason jar gift ever. Who came up with using cake mix- just genius!! I remember a couple of years ago, I made mason jar gifts and there was a lot of measuring, plus so many ingredients involved. But, not this time; it was super quick and fun.
Supplies:
White Cake Mix (buy at dollar store)
Red Sprinkles
Powdered Sugar
Red Twine
Red Vinyl
Scissors
Printer
Tips for Making the Grinch Cookies Mason Jar
The Grinch Cookies Mason Jar is all about presentation. If you have a Cricut, cut out hearts with vinyl or add stickers- wouldn't it be really fun if you had Grinch stickers? Either way, make the jar itself super cute!
Why are they called Grinch Cookies?
The GREEN food gel in the cake mix will create the Grinch cookie color.
Where do you put the instructions?
The Grinch Tag is for you to write the instructions on the back. So go ahead and get creative- use a red or green pen. Or you can print out the instructions and glue them on the back of the tags.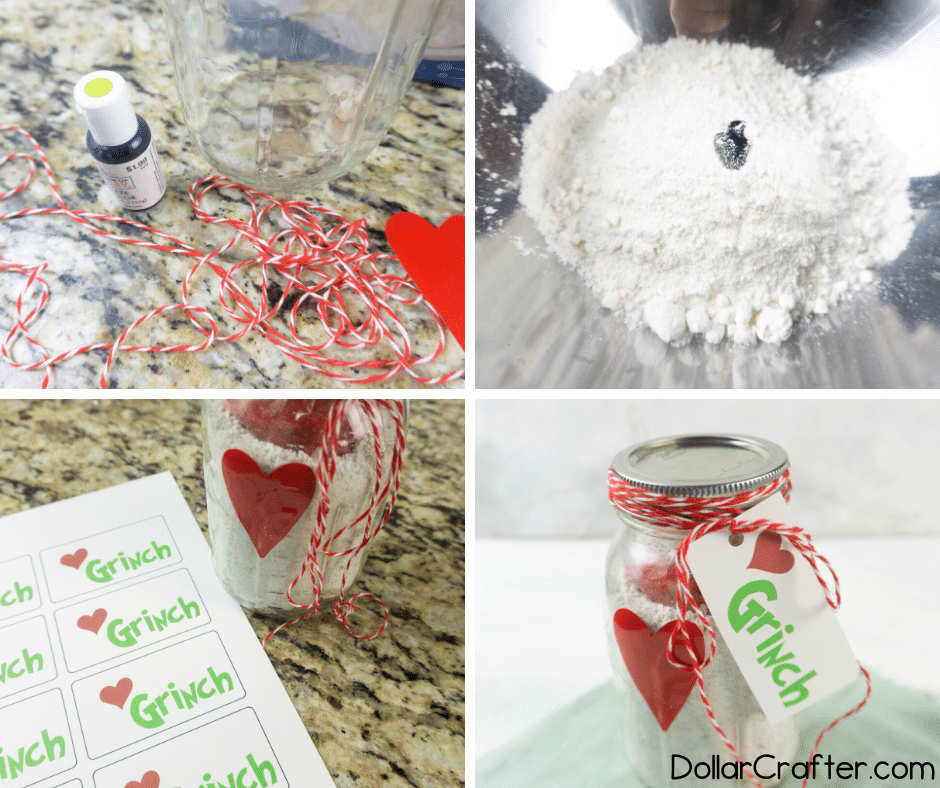 How to Make a Grinch Cookies Mason Jar Gift at Home
Ready to get crafting? You will find the full tutorial below!
Yield: 1 Mason Jar Gift
Grinch Cookies Cake Mix Mason Jar Gift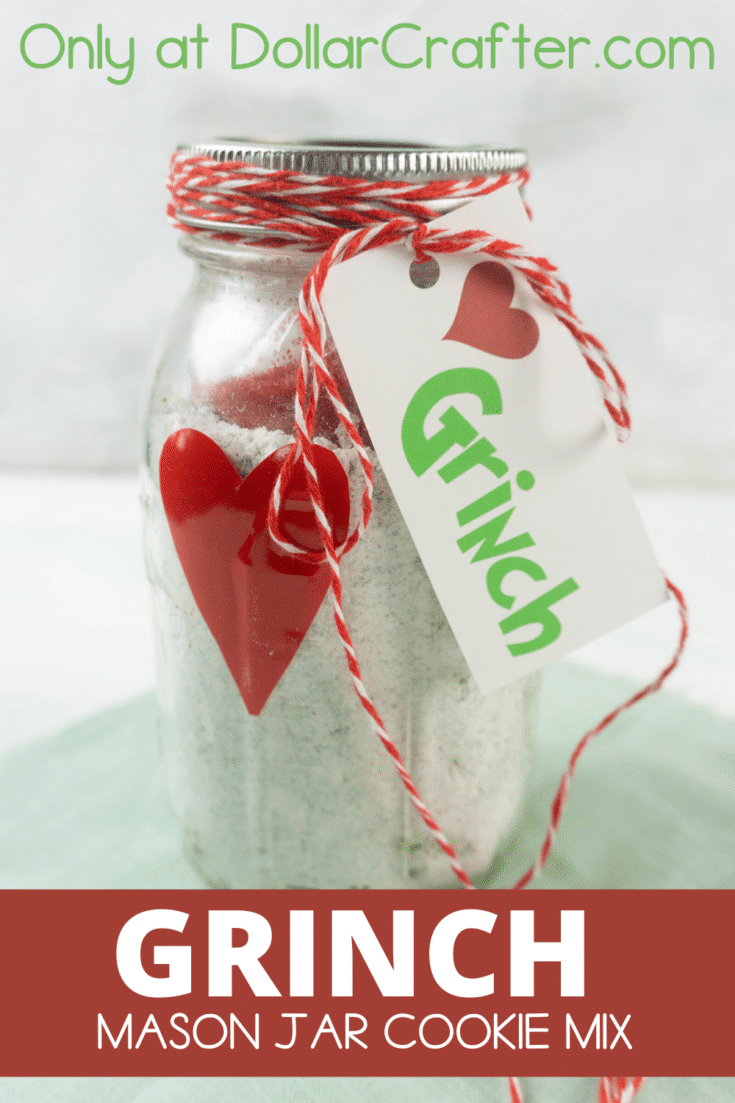 Materials
Mason Jar
1 box White Cake Mix
Red Sprinkles
Ziplock Bags
1/3 cup Powdered Sugar
3 drops Green Food Gel
Red Twine
Grinch Tag
Red Vinyl
Tools
Scissor
Printer
Hole Punch
Instructions
Cut a heart out of the vinyl. We just used scissors and scrap vinyl, but you can also follow a SVG and use your cutting machine or use stickers.
Print out the Grinch Tags and cut them. Punch a hole in the top center of the tag. Hand write the recipe on the back of the Grinch tag to lets receivers know to add 1 egg and 1/3 cup of vegetable oil to the cake cookie mix.
Apply the red heart to the middle of the mason jar.
For the Cookie Cake Mix:
Mix 3 drops green food gel with cake mix and whisk well. Add cake mix to the jar.
Place red sprinkles in ziplock bag and add to top of jar. Place powdered sugar in ziplock bag and add to jar.
Screw lid onto the jar. Wrap twine around the lid and then slip the tag on to the twine and tie off.
Baking Instructions:
Mix cake mix, oil, and eggs in a medium bowl.
Place dough in the fridge covered with plastic wrap or lid for thirty minutes.
Preheat oven to 375 F.
Roll tablespoon size balls in powdered sugar. Place on baking sheet with parchment paper.
Bake for 6 minutes at 375 degrees F. Add sprinkles on top and bake for 1 more minute.
Remove and let cool before serving.
Notes
For more fun Christmas crafts visit DollarCrafter.com
More Christmas Ideas You Will Love!
Please Save This to Pinterest
Your shares are how this site grows, and I am sincerely grateful. Know a friend who'd like this? Please share it on Facebook or save it to your favorite craft board on Pinterest.