Make this fun Glowing Ghost Poop Soap from simple, easy to find, and affordable materials. This fun glow in the dark soap uses a melt and pour base which makes it the perfect project to do with kids or even just a quick DIY that you can gift or sell!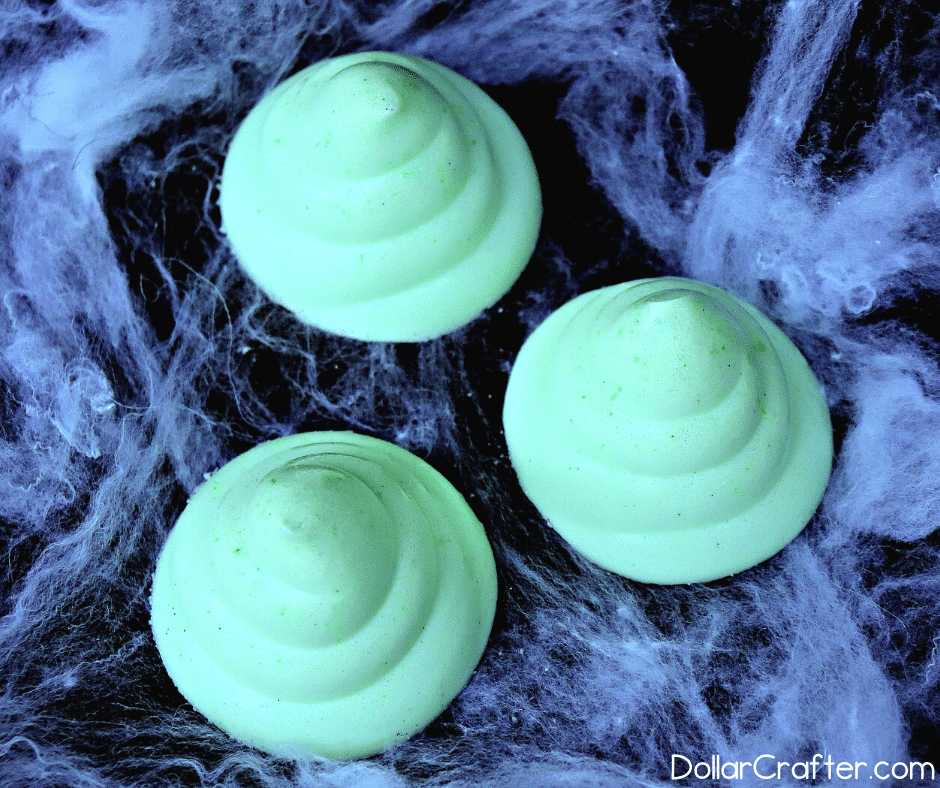 Homemade Glowing Ghost Poop Soap
We made these glow in the dark soaps this year for Halloween and everybody got a good laugh out of them. They are so much fun not only to make but also to use.
Tips for Making Glowing Soap at Home
Creating soap with a melt and pour soap base is incredibly easy and affordable. You literally just pop it into the microwave until melted and pour it into a mold to set. Easy peasy right?
While this is a perfect soap making recipe for beginners, there are some tips and tricks that will make creating soaps at home a bit easier.
Dissolve powdered colorants in isopropyl alcohol before adding to melted soap base.
To do this simple mix a very small amount of isopropyl alcohol into the powdered colorant you are planning to use in a separate cup. A little will go a long way. Mix until all the powder is blended into a liquid and then add to your soap base. This will help you avoid creating bubbles in your soap as you stir in your powders and as an added bonus the alcohol will dissolve any bubbles that may happen as you stir the soap base.
Note about Glow Powder: There are several colors and brands available online, but we recommend ordering the Night Glow Powder from TKB Trading. Theirs is approved for use in soap specifically. Other companies say theirs is safe but aren't actually certified.
When picking out a melted soap base buy clear.
A clear soap base can be used for a variety of different projects. If you end up having a project where you need a white soap base it is a lot more affordable to just have a white mica powder on hand…which really a white melt and pour soap is just a clear based soap with white mica powder. This will save you money in your soap making journey.
Always spray your silicone molds with isopropyl alcohol prior to use.
Alcohol helps get rid of any bubbles that may appear in your soap which will help define the details. For a beautiful looking soap this is a must.
How to Make Glowing Ghost Poop Soap
Let's get crafting! Below is our written tutorial.
Yield: 6 Soaps
Glow in the Dark Ghost Poop Soap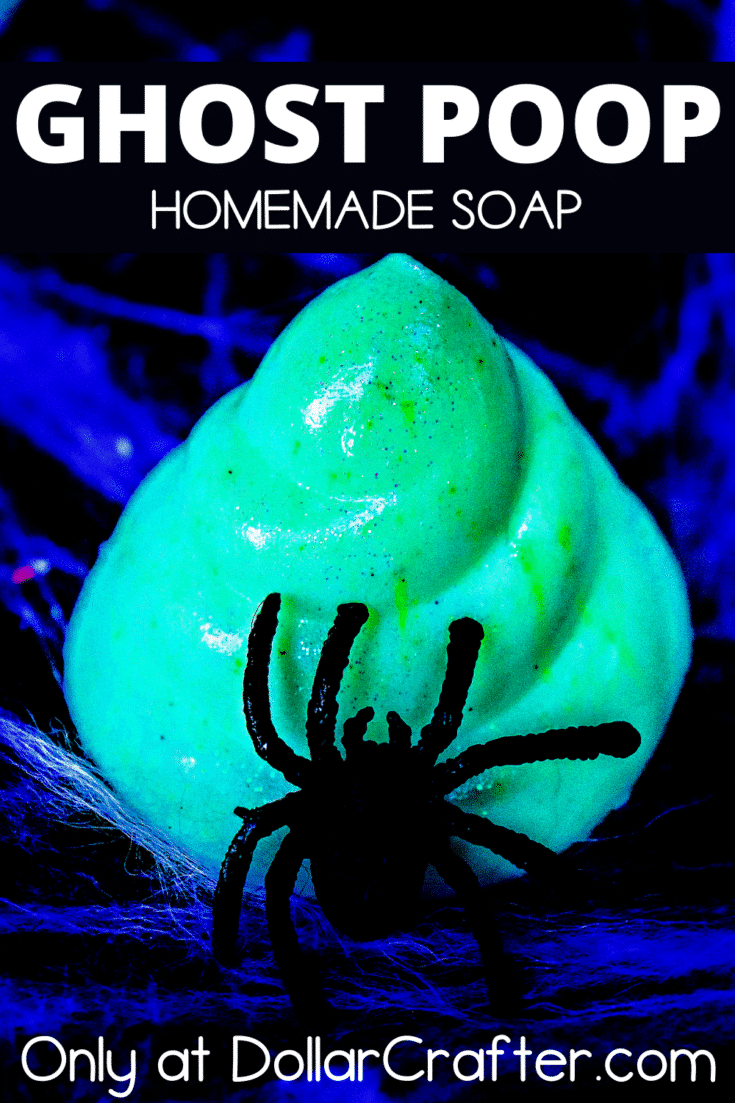 Total Time
3 hours
25 minutes
Materials
1 1/2-pounds white melt and pour soap, cut into cubes
1/2 teaspoon jojoba oil
1 tablespoon green apple scent
10-20 drops of marjoram essential oil
1-2 tablespoons glow in the dark powder
1 tablespoon Pearlescent white mica powder
1 tablespoon white cosmetic glitter
Spray bottle of rubbing alcohol
Tools
Medium sized microwave safe bowl or measuring cup
Poop soap mold
Instructions
Add jojoba oil and marjoram essential oil to bowl or measuring cup. This oil has many benefits, including powerful anti-inflammation properties. It can also reduce joint pain and has anti-viral properties.
Add 24 cubes (each cube is approx. 1 ounce) of the soap base to a microwave safe bowl or measuring cup. Melt in 30 second intervals, stirring after each until it is completely melted.
Add the white mica powder and the green glow in the dark powder and whisk ingredients until thoroughly incorporated.
Spray bottom of mold with rubbing alcohol. Sprinkle a bit of the glitter into the mold and allow alcohol to dry a few seconds.
Add green apple scent and mix well. Carefully soap mixture into mold. Spray top of soap to prevent bubbles from forming. Allow to harden at least 2-4 hours. Make sure there are no ripples when you blow on it. Carefully "pop" the soaps from the mold. Store in an airtight container until ready to use.
Notes
For more fun DIY Bath and Beauty Projects visit DollarCrafter.com
Please Save This to Pinterest
Your shares are how this site grows and I am sincerely grateful. Know a friend who'd like this? Please share it on Facebook or save it to your favorite homemade beauty board on Pinterest.