If you love unicorns, these Unicorn Horn bath bombs are for YOU! They're easy to make and will leave your skin feeling super soft. Now that's what I call magical!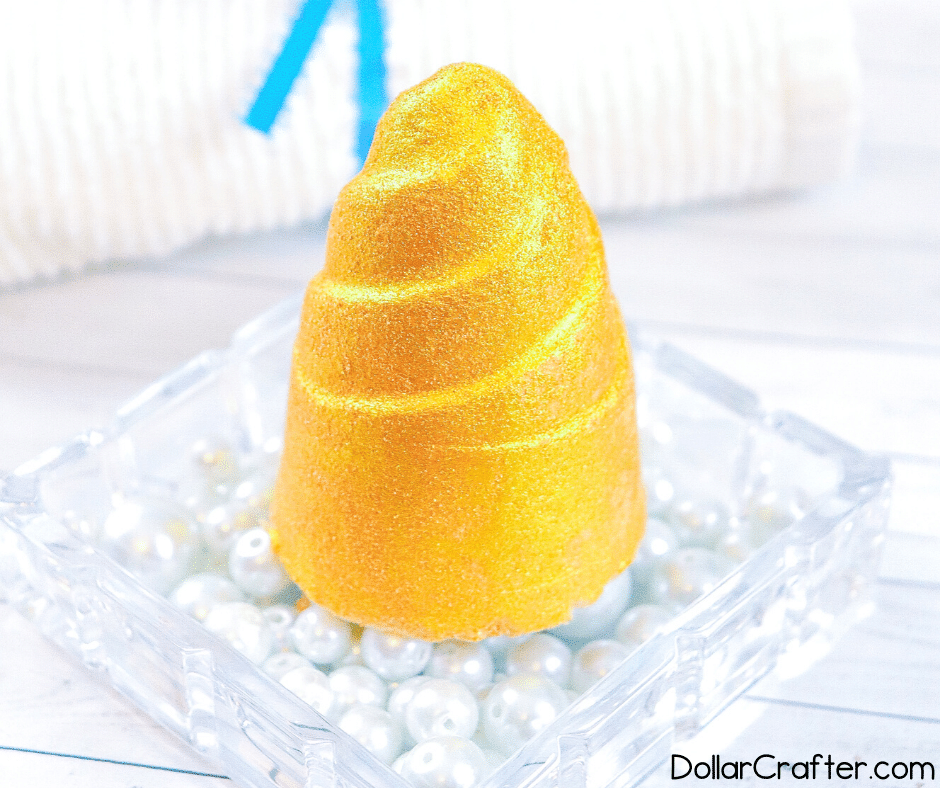 Homemade Unicorn Horn Bath Bombs
These Unicorn Horn Bath Bombs are a blast to make, and the results are absolutely magical. I know it's on the long side, but don't let that scare you off from making these at home!
Supplies:
Tips to Make Bath Bombs at Home
If you are new to making bath bombs at home, make sure to swing over and read all of our tips and tricks for making bath bombs at home before you get started.
Making bath bombs at home is a pain, but it's not as difficult and time-consuming as you might think. Here are some proven hacks to make the process smoother!
When it comes to bath bomb molds, they aren't all made equal. While metal bath bomb molds are popular, I personally prefer silicone molds. They are a whole lot easier to pop the bath bomb out of plus easy to clean and store.
If you choose to use a metal bath bomb mold, put the bath bomb together side by side. If you attempt to mash the bath bomb mold top to bottom instead of side to side it will make getting the bath bomb out in one piece a bit harder.
Mixing ingredients also matters. I used to be one to just throw everything in and mix it all at once…then struggle with crumbly bath bombs. To avoid this, mix the wet ingredients together really well first. Then add the citric acid. This way you aren't scrambling to beat the fizz.
And lastly, it is always a good idea to let your bath bomb sit in the mold overnight to dry.
After you have made your bath bombs, protect them from humidity by storing them in an airtight container.
If you love unicorns then make sure to check out our Unicorn Hot Cocoa Bombs– oh my goodness so cute and YUM!
How to Make a Unicorn Horn Bath Bomb
Let's get crafting! Below is our written tutorial.
Yield: 6 Bath Bombs
Unicorn Horn Bath Bombs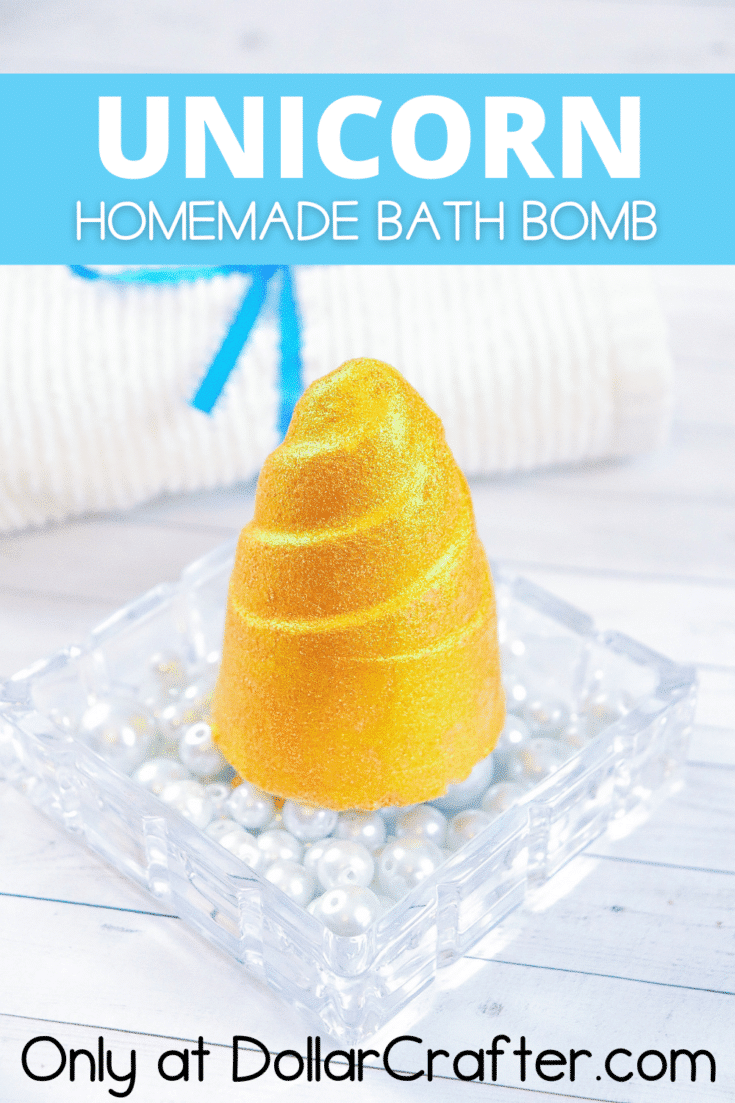 Total Time
2 days
30 minutes
Materials
2 cups baking soda
1 cup citric acid
1/2 cup white bentonite or kaolin clay
2 tablespoons. Polysorbate 80
1/3 cup coconut oil
1 tablespoon of your choice of scent.
3-4 tablespoons (divided) gold mica powder
1-2 tablespoons gold cosmetic glitter
Tools
Unicorn Horn Mold
Spray bottle of rubbing alcohol
1 large mixing bowl
Instructions
Grab a large mixing bowl and add in the following ingredients: baking soda, citric acid, and clay.
Next, add in the next two ingredients of coconut oil and polysorbate 80 (if using) and incorporate before adding the scented oil (we used bubblegum).
Finally, add the gold mica powder and body glitter to the bowl. NOTE: Save at least 2 tablespoons of the gold mica for a future step.
Mix ingredients together until it is the texture and feel of wet sand. It should hold together and form more when squeezed together by your hand.
In each of the molds, spoon in your mixture and press down firmly. Allow this to sit and dry at least 48 hours or until completely dry. If you don't let it dry completely, it will break when you try to take the horns our of the mold.
When ready to remove from the molds, place a large plate or cutting board over the mold and gently turn it over. CAREFULLY tap each horn with a spoon and allow each mold to slide onto the plate or cutting board.
Next, dip the pad of your index finger into the gold mica and gently rub over the entire surface of the horn. Allow mica to dry for at least an hour before touching.
Store in an airtight container until ready to use. Drop one in the bath when ready needed! These unicorn horn bath bombs smell AMAZING and you're certain to love them!
Notes
For more fun DIY Bath and Beauty Projects visit DollarCrafter.com
Please Save This to Pinterest
Your shares are how this site grows, and I am sincerely grateful. Know a friend who'd like this? Please share it on Facebook or save it to your favorite homemade beauty board on Pinterest.