If you're looking for a warm drink to keep you cozy on chilly days, make these homemade red heart hot cocoa bombs! They are easy to put together and make the perfect gift for almost anyone on your list. 🙂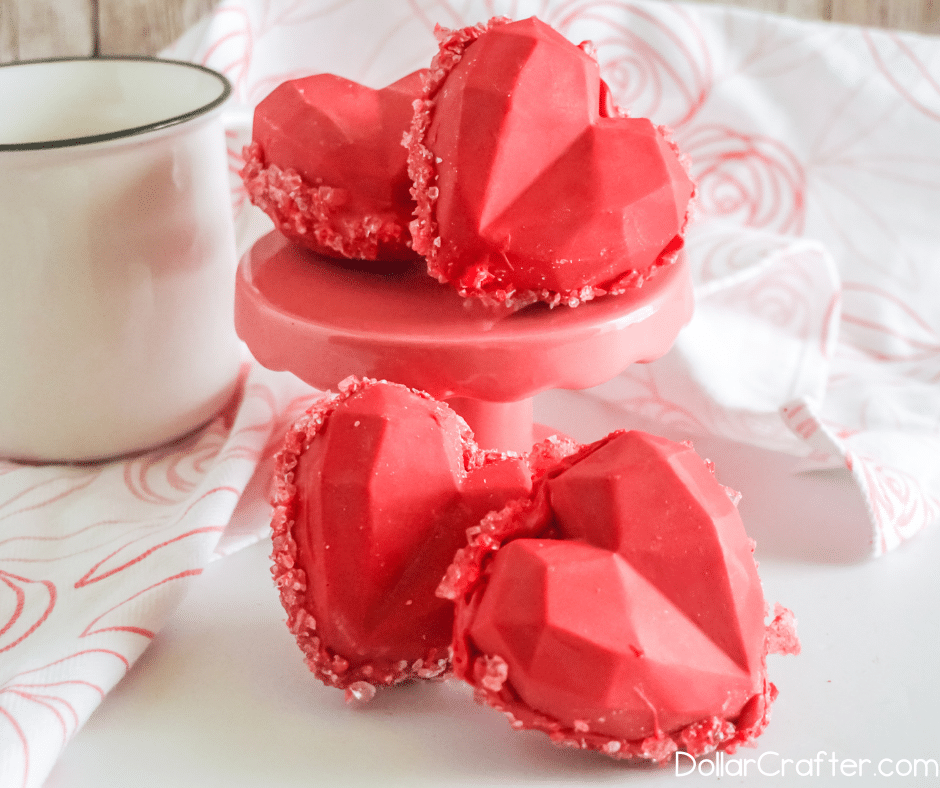 This hot cocoa bomb trend swept the nation in 2020. I think it'll repeat itself in 2021 and maybe 2022, because who doesn't lovvvvve hot cocoa?!
Whether you're looking for a DIY Valentine's Day gift, Christmas gift, or even a cute anniversary gift – make a box with hot cocoa bombs and a few personalized items and you're friend/partner/mother of the year. 😉
DIY Red Heart Hot Cocoa Bombs
Supplies Needed:
You can get as creative as you want with these hot cocoa bombs. We've made tons (see below), and they're all different! So if you're going to make black hearts, go for it. Rainbow hearts? Sure! I can't wait to see what you come up with.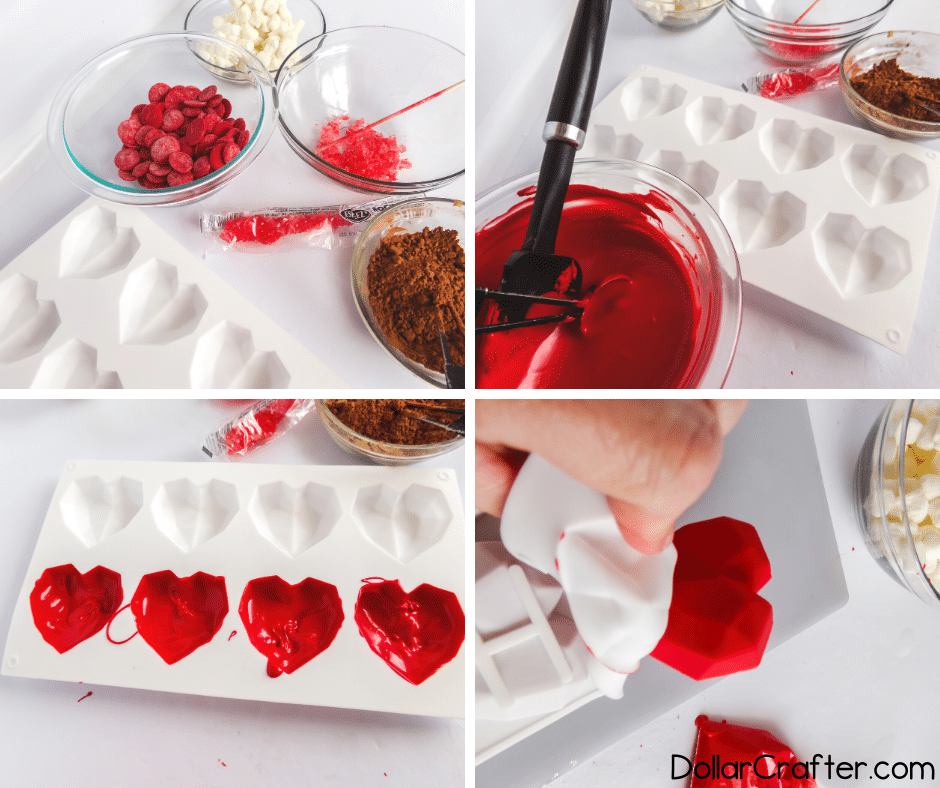 Put the hot cocoa mix, marshmallows, and sprinkles in the hearts.
Warm a microwave-safe plate. Put the empty heart on the plate and warm the edges in the microwave.
Put hot chocolate on one side of the heart and press it together with another heart to seal it. Be sure not to melt the chocolate when you are pressing them together.
If you get bumps around the edge and there are gaps in your seams, put the bottom half of the heart on a heated plate first – face down, so you're warming the edges.
How to Serve Hot Cocoa Bombs
This is simple! I like to pour hot milk over the cocoa bomb in a clear glass to watch the magic.
Heat six ounces of milk in a mug – I use oat milk but any milk works.
Slide the hot chocolate bomb into your warm milk, or put it in its own cup and pour the hot milk over it.
Stir, stir, stir… slowly. 😉
Tips for Making Hot Cocoa Bombs
When it comes to making hot cocoa bombs at home, we have some tricks for you that will save your sanity when creating your hot chocolate bombs.
What Kind of Chocolate Can You Use to Make Hot Cocoa Bombs?
While you can use chocolate chips or melting chocolates to create a hot cocoa bomb, we suggest melting chocolates.
Melting chocolates are created for candy making and can handle the melting and reshaping process better than chocolate chips. Chocolate chips, on the other hand, can be more prone to seize up. This is not to say that you cannot overheat melting chocolates and run into issues with them seizing up; it is just that it is less likely to happen when using melting chocolates.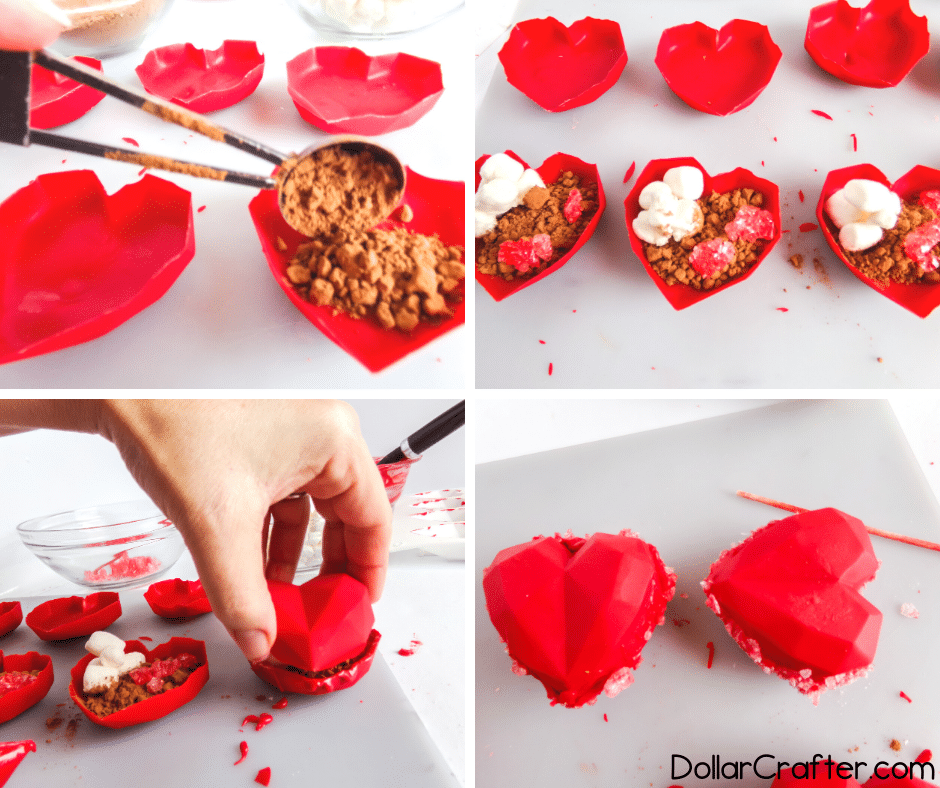 What Should I Look For Before Buying a Hot Cocoa Bomb Mold?
To create these red jewel hot cocoa bombs, we used this silicone mold from Amazon. When shopping for a silicone mold, make sure that you choose food-grade quality and that it is safe to use with high and low temperatures (such as the microwave or freezer).
How Many Marshmallows Should You Put Into Your Hot Cocoa Bombs?
There is never such a thing as too many marshmallows in my book. When it comes to filling your hot cocoa bombs, stuff as much as you can into them. It is so much fun watching the marshmallows explode into your cup of hot cocoa!
What if I Want to Add Different Ingredients?
You totally can! Just keep in mind when you are adding ingredients to your hot cocoa bombs that you do plan on drinking this. So make sure your ingredients will melt into the hot milk, so you don't end up choking.
How to Make Red Heart Hot Cocoa Bombs
Let's get crafting! Below is our written tutorial.
Yield: 6 Hot Cocoa Bombs
Red Hot Heart Hot Cocoa Bombs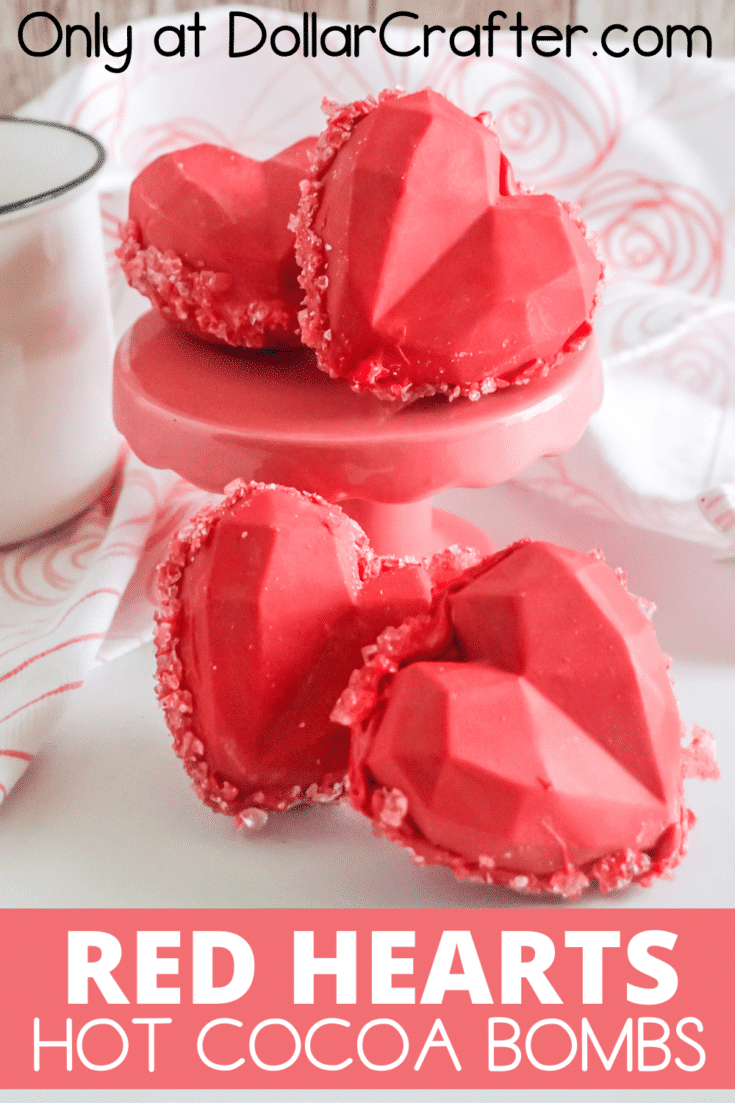 Ingredients
2 cups Red Candy Melts
2 cups Hot Chocolate Mix
2 cups Mini Marshmallows
1/4 cup Red Rock Candy, about 2 sticks
Silicone Rose Mold
Instructions
Place red candy melts in a microwave safe bowl and melt in the microwave per the directions on the package.
Place 2 tbsp melted candy melt into one heart bomb mold and, using the bottom of your tablespoon measuring spoon, press the chocolate up the sides of the mold, keeping it thick but even. Repeat with 8 bomb mold halves.
Place the chocolate filled molds into the freezer for 5 minutes.
Remove molds from the freezer and gently peel the silicone mold away from the chocolate heart cups, pulling the heart cup out of the mold.
Fill 4 of the chocolate heart cups with 1 tbsp hot chocolate mix, a sprinkle of red rock candy, and 6-8 mini marshmallows.
Pipe a thin line of melted candy melts around the rim of each filled heart cup. Allow a bit of the chocolate to dribble, over-filling the line, so you will have a good amount of chocolate available to hold the rock candy.
Immediately press an empty heart to the top of one of the filled cups. This will close the hot cocoa bomb.
Place remaining rock candy into a bowl and dip the edges of the heart hot cocoa bombs into the rock candy, coating the entire seam of the hot cocoa bombs with rock candy.
Place the hot cocoa bombs into the freezer for 5 minutes to allow them to set, then remove and store in an airtight container until you're ready to use.
To use the hot cocoa bombs, place them in a mug and pour 2 cups hot milk over the top. Stir until the hot cocoa bombs are completely melted and enjoy!
Notes
For more fun DIY Hot Cocoa Bombs visit DollarCrafter.com
More Homemade Hot Cocoa Bomb Ideas You Will Love!
Please Save This to Pinterest
Your shares are how this site grows, and I am sincerely grateful. Know a friend who'd like this? Please share it on Facebook or save it to your favorite recipe board on Pinterest.