Make your own Unicorn Hot Cocoa bombs that have white cocoa and rainbow marshmallows inside. You know that feeling when you drink something hot and it soothes your soul? Having this cocoa bomb in your cup on a cold night only brings joy and magic. Did I tell you they are easy to make?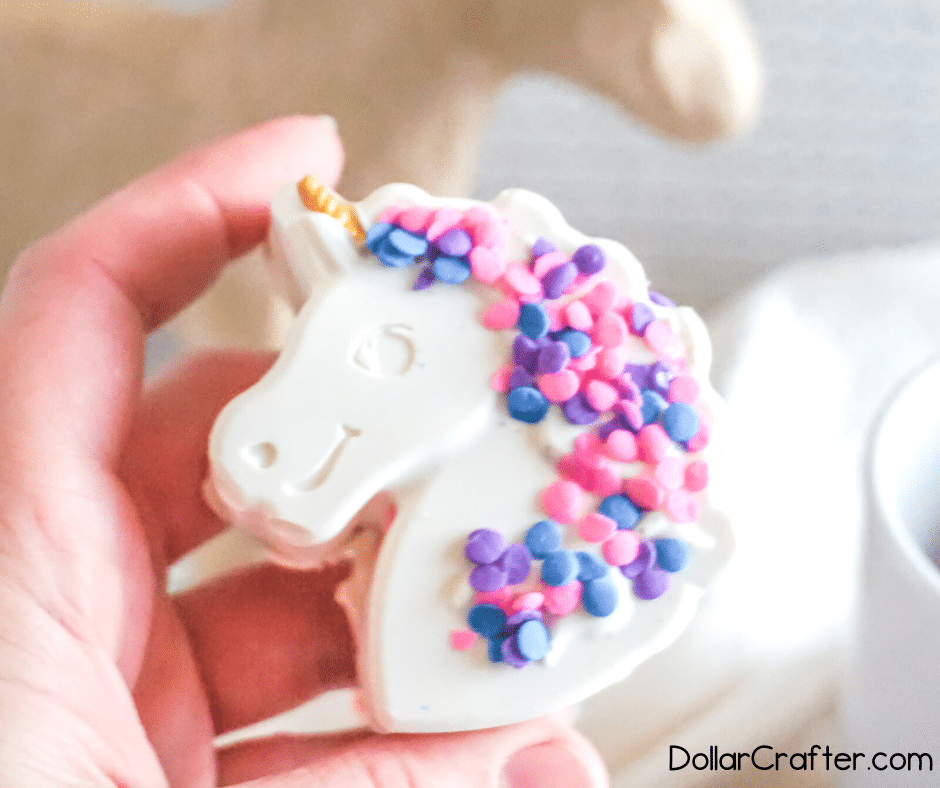 Homemade Unicorn Hot Cocoa Bombs
I was so excited to try making these unicorn hot chocolate bombs because they are such an affordable and fun craft for kids. You could make this as a special gift or just treat yourself. They actually look too good to use but so well worth it when you have one.
Supplies:
Tips for Making Hot Cocoa Bombs at Home
When it comes to making hot cocoa bombs at home we have some tricks for you that will save your sanity when it comes to creating your hot chocolate bombs.
What Kind of Chocolate Can You Use to Make Hot Cocoa Bombs?
While you can use chocolate chips or melting chocolates to create a hot cocoa bomb, we personally suggest using melting chocolates.
Melting chocolates are created for candy making and can handle the melting and reshaping process better than chocolate chips can. Chocolate chips on the other hand can be more prone to seize up. This is not to say that you cannot overheat melting chocolates and run into issues with them seizing up, it is just that it is less likely to happen when using melting chocolates.
What Should I Look For Before Buying a Hot Cocoa Bomb Mold?
To create these unicorn hot cocoa bombs we used this silicone mold that we found on Amazon. When it comes to purchasing a silicone mold you need to be mindful of its temperature ratings and if buying in store run a pinch test prior to purchase to make sure that it truly is silicone.
Not all silicone is manufactured equally. While all levels of melted chocolate should be ok for any style of silicone mold, you can sometimes run into issues if you plan on freezing your hot cocoa bombs in order to set the candy melts.
Typically a silicone mold can withstand hot and cold temperatures, however, you do need to make sure that the silicone mold you are using can handle that low of a temperature before freezing so that you do not damage your mold.
We also suggest running a pinch test to make sure that you are getting a pure silicone mold and not one that has had another material added to lower the costs. To do this simply pinch and twist a section of the silicone. If it stays the same color your mold is good to go – if it has a whiteness to it, then the mold has a filler in it and is not pure silicone. Even though a pure silicone mold may be more expensive, it is a better investment as they will last longer and are more versatile in use.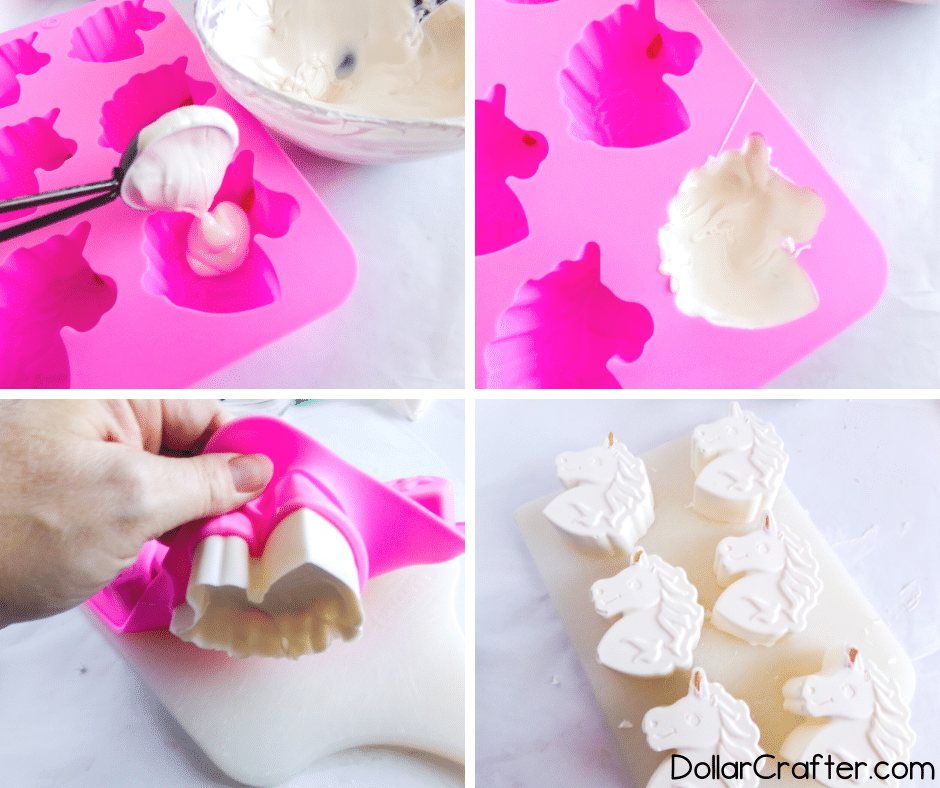 How Many Marshmallows Should You Put Into Your Hot Cocoa Bombs?
There is never such a thing as too many marshmallows in my book. When it comes to filling your hot cocoa bombs stuff as much as you can into them. It is so much fun watching the marshmallows explode into your cup of hot cocoa!
What if I Want to Add Different Ingredients?
You totally can! Just keep in mind when you are adding ingredients to your hot cocoa bombs that you do plan on drinking this. Make sure your ingredients will melt into the hot milk so you don't end up choking.
How to Make These Unicorn Hot Cocoa Bombs
Let's get crafting! Below is our written tutorial.
Yield: 6 Hot Cocoa Bombs
Unicorn Hot Cocoa Bombs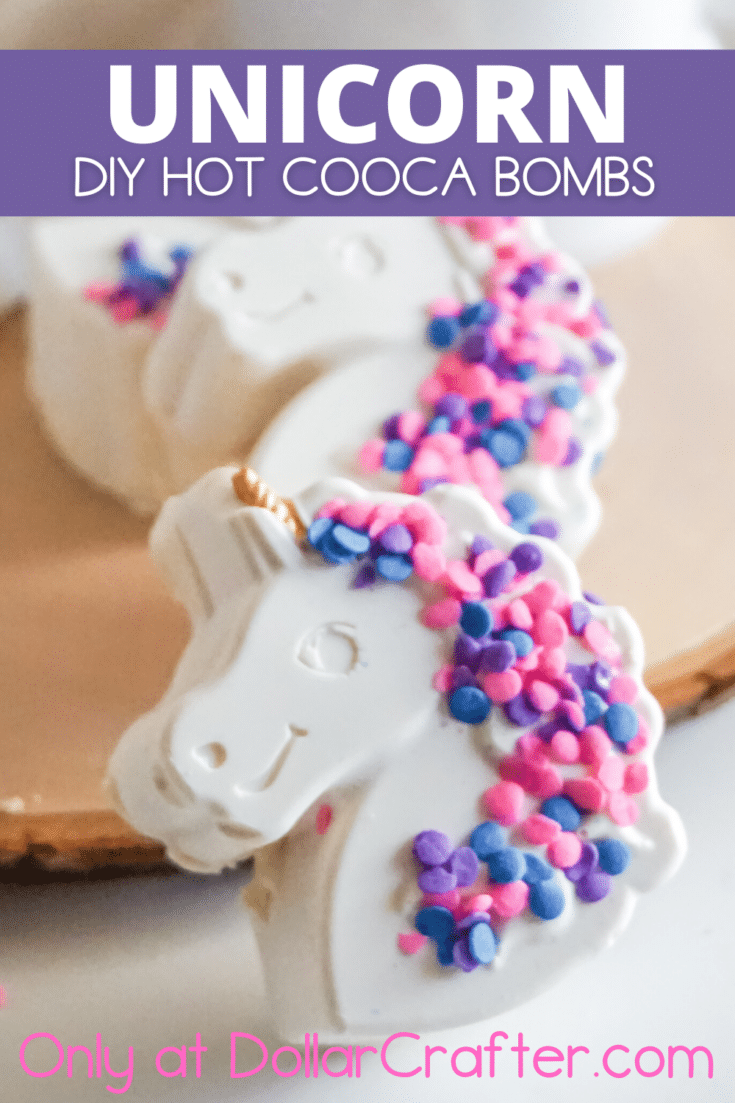 Make a magically delicious unicorn hot cocoa bomb that is filled with white cocoa and rainbow marshmallows!
Ingredients
¼ cup Unicorn Horn Sprinkles
¼ cup Mixed Sprinkles
12 Rainbow Marshmallows
2 cups White Candy Melts
2 cups White Hot Chocolate Mix
Unicorn Mold
Paint Brush
Water
Instructions
Place white candy melts in a microwave safe bowl and melt in the microwave per the directions on the package.
Position a single unicorn horn sprinkle in the horn of each mold.
Place 1 tbsp melted candy melt into one cavity of the bomb mold and, using the bottom of your tablespoon measuring spoon, press the chocolate up the sides of the mold, keeping it thick but even. Repeat with 6 bomb mold halves.
Place the chocolate filled bomb molds into the freezer for 5 minutes.
Remove molds from the freezer and gently pull the mold away from the chocolate unicorns.
Fill the molds with about ½ tbsp melted candy melt and spread this over the entire face shape of the unicorn. This will be the bottom cap of your unicorn bombs.
Place the chocolate filled bomb molds into the freezer for 5 minutes.
Remove molds from the freezer and gently pull the mold away from the cap for the unicorns.
Fill the chocolate unicorns with 1 tbsp hot chocolate mix, a few unicorn sprinkles and 2 rainbow marshmallows.
Pipe a little of the melted candy melts along the edge of each unicorn shape.
Immediately press a unicorn cap to the top of one of the filled cups. This will close the hot cocoa bomb.
Place the hot cocoa bombs into the freezer for 5 minutes to get them to set, then remove.
Paint the mane area with a thin coat of water then immediately cover in the dot sprinkles.
Allow the water to dry then store in an airtight container until you're ready to use.
To use the hot cocoa bombs, place them in a mug and pour 2 cups hot milk over the top. Stir until the hot cocoa bombs are completely melted and enjoy!
Notes
For more fun DIY Hot Cocoa Bombs visit DollarCrafter.com
Recommended Products
As an Amazon Associate and member of other affiliate programs, I earn from qualifying purchases.
More Homemade Hot Cocoa Bomb Ideas You Will Love!
Please Save This to Pinterest
Your shares are how this site grows and I am sincerely grateful. Know a friend who'd like this? Please share it on Facebook or save it to your favorite homemade beauty board on Pinterest.