This Harry Potter Hot Cocoa Bomb is the perfect treat for all of your wizarding needs! With mini marshmallows, wizard sprinkles, and a Hedwig owl to top it off, this drink will transport you to the magical world of Hogwarts.
The best part? You don't need magic powers to make these delicious drinks at home!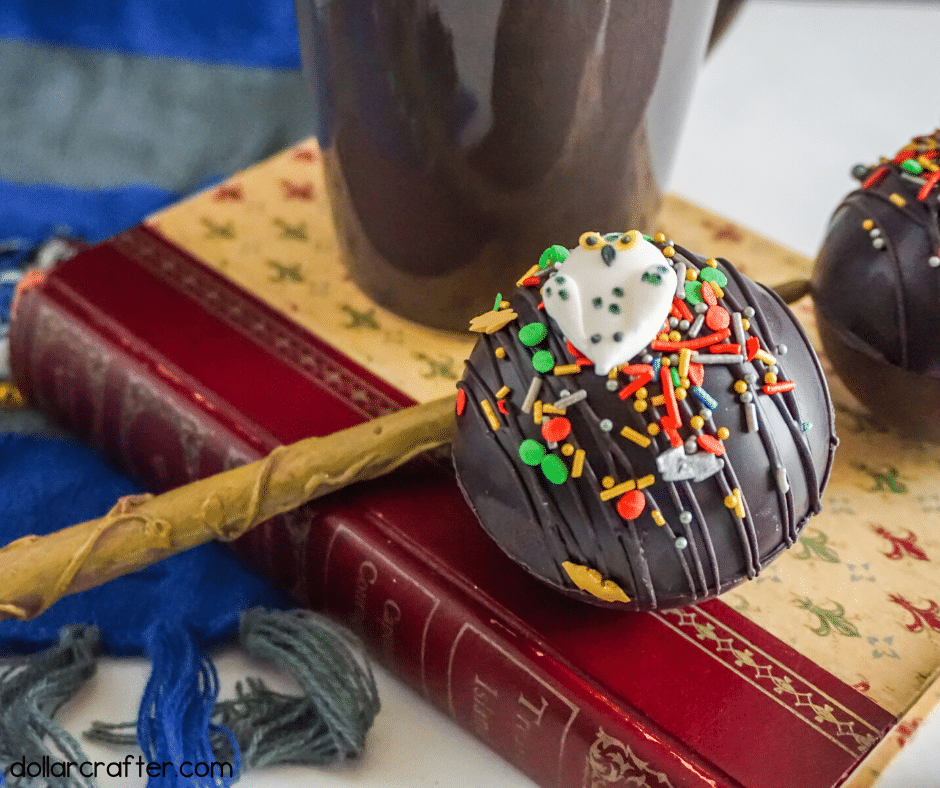 We all know that Hogwarts is a magical place full of mystery and wonder. These Harry Potter hot cocoa bombs will have you feeling as though you're sitting in front of the fire with a mug of boiling hot chocolate, ready for whatever adventures await. They pair well with our Harry Potter layered soaps, if you're hosting an HP party!
The perfect way to make your day feel like you're at Hogwarts! The best part? You don't need magic powers to make these delicious drinks at home!
Harry Potter Chocolate Bombs
Supplies:
Black Candy Melts
Hot Cocoa Mix
Mini Marshmallows
For a fun twist on these hot cocoa bombs, you could also use colored candy melts to represent your favorite Hogwarts House!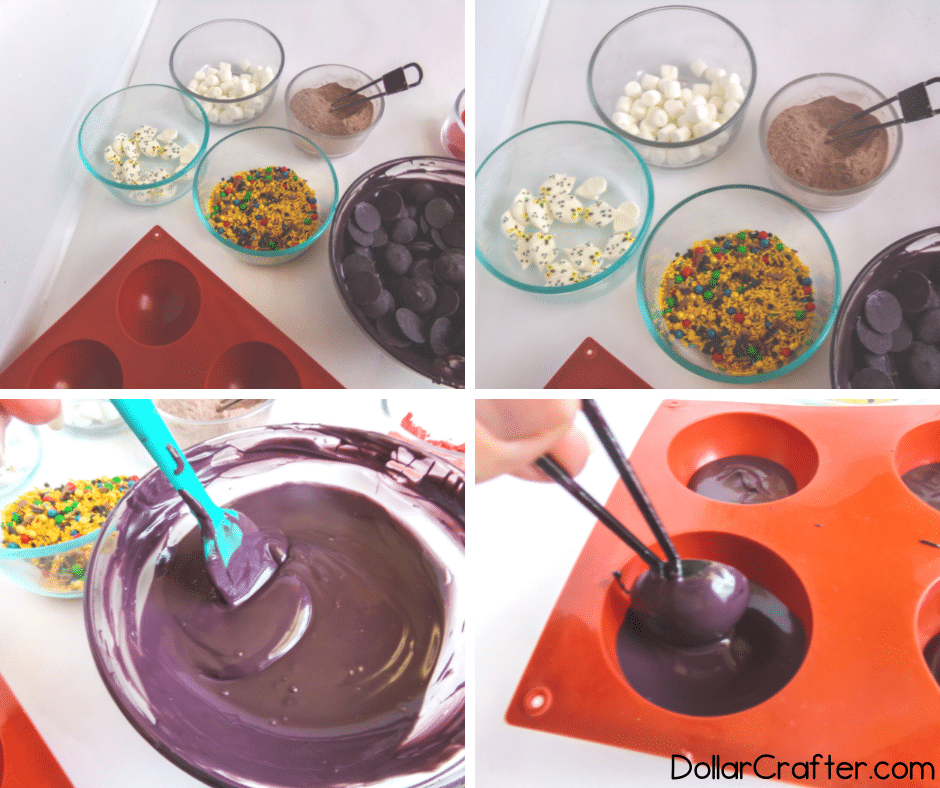 How to Serve Hot Cocoa Bombs
This is simple! I like to pour hot milk over the cocoa bomb, in a clear glass so I can watch the magic.
Create a mug of fresh hot cocoa by heating up six ounces of milk.
Place the hot cocoa bomb into your cup and pour the hot milk over.
Watch your drink go from plain to spellbinding!
Our Master Muggle wasn't sure about the whole Harry Potter thing at first and then he drank our Hot Cocoa Bomb…let's just say he has believed in magic ever since. Just be careful to keep a close eye on your cup so Hedwig doesn't swoop right down out of anywhere and grab that drink up!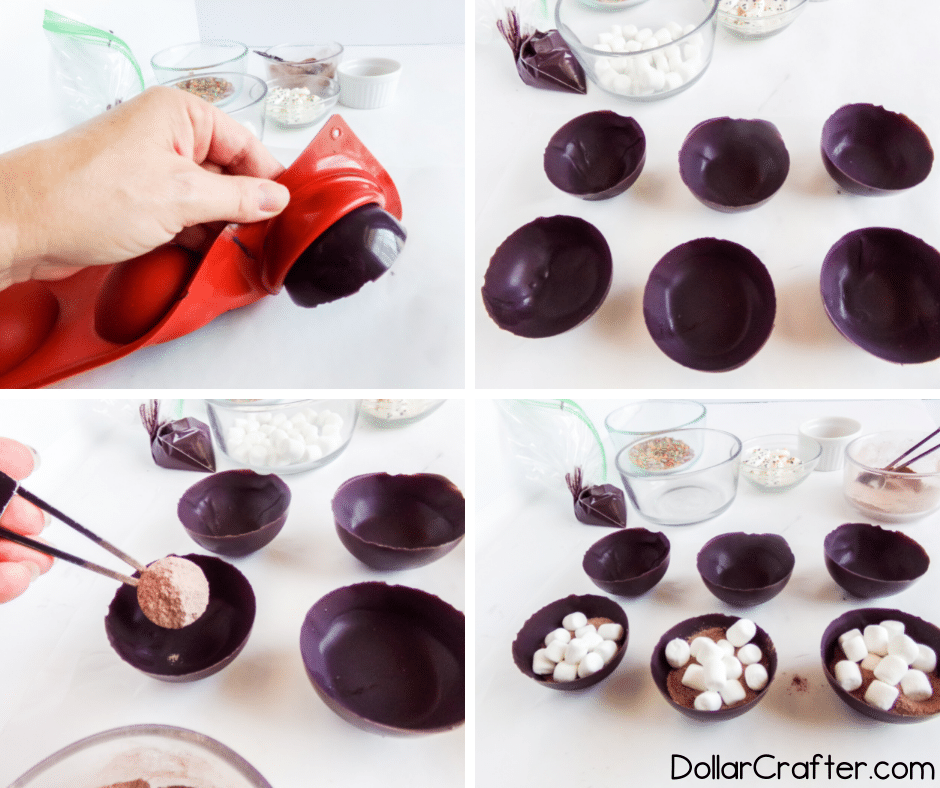 Tips for Making a Harry Potter Hot Chocolate Bomb
Making hot cocoa bombs at home for the first time can be daunting because it looks complicated, but there are some tricks we can share that will make this task much easier.
What Kind of Chocolate Can You Use to Make Hot Cocoa Bombs?
While you could utilize a simple chocolate chip to create a hot cocoa bomb, we would instead suggest using melting chocolates.

Melting chocolates are created for candy making and can handle the melting and reshaping process better than chocolate chips. Chocolate chips on the other hand can be more prone to seize up due to high temperatures, though this is less likely when utilizing melting chocolates in your task.
What Should I Look For Before Buying a Hot Cocoa Bomb Mold?
To make Harry Potter hot cocoa bombs, we used this silicone mold. Make sure to buy a food-grade quality one that's safe for high and low temperatures (like microwaving or freezing).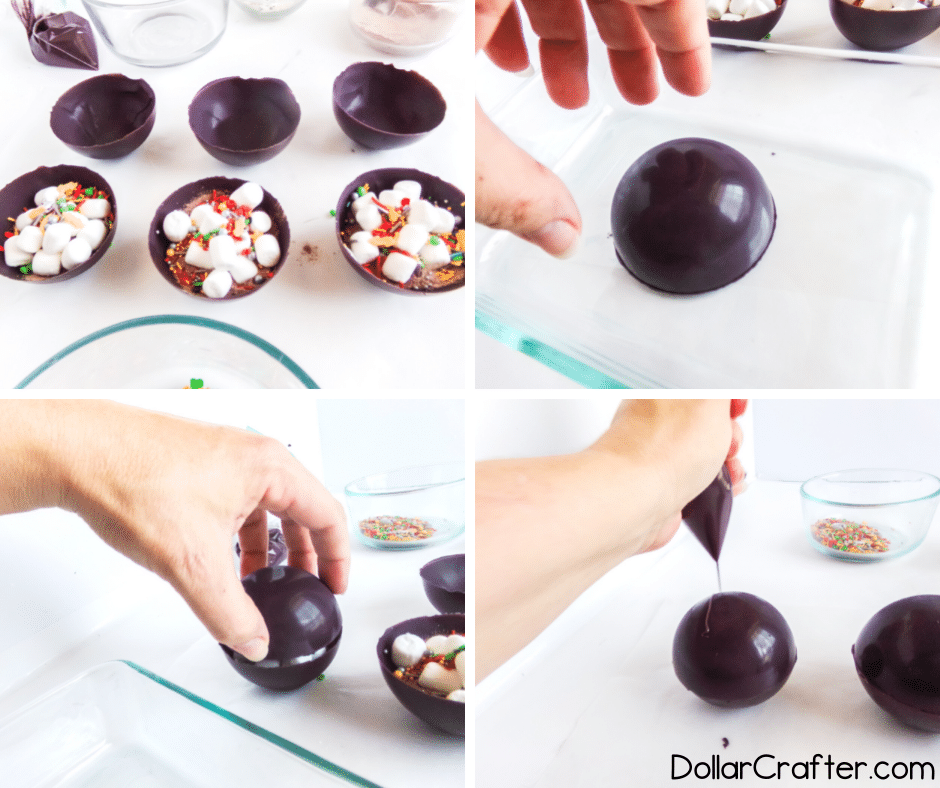 How Many Marshmallows Should You Put Into Your Hot Cocoa Bombs?
Fill your cocoa bombs with as many marshmallows as you can and watch them explode. Have you heard of exploding bonbons? I promise you this is better!
What if I Want to Add Different Ingredients?
Go for it! Incorporating a variety of ingredients will give your hot cocoa bombs different flavors. For example, chocolate-covered cherries will create an interesting twist on hot chocolate by adding a sweet flavor.

Just make sure that any ingredients you add won't affect the taste or texture of the drink too much and that they'll dissolve in milk!
How to Make Harry Potter Hot Chocolate Bombs
Let's get crafting! Below is our written tutorial.
Yield: 6 Hot Cocoa Bombs
Harry Potter Hot Chocolate Bombs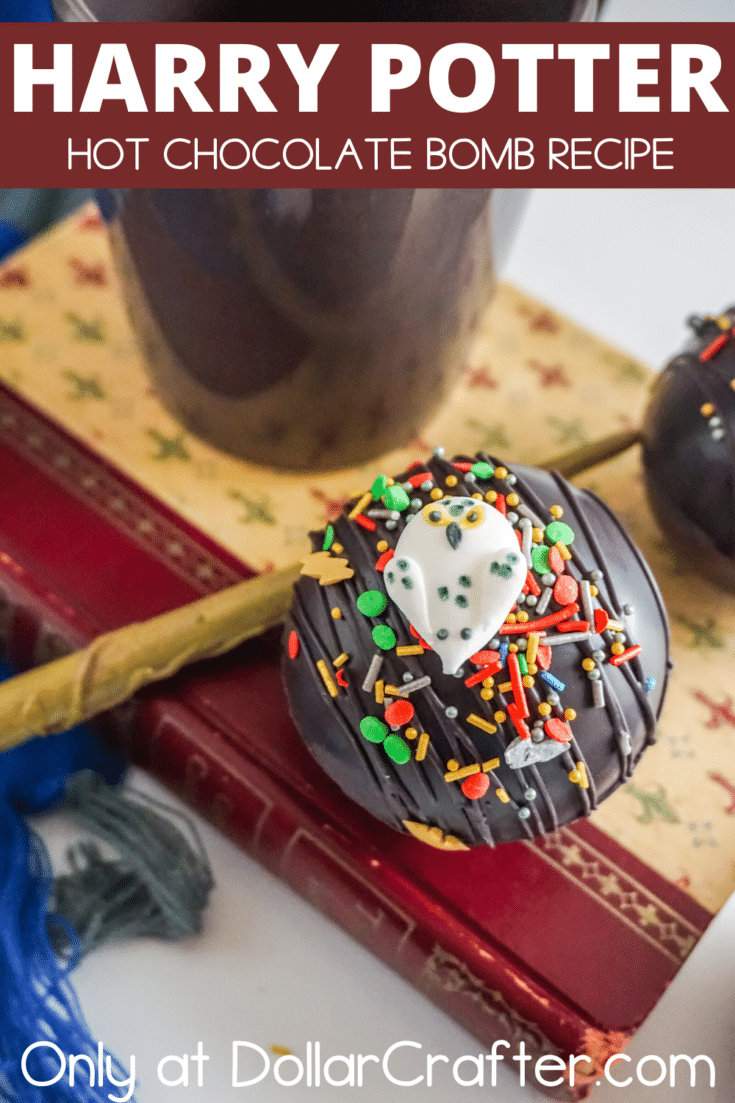 These Harry Potter Hot Chocalte Bombs are a magical cocoa with mini marshmallows, wizards sprinkles, and a Hedwig owl. This will make your cold winter night warm up in no time!
Ingredients
2 cups Black Candy Melts (I used: https://www.amazon.com/Wilton-Black-Candy-Melts-10-Ounce/dp/B007EMYHB0)
2 cups Hot Chocolate Mix
2 cups Mini Marshmallows
1/2 cup Mixed Wizard Sprinkles
6 Owl Icing Toppers
Silicone Hot Cocoa Bomb Mold
Instructions
Place black cake flavored candy melts in a microwave safe bowl and melt in the microwave per the directions on the package.
Place 1 tbsp melted candy melt into one half of a bomb mold and, using the bottom of your tablespoon measuring spoon, press the chocolate up the sides of the mold, keeping it thick but even. Repeat with 12 bomb mold halves. Place the remaining candy melts into a zipper top bag or piping bag with a small tip.
Place the filled bomb molds into the freezer for 5 minutes.
Remove molds from the freezer and gently peel each of the sphere halves from the mold.
Fill 6 of the molds with 1 tbsp hot chocolate mix, 1 tsp sprinkles, and 6-8 mini marshmallows.
Heat a plate or a flat-bottom bowl in the microwave until the surface of the plate is warm to the touch.
Press one of the empty bomb halves open-side-down onto the flat portion of the warm plate for about 10 seconds. This will gently melt the rim of the cup.
Immediately press this warmed edge cup to the top of one of the filled cups. This will join the two halves of the hot cocoa bomb.
Using your leftover candy melts, drizzle the leftover candy melts over the assembled hot cocoa bombs then immediately follow by sprinkling additional sprinkles over them.
Add a small dab of chocolate on the back of an owl icing decoration then immediately press the dab of chocolate on top of a hot cocoa bomb, attaching the owl to the bomb.
Place the hot cocoa bombs into the freezer for 5 minutes to get them to set, then remove and store in an airtight container until you're ready to use.
To use the hot cocoa bombs, place them in a mug and pour 2 cups hot milk over the top. Stir until the hot cocoa bombs are completely melted and enjoy!
Notes
For more fun DIY Hot Cocoa Bombs visit DollarCrafter.com
More Harry Potter Crafts You Will Love!
Please Save This to Pinterest
Your shares are how this site grows and I am sincerely grateful. Know a friend who'd like this? Please share it on Facebook or save it to your favorite recipe board on Pinterest.