Do your kids love Shark Week? They will love these DIY Baby Shark Soap Bars for Kids – a simple craft that is perfect for little hands!
If you are on the hunt for an easy and fun project to do with your kids, this melt and pour soap recipe is for you!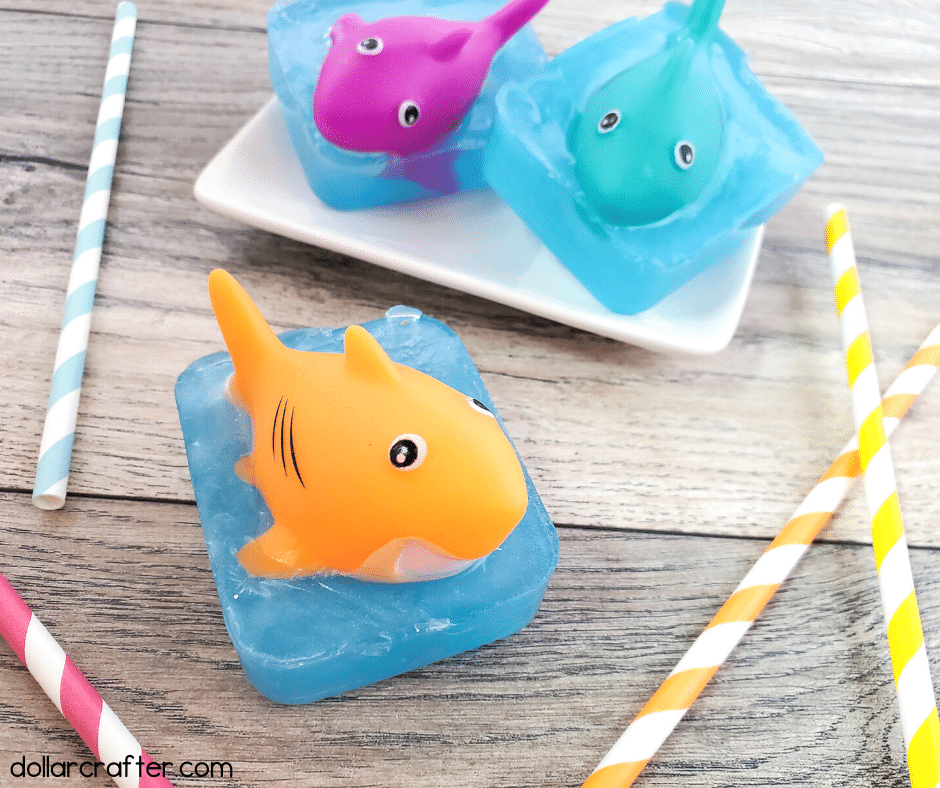 This DIY melt-and-pour soap recipe includes an adorable toy baby shark on top of each bar with a water squirter in his mouth!
Your child will have so much fun playing with their new bath toy while getting clean in the tub or shower. Plus, they'll love the sudsy bubbles and how their skin feels soft after using this homemade soap recipe.
Psst… have you read my soap making guide yet?! I included how to get started, plus some of my tips and tricks – learned from trial and error. 😉
Homemade Baby Shark Soap
Supplies Needed: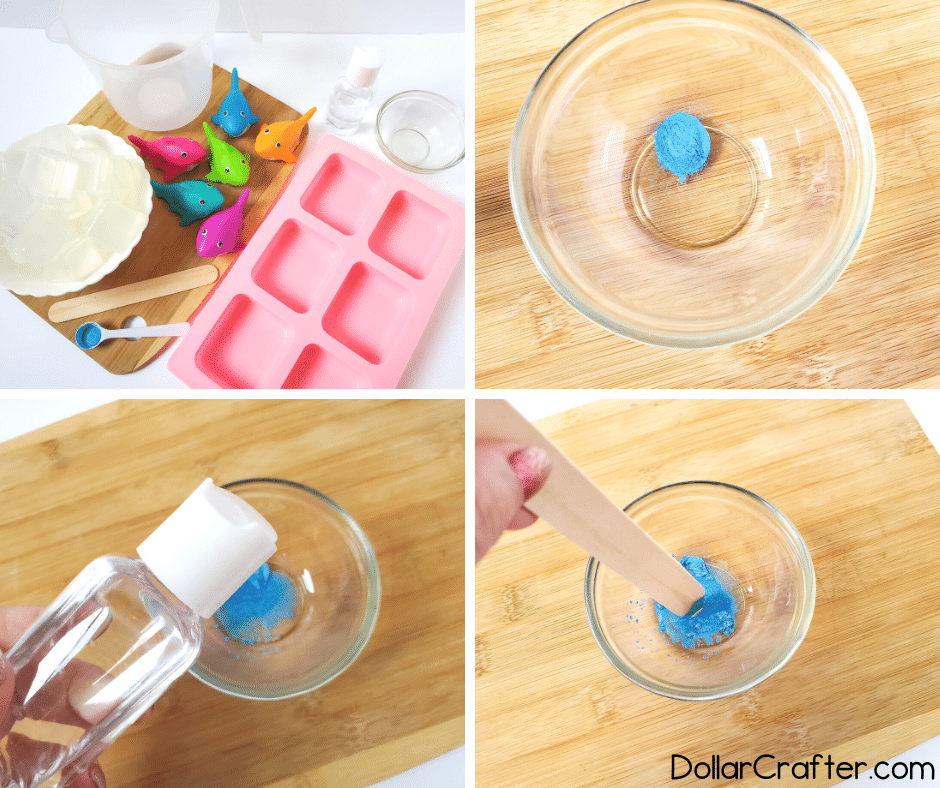 To make these baby shark soaps we decided to use individual molds in order to use a larger toy such as the squirter.
I mean…how could you pass a soap that also squirts water up?
If you balance your shark toy just right the toy will be able to squirt water while it is still in the soap! I found that balancing the shark's nose against the edge of the silicone mold help keep the squirter from being submerged into the melt and pour soap base.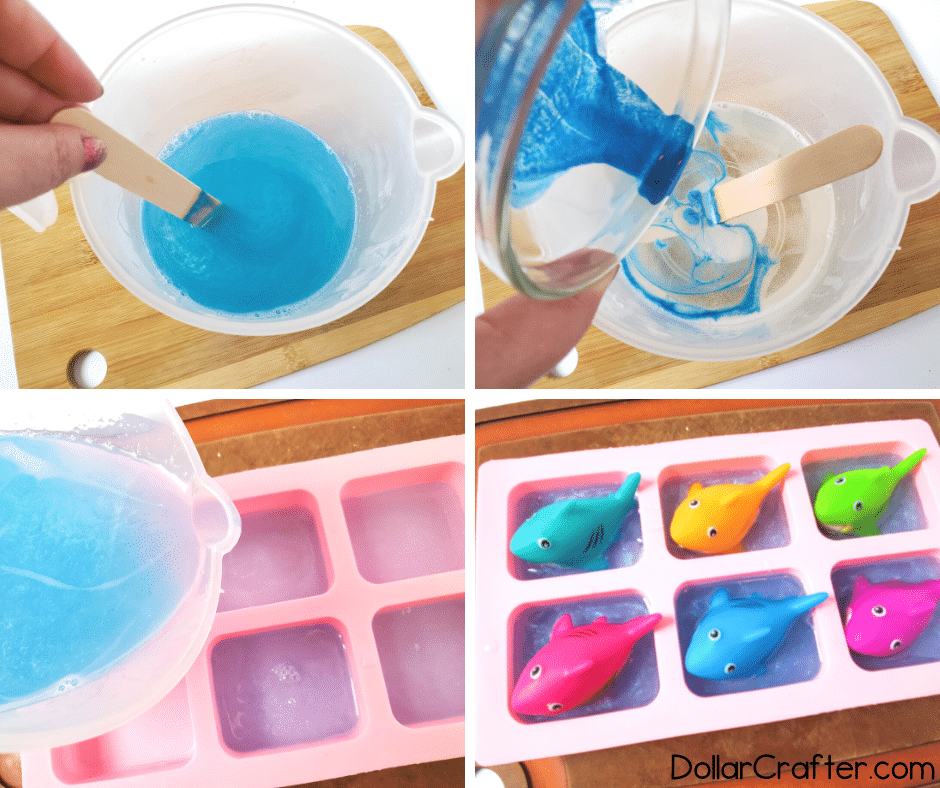 That said – a couple will most likely settle a little too much into the soap. If the shark toys settle down a little too far to where the squirter is covered, you could always just use that as a motivation for your child to use said soap 😉
This craft is really as simple as melt, mix, and pour. Your kids will have a blast doing this. And the best part? Unlike most soap recipes, this soap will be hardened in about 2 hours and ready for use!
How to Make Baby Shark Soap for Kids
Ready to get crafting? You will find the full tutorial below!
Yield: 6 Shark Soap Bars
Baby Shark Soap Bars for Kids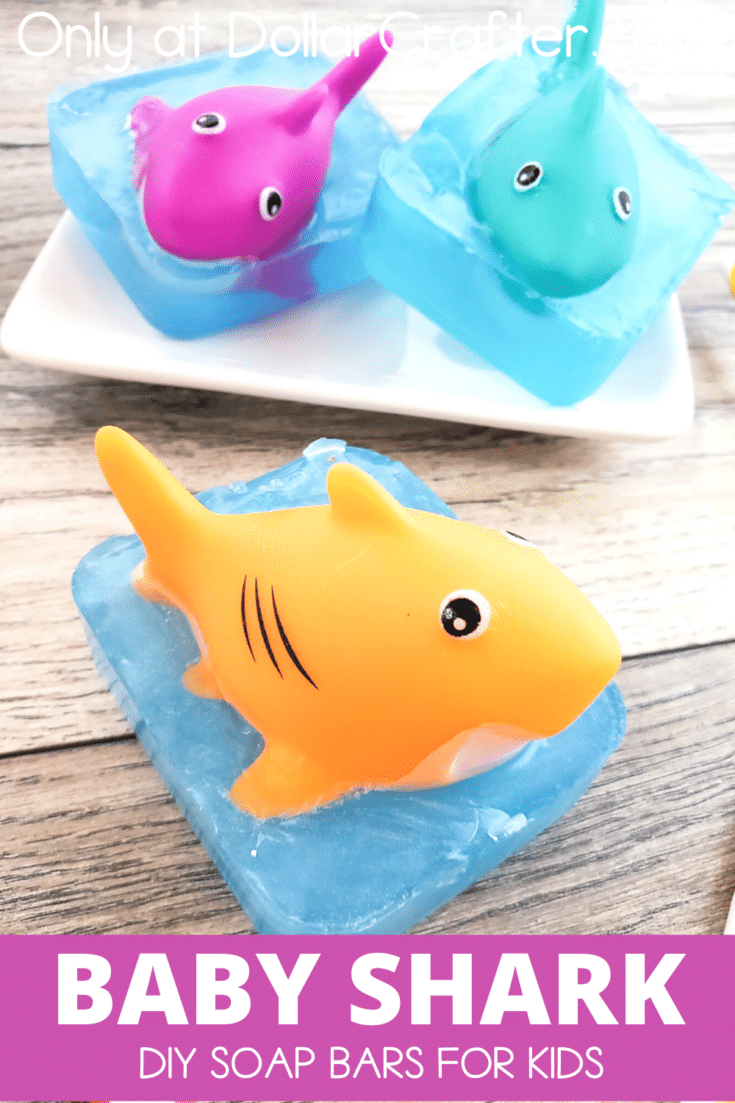 This DIY melt-and-pour soap recipe includes an adorable toy baby shark on top of each bar with a water squirter in his mouth!
Total Time
2 hours
30 minutes
Materials
1 lb clear glycerin soap base, cut into 1" x1" cubes
⅛ tsp bright blue mica powder
6 rubber shark bath squirters
Rubbing alcohol
Tools
Rectangle silicone mold
Microwave safe 4 cup measuring cup with spout
Wooden craft stick
Instructions
Cut your soap into 1 inch cubes, and place into the measuring cup.
Heat on high for 30 seconds, remove and stir well. Heat in additional 30 second intervals, stirring between each heat session, until soap is fully melted, and there are no clumps.
Add mica to a small dish and add just a little bit of rubbing alcohol to it. Stir until color is combined.
Add color to the soap base, stir until the color is solid.
Pour a small amount of soap into each mold cavity.
Place a shark into each mold cavity.
Fill the rest of each mold cavity with soap base. If you have bubbles, you may spray with rubbing alcohol.
Allow soap to set for about 2 hours.
Notes
For more fun DIY Soaps visit DollarCrafter.com
More Fun Melt and Pour Soap Recipes You Will Love
Please Save This to Pinterest
Your shares are how this site grows and I am sincerely grateful. Know a friend who'd like this? Please share it on Facebook or save it to your favorite crafts board on Pinterest.