Say goodbye to your stressful day with these DIY Lemon Lime bath bombs. The duet of lemon and lime are perfect for relieving stress, improving moods, or just giving you that much needed release from daily hassles! You can make them easily at home using inexpensive ingredients.
I love how these lemon lime bath bombs smell! They've become one of my favorite go-to items after a long day that has left me feeling drained.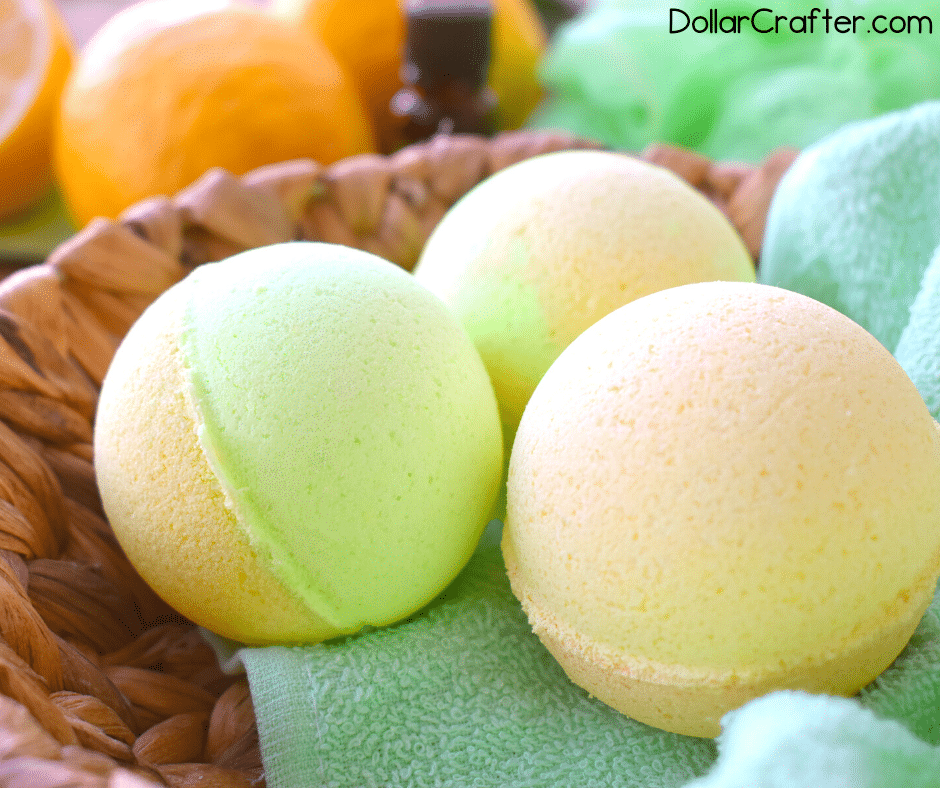 DIY Lemon Lime Bath Bombs
I can't get enough of the refreshing lemon and lime scent from these bath bombs. Every time I use one, it leaves me feeling energized and ready for whatever life throws at me next! You will thank me later- after you make and use one! Are you ready?
Supplies:
Tips for Making Bath Bombs at Home
If you are new to making bath bombs at home, make sure to swing over and read all of our tips and tricks for making bath bombs at home before you get started.
Making bath bombs can seem like a big task, but it isn't! Making your own is easy with these simple hacks.
When it comes to bath bomb molds, not all are made equal. Metal bath bomb molds tend to be the most popular, however, I personally prefer silicone molds. Silicone bath bomb molds are a whole lot easier to pop the bath bomb out of (especially if you are crunched for time and can't let your bath bomb dry overnight). Plus silicone is super easy to clean and store.
If you choose to use a metal bath bomb mold, one thing to keep in mind while mashing your bath bomb into one is to mash the bath bomb together side by side. If you attempt to mash the bath bomb mold top to bottom instead of side to side it will make getting the bath bomb out in one piece a bit harder. Remembering this simple trick will be a sanity saver when it comes time to removing your bath bomb from the mold.
Mixing ingredients also matters. I used to be one to just throw everything in and mix it all at once…then struggle with crumbly bath bombs. To avoid this, mix the wet ingredients together really well first. Then add the citric acid. This way you aren't scrambling to beat the fizz.
Also, keep some isopropyl alcohol close by for when you are adding your mixed ingredients into your bath bomb molds. You can use alcohol to dampen a mixture that is too dry without ruining the bath bombs.
It is always a good idea to let your bath bomb sit in the mold overnight to dry.
After you have made your bath bombs, protect them from humidity by storing them in an airtight container.
If you like making BATH BOMBS, please check out our Homemade Lavender Bath Bombs. Perfect addition to your relaxing bath bomb collection.
How to Make Homemade Lemon Lime Bath Bombs
Let's get crafting! Below is our written tutorial.
Yield: 5 Bath Bombs
Lemon Lime Bath Bombs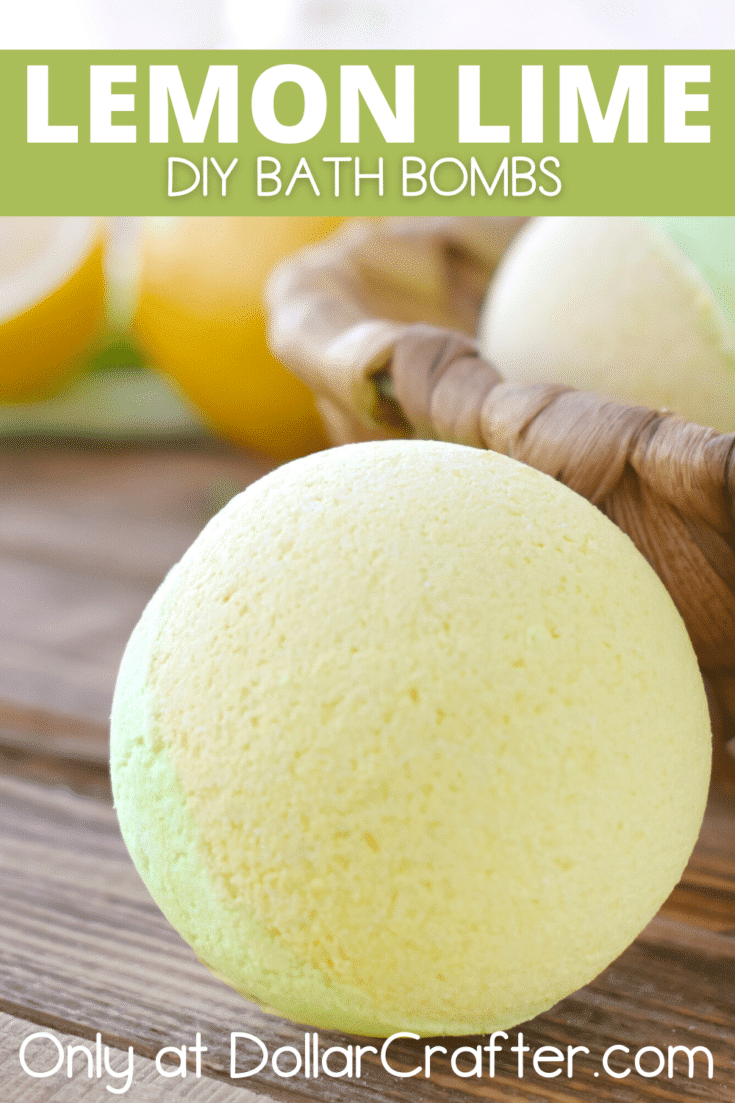 These amazing citrus scented DIY bath bombs are an invigorating pick me up. The duet of lemon lime is perfect for relieving stress, improving mood, and relaxing.
Total Time
1 day
30 minutes
Materials
1 1/2 cup baking soda
3/4 cup citric acid
1 tbsp bentonite clay
1 tbsp epsom salts
2 tbsp melted coconut oil
1/2 tsp essential oil blend desired (we used lemon and key lime tart)
1/2 tbsp polysorbate 80 (to keep the colorant from sticking to the bathtub)
1 tsp yellow mica powder
1/2 tsp green mica powder
1/2 tsp alcohol
1/2 tsp cornstarch
Tools
5 bath bomb molds
2 mixing bowls
measuring spoons
spatula
Instructions
Whisk together the baking soda, citric acid, clay and Epsom salts.
In a second bowl, combine the melted coconut oil, essential oil blend and polysorbate 80 together, mixing well.
Add liquid ingredients 1 tsp at a time to the dry ingredients, mixing it together slowly so as not to start the fizzy reaction.
Separate the mixture into two bowls, one for the green mica powder and one for the yellow mica powder. Stir until the colors are consistent throughout. If you would like a more intense color, add more mica powder in 1 tsp increments, stirring between each increment until you have the color you want. Keep in mind that the color will fade a little when the mixture dries.
Dust your bath bomb molds with cornstarch.
Immediately pack each side of the bath bomb mold with the mixture. Pack one side with the yellow mixture and the other side with the green mixture. Pack extra bath bomb mixture between the two molds, then press the two sides together, grinding and pressing them to force the two together.
Allow the bath bombs to rest in the mold for up to 24 hours before gently tapping the top and side of the mold to release the bombs.
Use your bath bombs immediately or store in an airtight container until you're ready to use!
Please Save This to Pinterest
Your shares are how this site grows, and I am sincerely grateful. Know a friend who'd like this? Please share it on Facebook or save it to your favorite homemade beauty board on Pinterest.