I absolutely love no-sew crafts because sewing is not my thing! This sock bunny tutorial is my favorite Easter craft to create because it's super easy and cheap. I'm a sock lover anyway, so I'm always on the hunt for cute socks at the dollar store.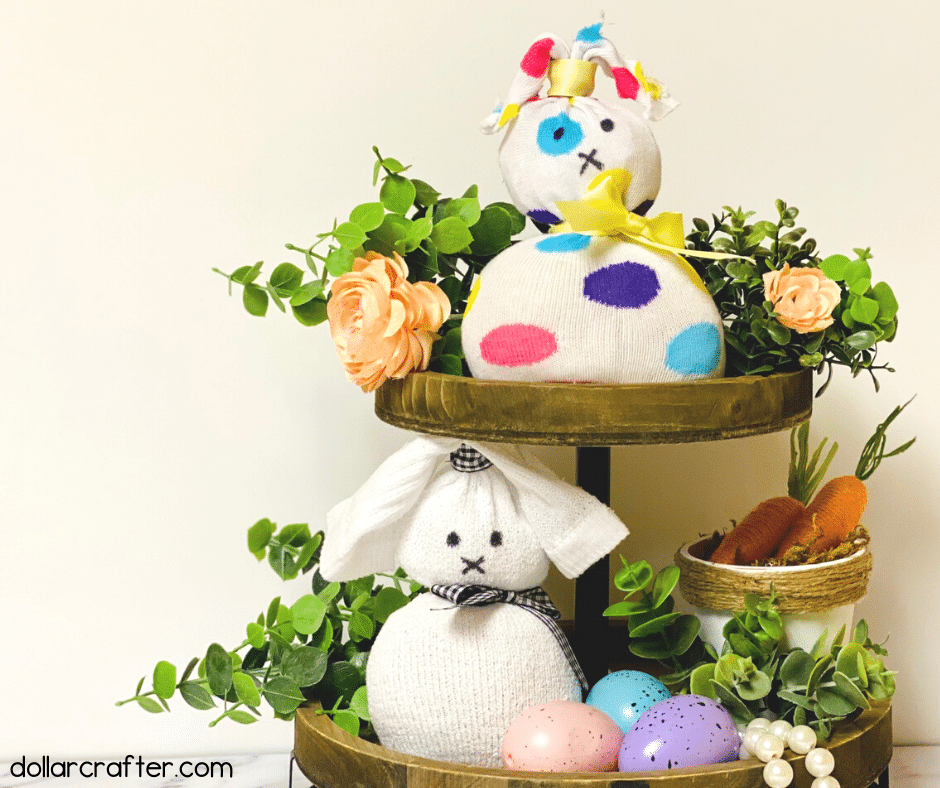 We have been having a blast creating Dollar Tree Easter crafts this last month, make sure to swing by and check them all out for more inspiration!
Homemade No Sew Easter Bunnies
Supplies
Socks, Dollar Tree
Rice or Poly Pellets
Rubber Bands, Dollar Tree
Ribbon, Dollar Tree
Scissors
You might already have most of the supplies at home, so it makes this craft even better. These cute No Sew Easter Bunnies would also look amazing sitting next to our Homemade Easter Dollar Tree Tray.
What color socks should you get?
Any color you want. I tend to change my color theme yearly, so it was a bit more colorful with the poke-a-dot socks this year, which worked out very well because I have several colors to match with other items. Also, throw in an all-white sock bunny too.
What do I do with the other sock?
You definitely can make two No Sew Easter Bunnies and give one to a friend as a gift or display both bunnies. Since this craft is so cheap, why not make more and make gift baskets.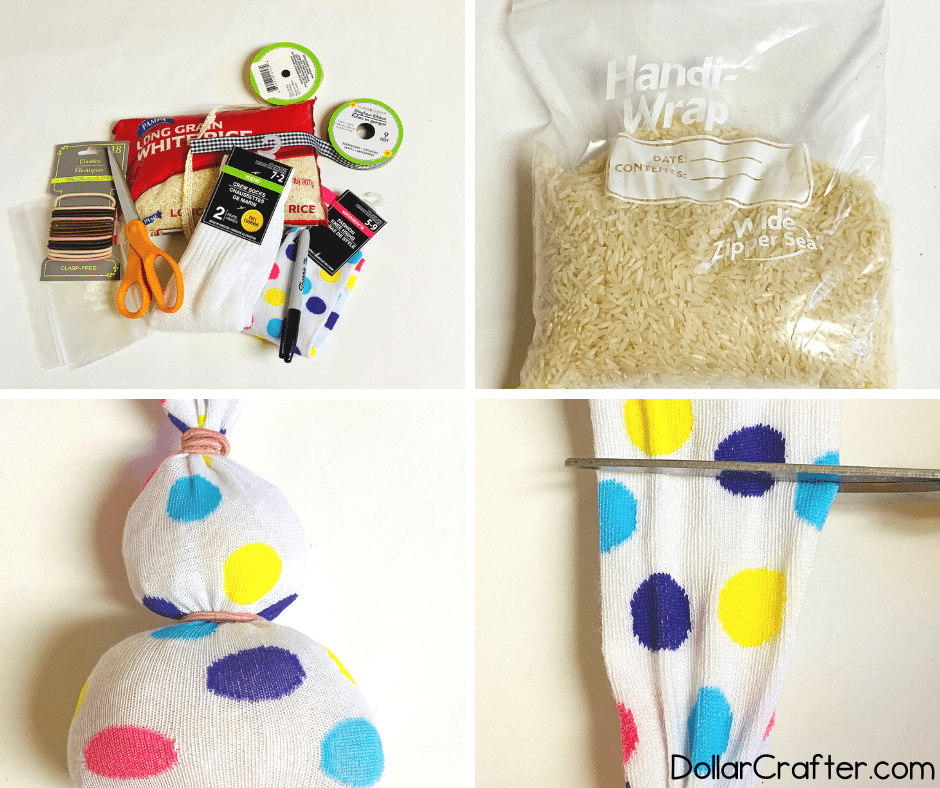 If you want more of a droopy ear look, make sure to cut it longer but if you want the ears to stand up more, then cut the sock shorter.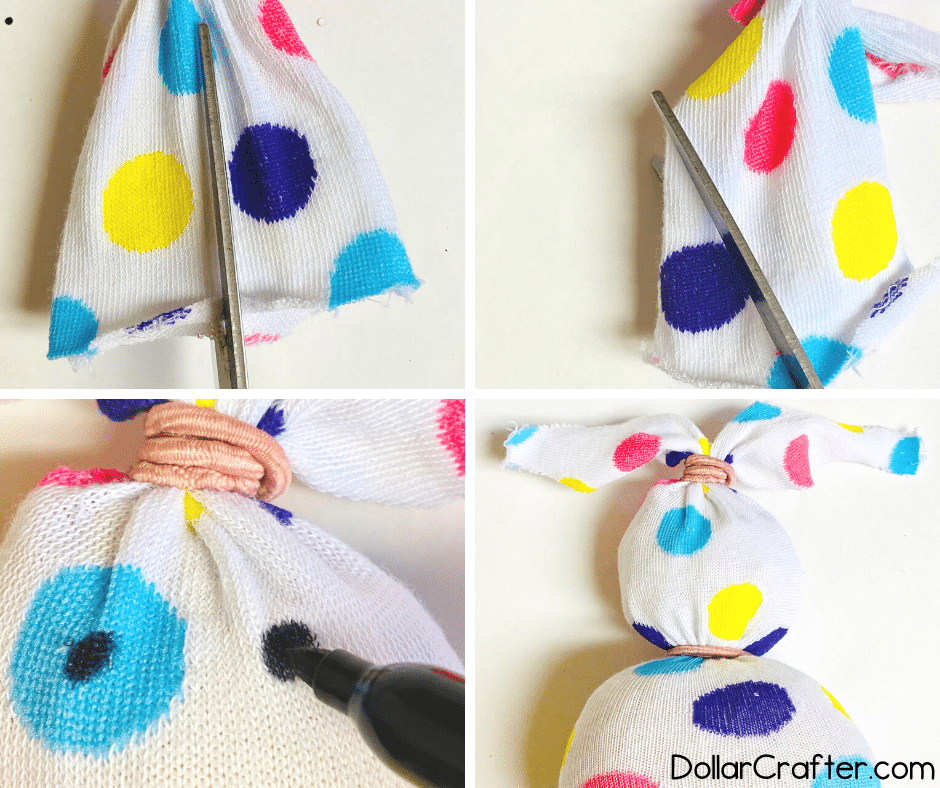 The easy way to make a face is to draw dots for the eyes and an x for the mouth. Unless you have an artist in the house, but dots and an x still look cute. Oh, to hide the rubber band, you put a ribbon around it and either glue or tie it in the back.
How to Make No Sew Bunnies
Ready to get crafting? You will find the full tutorial below!
Yield: 2 Sock Bunnies
No Sew Sock Bunny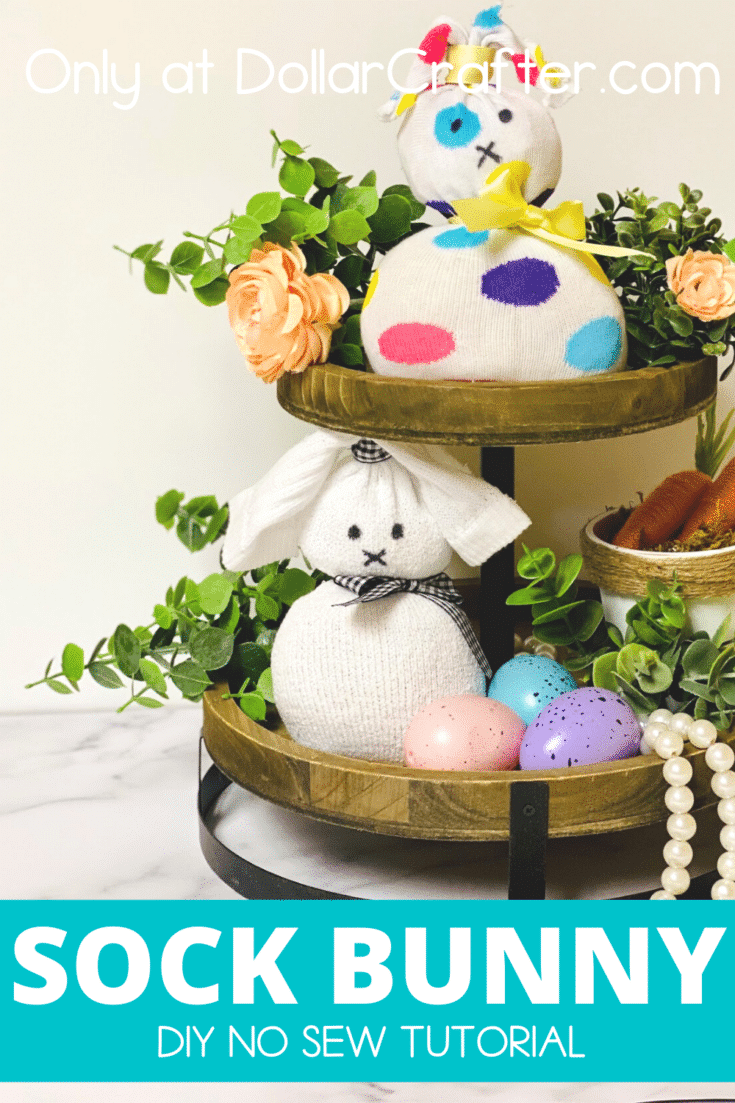 Materials
Socks, Dollar Tree
Rice or Poly Pellets
Rubber Bands, Dollar Tree
Black Sharpie
2 Quart Size Sandwich Baggies
Ribbon, Dollar Tree
Instructions
Gather your supplies.
Fill each of the plastic sandwich baggies with rice or poly pellets.
Place the sealed sandwich bag into the sock making sure to form an elongated ball shape.
Next section off about 2/3 of the sock and tie a rubber band around to form the body, do the same with the rest of the rice in the sock to form the head.
Trim the sock to the desired length for the ears, if you want more droopy ears cut it longer, if you want ears that stand up more than cut the sock shorter.
Cut the sock down the middle to make the ears and then trim to the shape you desire.
Using the black marker make the face of your choice, I chose dots for the eyes and an x for the mouth.
Cut the desired length of ribbon to use for the bow around the neck.
I added an additional piece of ribbon to cover the rubber band on the top and just tied it in a knot in the back ( this is optional).
Then put your Easter bunnies on display and enjoy!
Notes
For more fun Easter crafts visit DollarCrafter.com
Please Save This to Pinterest
Your shares are how this site grows, and I am sincerely grateful. Know a friend who'd like this? Please share it on Facebook or save it to your favorite crafts board on Pinterest.