Refresh your skin and get rid of acne with this green tea clay mask. It has natural, gentle ingredients that will leave you feeling radiant.
In this blog post, I will be showing you how to make a homemade Aloe Green Tea Face Mask. This is great for your skin because it's natural and moisturizing! It also smells terrific too.
All you need are a few ingredients that you may even have on hand. The recipe is very easy to follow and doesn't take long at all to make. It's perfect for those of us who love creating beauty products in our own homes. Let me know what you think after trying out this mask!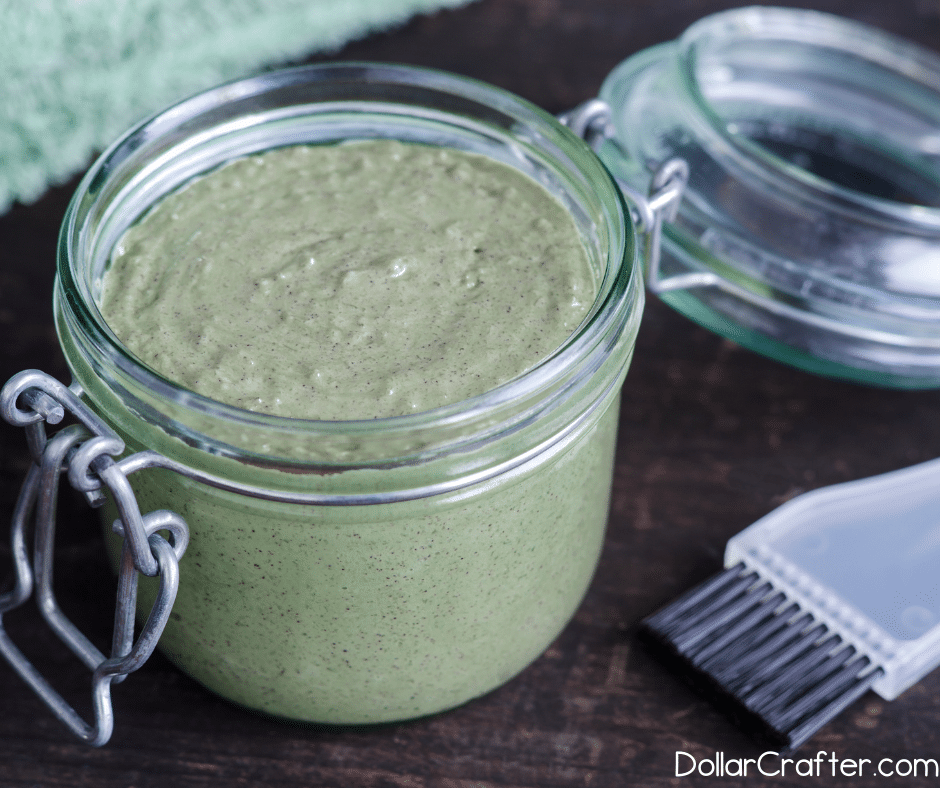 Aloe is a plant that grows in hot climates. It has been used for centuries to soothe burns and wounds and strengthen skin cells. The Green Tea in this recipe helps to tighten the pores while providing antioxidants and anti-inflammatory properties.
This fun DIY mask will not only help your skin, but it also smells great! I will show you how easy it is to make your own homemade aloe green tea face mask.
Pssst… This is part of our homemade beauty series. Last week, we made DIY bug spray!
Supplies:
DIY Green Tea & Aloe Vera Face Mask Benefits
French Clay: is made of decomposed plant matter and volcanic ash. This nutrient-packed Clay is explicitly designed to heal the skin.
Aloe Vera: is great for hydrating skin and has antibacterial, antioxidant, and anti-inflammatory properties.
Lavender: soothes and promotes skin healing.
Green Tea: is filled with antioxidants and anti-inflammatory properties.
Using Your Green Tea & Aloe Vera Face Mask
Clean your face, and then apply warm water to open up your pores. Apply a face mask. Allow the face mask to dry completely, about 30 minutes. Wash off with warm water and apply a moisturizer.
The last thing you want to do is use ingredients in your home that can harm your skin. Green Tea and aloe are natural, gentle on the skin, and have many benefits for healthy-looking hair and a happy body! Happy DIYing!
How to Make a Green Tea and Aloe Vera Face Mask
Ready to get crafting? You will find the full tutorial below!
Aloe Green Tea Face Mask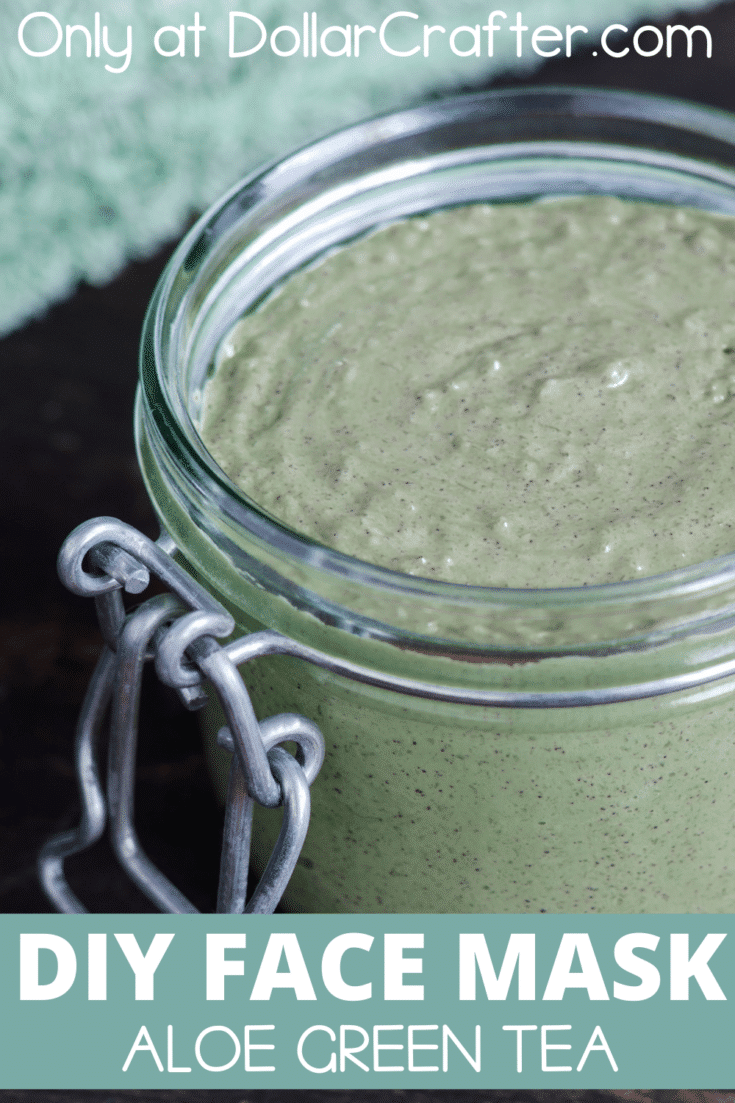 Materials
1 cup prepared Green Tea
1/2 cup French Clay Powder (also called European Clay)
1/2 cup Aloe Vera
8-10 drops of Lavender Essential Oil
Tools
Glass Jar with Lid
Sauce Pan
Glass Bowl
Mixing Spoon
Instructions
Mix the water and green tea together in a small saucepan. Bring to a boil and remove from the heat.
Allow the green tea to steep for 30 minutes or longer.
Once the green tea is ready, mix all the ingredients together in a glass bowl. Do not use metal utensils. It may appear soupy, do not add in more clay to thicken. It will thicken as it sits.
Portion the face mask out into glass jars with lids.
Notes
For more fun DIY beauty ideas visit DollarCrafter.com
Please Save This to Pinterest
Your shares are how this site grows, and I am sincerely grateful. Know a friend who'd like this? Please share it on Facebook or save it to your favorite beauty board on Pinterest.