I'm a big fan of hot chocolate, so these Gingerbread Hot Chocolate Bombs screamed – PLEASE MAKE ME! Just kidding, of course, but they are so darn cute. The holiday season is the best time to make and give these cute bombs away for gifts.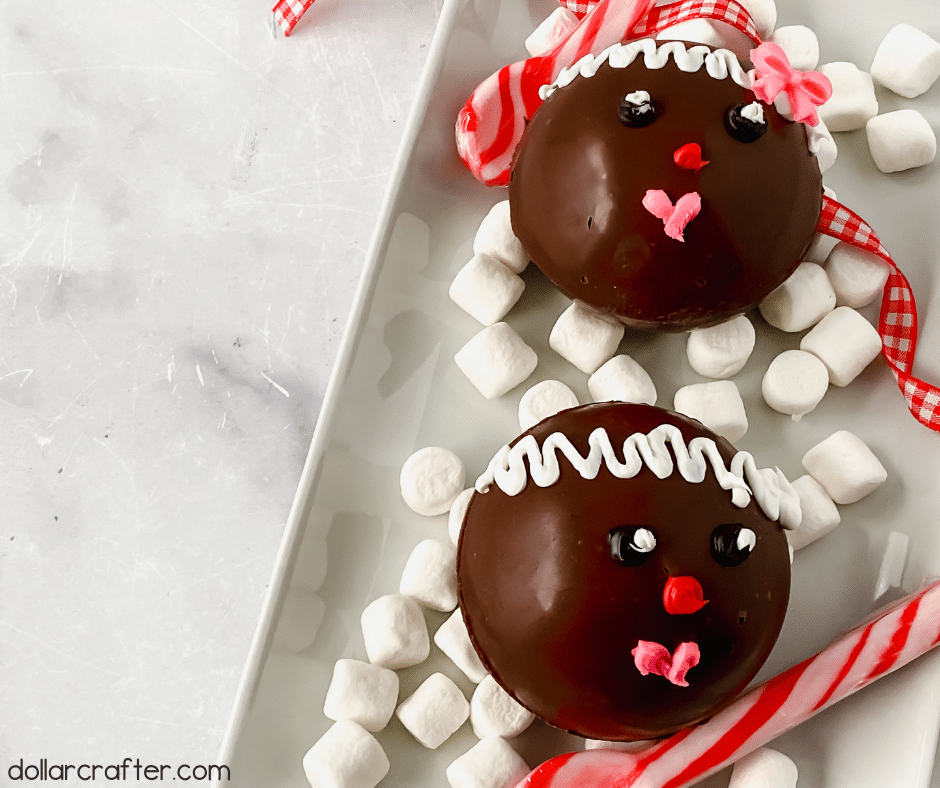 Find all our DIY Christmas Crafts and Ornaments here!
Gingerbread Hot Cocoa Bomb Recipe
Hot chocolate bombs are a fantastic way to get your chocolate fix. Plus, hot cocoa bombs are just FUN to watch. However, this recipe requires more work because you have to JAZZ UP the hot chocolate mix to taste like gingerbread.
Supplies:
Gingerbread Hot Cocoa Mix Recipe:
Gingerbread Hot Cocoa Bombs:
TOOLS
Spoons
Microwave
Piping bags
Tips for Making This Gingerbread Hot Cocoa Mix and Cocoa Bombs
We have some tricks up our sleeve for making hot cocoa bombs at home. Before you start, though, there are a few things that will make the process go much smoother and quicker for your sanity's sake!
What Kind of Chocolate Can You Use to Make Hot Cocoa Bombs?
We recommend using melting chocolates. Melting chocolates are created for candy making and can handle the melting and reshaping process better than chocolate chips can. Chocolate chips on the other hand can be more prone to seize up.
How to Stabilize Your Hot Cocoa Bomb Molds for Filling
Use glass bowls to stabilize the hot cocoa bombs while decorating them so that your hands do not melt the chocolate.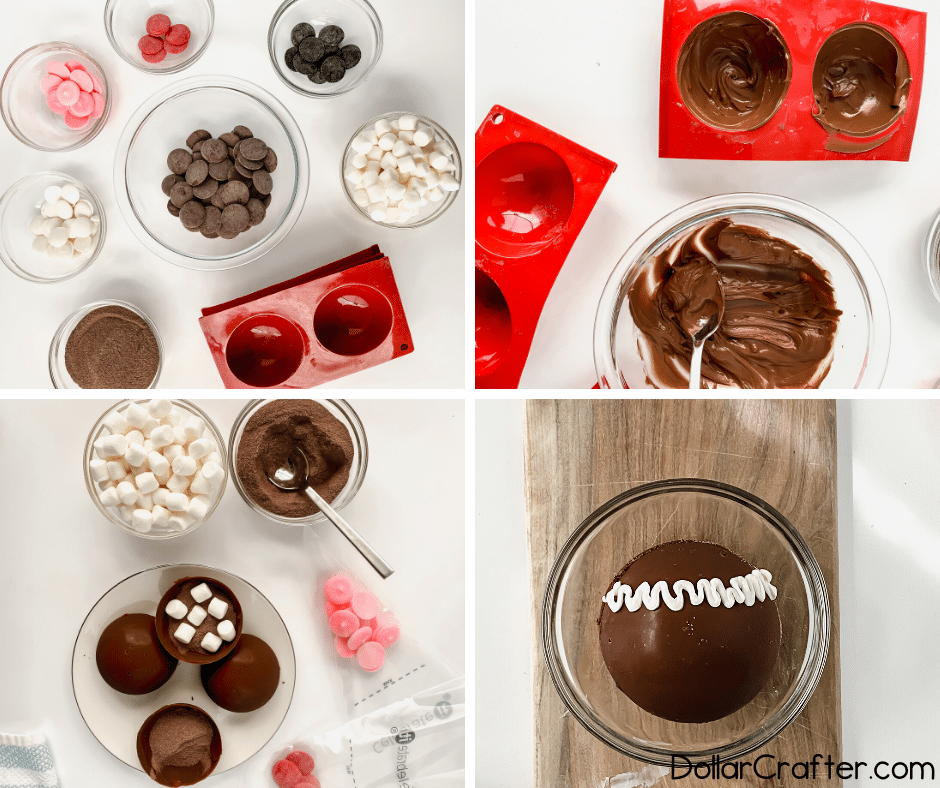 How Many Marshmallows Should You Put Into Your Hot Cocoa Bombs?
There is never such a thing as too many marshmallows in my book. When it comes to filling your hot cocoa bombs stuff (all that empty space) as much as you can into them. It is so much fun watching the marshmallows explode into your cup of hot cocoa!
What if I Want to Add Different Ingredients?
You totally can! Just keep in mind when you are adding ingredients to your hot cocoa bombs that you do plan on drinking this. Make sure your ingredients will melt into the hot milk so you don't end up choking.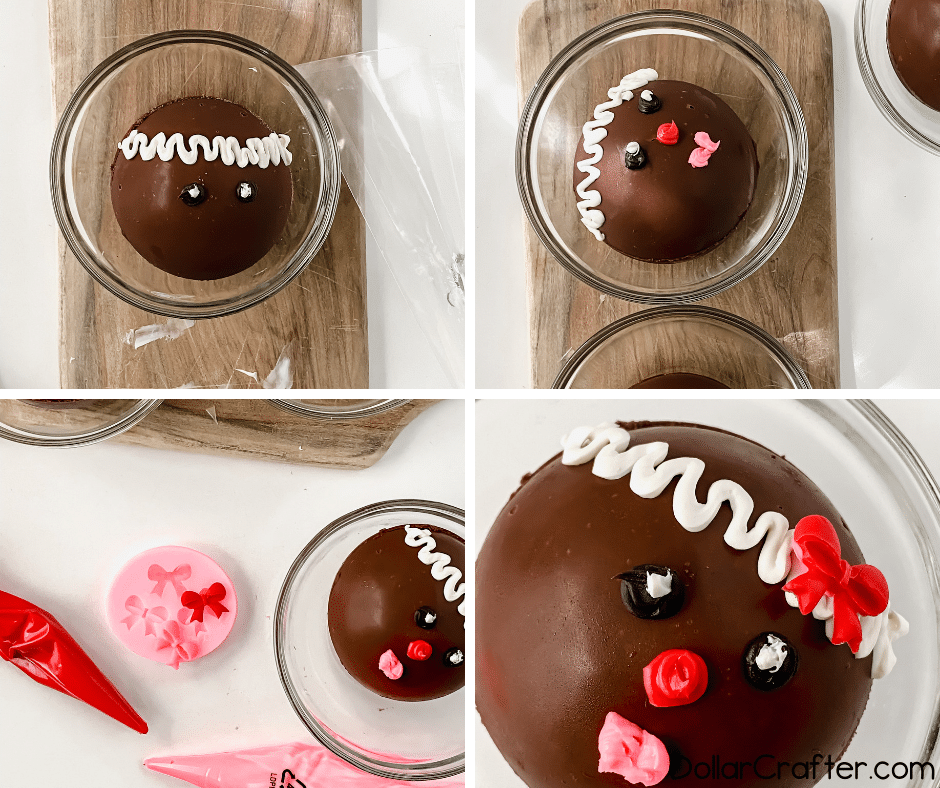 How to Serve Hot Cocoa Bombs
Serving a hot cocoa bomb is simple. I use a clear glass and pour hot milk over the cocoa bomb; that way, you can see all the fun. But a standard mug will work as well.
Heat up six ounces of milk.
Place the hot cocoa bomb into your cup and pour the hot milk over.
Watch your drink go from plain to AMAZING!
How to Make Gingerbread Hot Cocoa Bombs at Home
Let's get crafting! Below is our written tutorial.
Yield: 3 Hot Cocoa Bombs
Gingerbread Hot Chocolate Bombs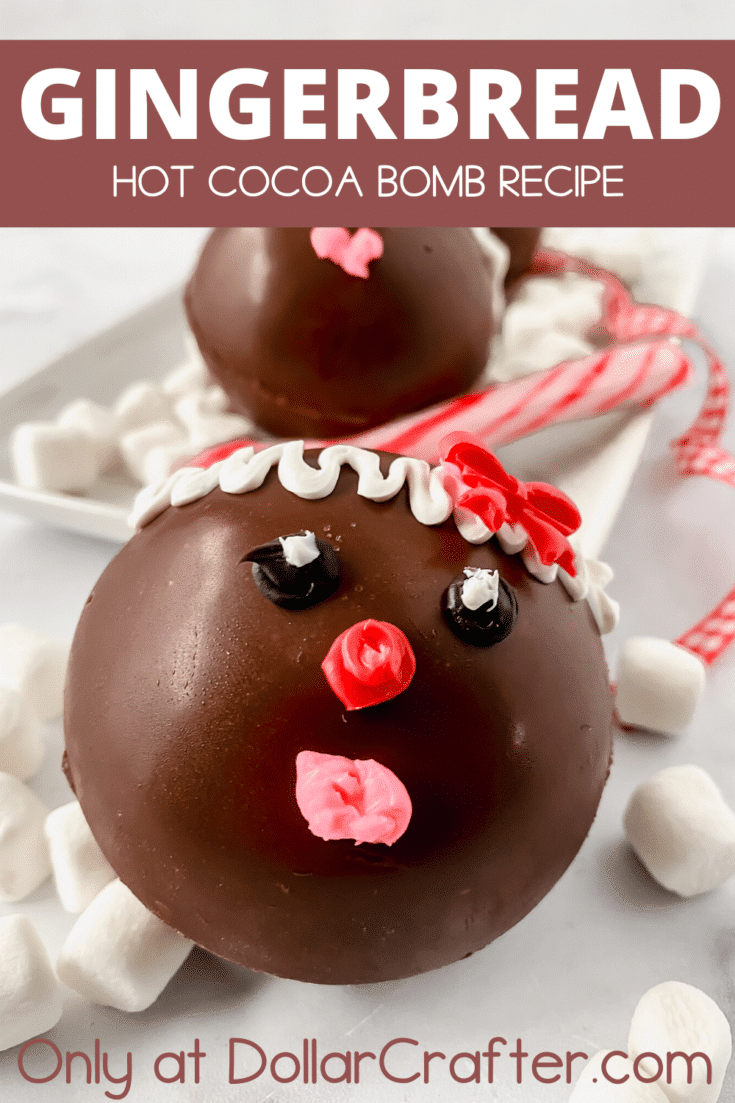 Ingredients
Gingerbread Hot Cocoa Mix Recipe:
1 cup Sugar
½ cup Confectioners Sugar
1 cup Cocoa
1 tablespoon Ginger
½ teaspoon All Spice
¼ teaspoon Cinnamon
Gingerbread Hot Cocoa Bombs:
1/4 cup Brown Candy Melts
1/3 cup Pink Candy Melts
1/3 cup Red Candy Melts
1/3 cup White Candy Melts
1/3 cup Black Candy Melts
Mini Marshmallows
Gingerbread Hot Cocoa Mix
Instructions
Make your gingerbread hot cocoa mix and store in a mason jar. The recipe above will make one full mason jar which is more than you will need to create these hot cocoa bombs. Save extra for yourself, or decorate the mason jar and give as a gift!
Melt candy melts with the microwave power reduced to 50 percent (so you don't burn the chocolate. Stir every 30 secs for 2 mins) if chocolate doesn't fully melt after 2 mins put in on high for 15 seconds.
Spoon into molds. Be sure to completely cover the sides all the way to the top without getting it on the top of the mold.
Freeze for 10 mins. Add an empty plate to the freezer at this time.
Remove molds and carefully peel each dome out set on the plate placed in the freezer earlier.
On half of the domes add 2 tbsp cocoa mix and marshmallows.
To glue them together heat a pan by boiling it in hot water or placing it directly on the stove.
Carefully melt the rims of the top domes and place on the bottom half holding the cocoa mix.
Add the red, white, black, and pink candy melts directly into individual piping bags.
Melt the white and black first. Following the instructions above but leave them in their piping bags.
Pipe a short zig zag line across the top of the face with the white candy melts.
Next add the eyes in black with a white spec.
Then melt the pink and red chocolates same as above.
Pipe a red nose (just a dot).
To create the mouth, pipe a pink heart.
Leave cold until ready to use.
Notes
For more fun Christmas Crafts visit DollarCrafter.com
Please Save This to Pinterest
Your shares are how this site grows, and I am sincerely grateful. Know a friend who'd like this? Please share it on Facebook or save it to your favorite crafts board on Pinterest.