Looking for a great last-minute idea to dress up your Halloween party, then you might want to make some Homemade Witches Brew Chocolate Filled Candy! These chocolate balls are filled with candy and the perfect size to make them look scary but delicious. Excellent as spooky table snacks!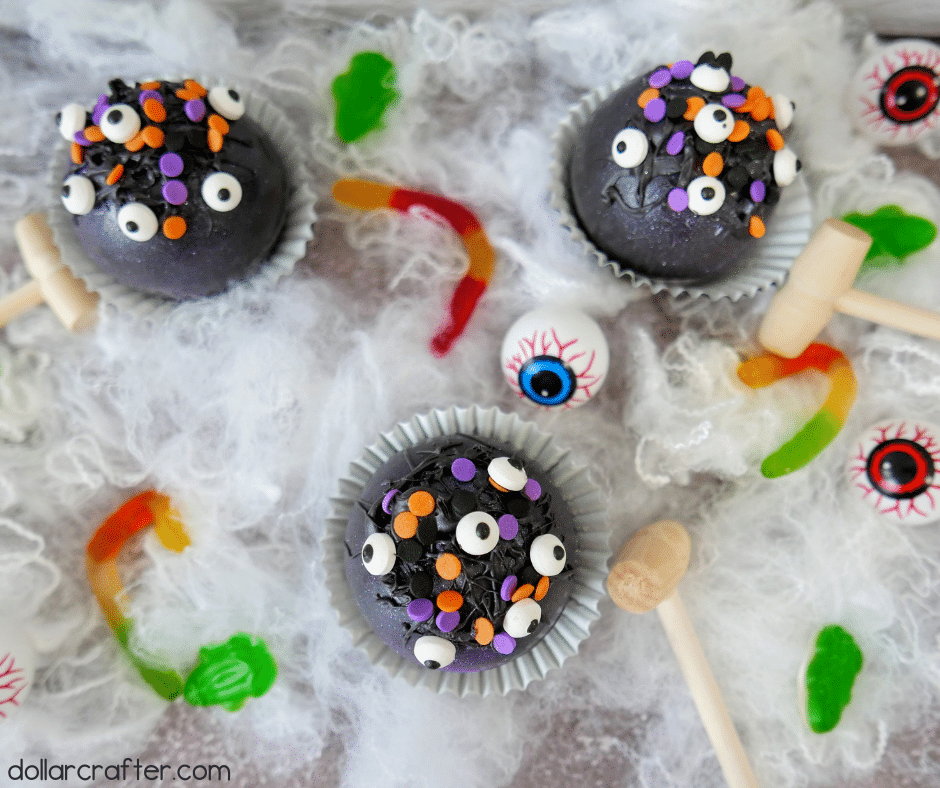 Witches Brew Filled Chocolates
Are you having a Halloween party this year? If so, these Witches Brew Filled Chocolates are perfect for the kids to enjoy. Do you know there are candies in the middle? They're fun to make and eat, no matter how old you are.
If you enjoy making Hot Cocoa Bombs and Bath Bombs, you will love making these filled chocolates.
So go ahead and make your own Witch's Brew Chocolates; you can find the specific ingredient amounts and detailed instructions in the printable recipe at the bottom of this post.
Supplies Needed:
Tips for Making Handmade Filled Chocolates
Here are a few tips that I've learned from making these, hopefully, can help you.
You will be adding glitter to these, so spray the glitter in the mold before you pour the chocolate.
Make sure you use candy melts instead of chips. Microwave the candy melts in the microwave in 30-second intervals. You'll have a smoother melt, which will help when you add the chocolate to the mold.
Make sure to get a thick coat all around the mold because if it is thin, it will break, and that won't be fun. I find using the back of the spoon helps a lot.
Also, add a little more chocolate on the edges because you will need that extra support when putting the chocolate sphere together.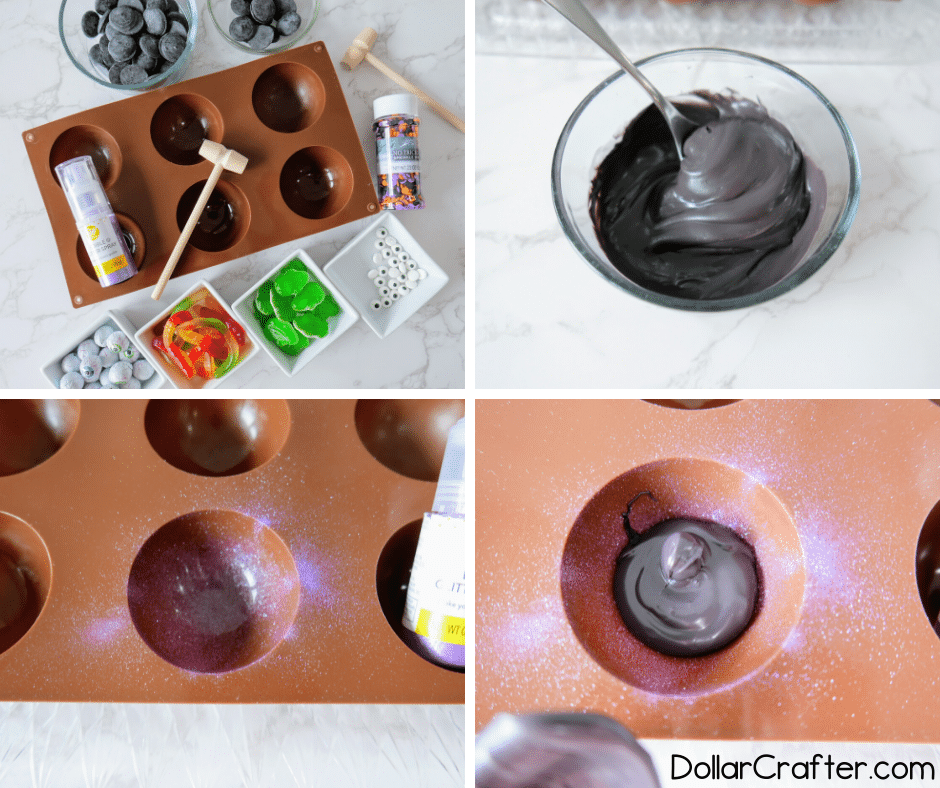 So after you have the chocolate in the molds, it's time to put it in the fridge for a couple of minutes. Then, carefully take them out of the mold and fill half of the balls with your goodies- I highly recommend getting cool but small Halloween candies.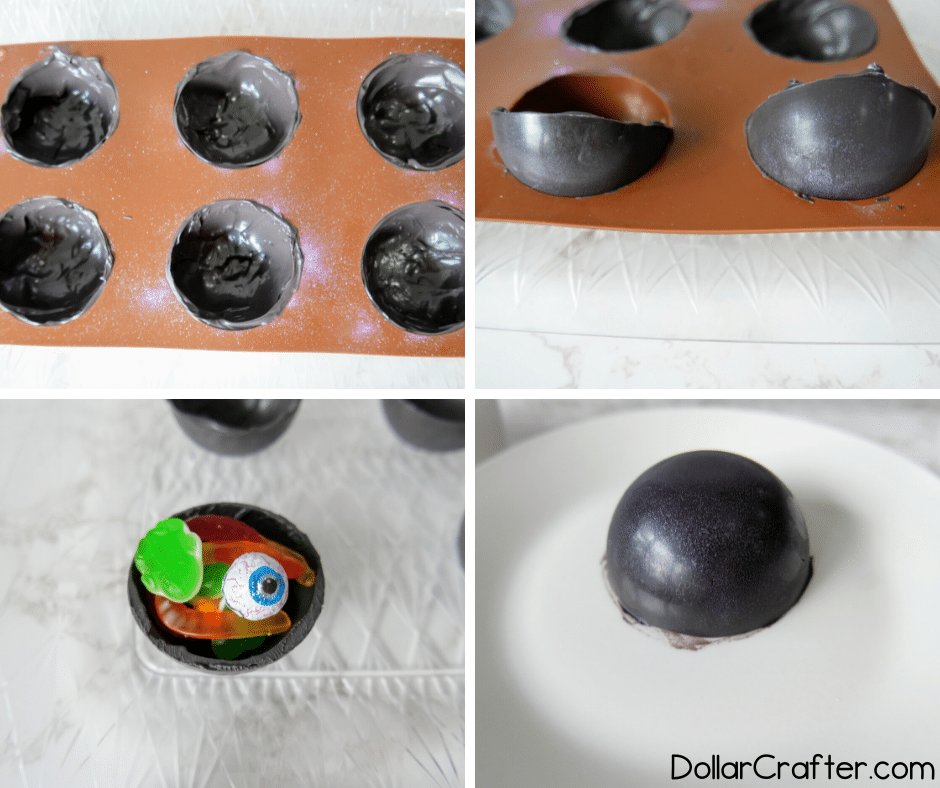 Another tip I want to share is I found that I was leaving fingerprints all over the chocolate. Now that may be okay if making for the family BUT use food-safe gloves to avoid fingerprints.
Place Witches Brew Filled Chocolates in an air-tight container and store them at room temperature to store or gift these. Now I'm assuming these will go fast, but I wouldn't keep them longer than 7-10 days.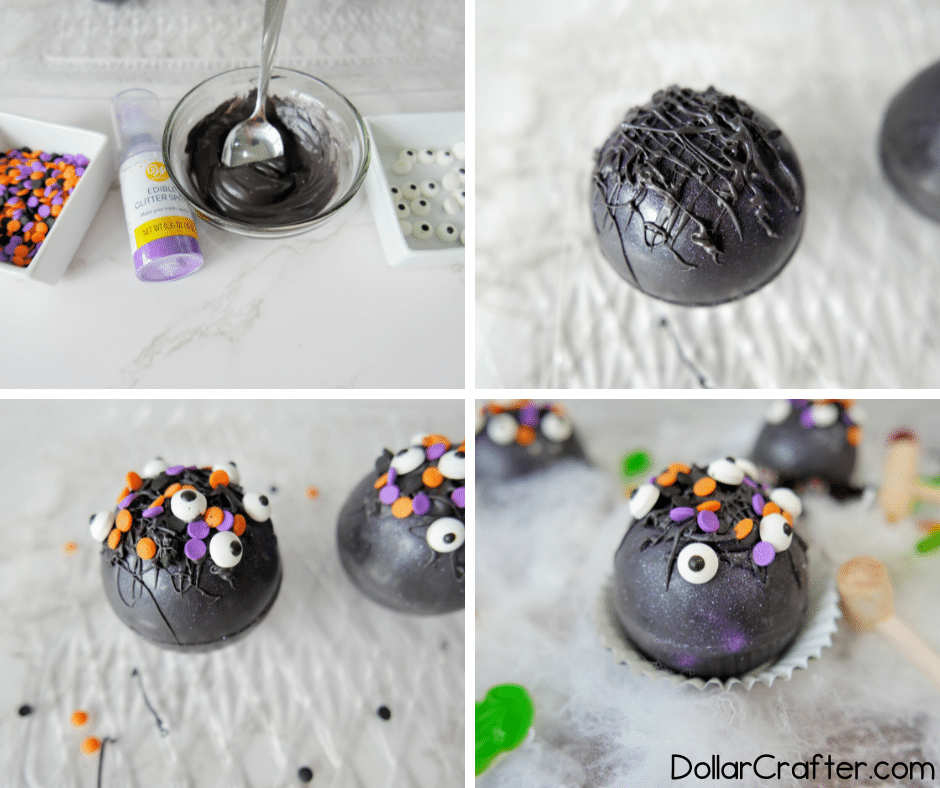 How to Make These Witches Brew Filled Chocolates at Home
Let's get crafting! Below is our written tutorial.
Yield: 3 Filled Chocolates
Witches Brew Crackable Filled Chocolates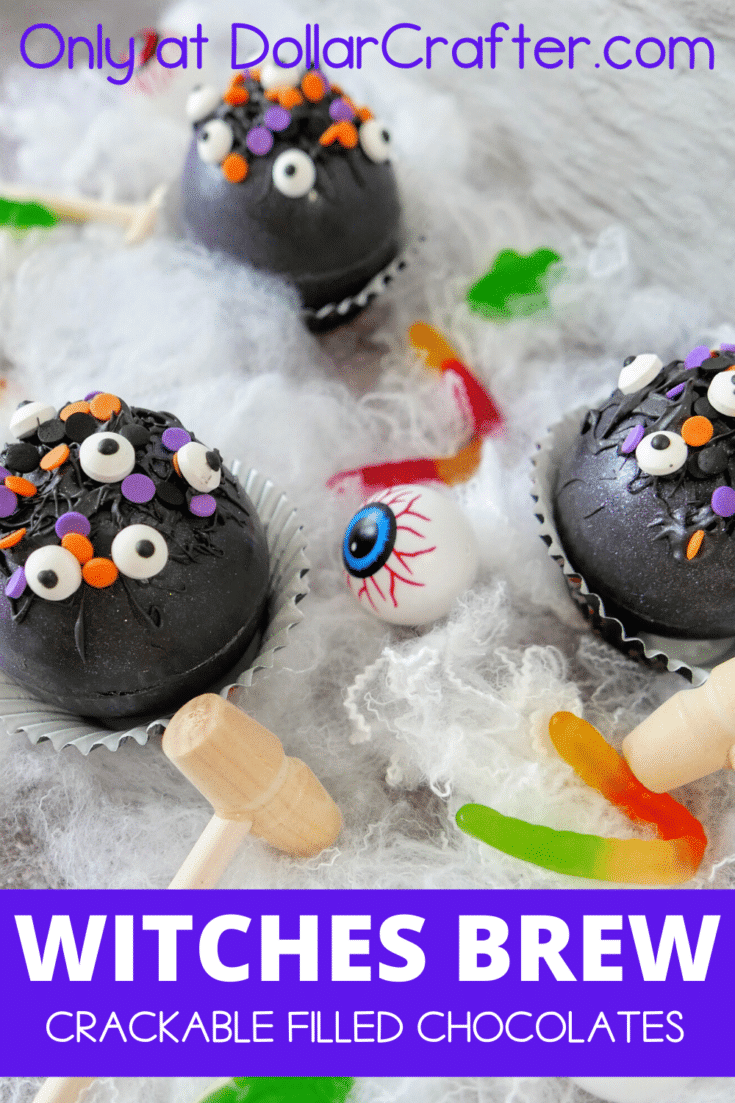 Ingredients
1 ½ + ¼ c black candy melts, divided
Purple Edible Glitter Spray
Silicone Half Sphere Mold
Small Spoon
1 Small Heat Safe Plate
Gummy Worms
Chocolate Eyeball Candies
Gummy Frogs
Candy Eyeball Sprinkles
Black, Orange, and Purple Mixed Sprinkles (or any other spooky/Halloween themed sprinkles)
Small Wooden Mallet
Instructions
Heat 1 ½ c of black candy melts per package instructions, until smooth/creamy. (I heat them in the microwave, but there are instructions on how to melt on the stovetop on the package).
Place the silicone mold on a flat tray or baking sheet, and spray each of the mold openings with the purple edible glitter spray. Cover all over the inside with the glitter.
Next, spoon approximately 1 1/2 tbsp of the melted candy into the molds. Coat the inside of the mold with the back of a spoon. Make sure to make the edges a little thicker, so that they don't break when melding together. If the candy is pooled at the bottom, spread again to evenly coat all sides, or your sphere will be less circular, and more flat on the bottoms from the pooled candy. You also don't want the sides/bottom to be too thick, or it is very difficult to break them open with the mallet.
Place in the refrigerator for 3-5 minutes to set.
Once set, pull the sides gently away from the candy sphere, and push up from the bottom to release the candy.
Place a small heat safe plate in the microwave, and heat for approximately 20 seconds. Place one of the empty candy halves open side down on the plate, and twist slightly to melt the edges.
Fill the half with gummy worms, chocolate candy eyeballs, and gummy frogs.
Place another candy half on the plate, twist to melt the edges a little, and then immediately place onto one of the candy filled halves, and twist again slightly to close. If you have any gaps, you can heat a spoon in warm water, and then rub across the seams to slightly melt together, or you can rub with your finger. Repeat this process until you have 3 filled candy spheres.
Next, melt the remaining ¼ c of black candy melts the same as you did in step 1. Use a spoon, drizzle the candy melts back and forth onto the spheres.
Spray additional purple edible glitter onto the drizzles, and then immediately add the eyeball sprinkles and black, orange, and purple sprinkles. The black candy melts harden quickly, so you may need to add additional drizzles.
Let set for another 3-5 minutes.
When you are ready to enjoy, just tap with a small wooden mallet until the candy cracks open.
Notes
For more fun Halloween Crafts visit DollarCrafter.com
Please Save This to Pinterest
Your shares are how this site grows, and I am sincerely grateful. Know a friend who'd like this? Please share it on Facebook or save it to your favorite crafts board on Pinterest.