Are you tired of the same old cleaning routine? Well, put on your dancing shoes and get ready to shake things up! Today, we're going to show you how to make a DIY citrus cleaner that will have your home feeling fresher than a fruit salad at a summer picnic.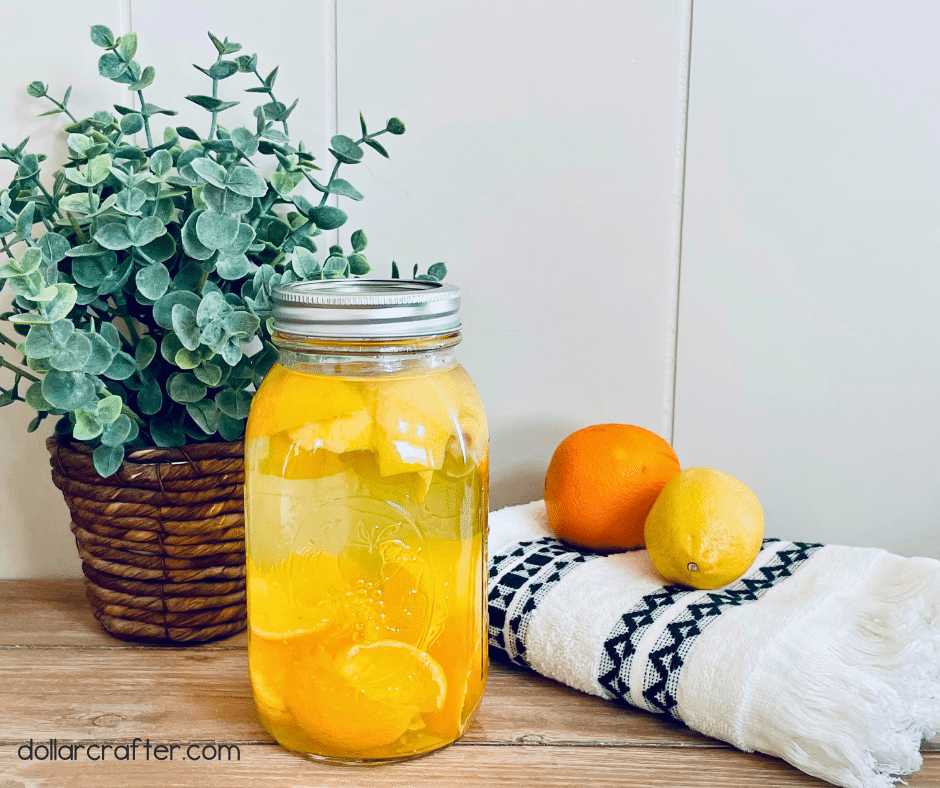 With just a few simple ingredients and a little bit of patience, you'll be able to transform your cleaning game from boring to totally groovy. So, let's get started and let the citrusy fun begin!
DIY Citrus Cleaner
Alright, let's gather up our supplies and get this citrus party started! Don't worry, there's no need to go to the grocery store – you probably have everything you need already in your kitchen. Just grab those citrus peels you were about to throw away and let's turn them into something magical.
We'll also need some distilled vinegar, a mason jar (or any glass container that can be sealed), and maybe some funky tunes to dance to while we wait.
Supplies:
Citrus peels (we recommend using oranges, clementines, and lemons)
Distilled Vinegar
Mason Jar or any glass container that can be sealed
That's it! You don't need any fancy equipment or hard-to-find ingredients. Plus, using citrus peels and vinegar means you're repurposing things that would have otherwise gone to waste, making this project both economical and eco-friendly. So, let's get started and turn those kitchen scraps into a powerful cleaning solution!
Tips for Making Homemade Cleaner with Orange Peels
Before we get into the cleaning nitty-gritty, let's talk about some tips to make the most out of your DIY citrus cleaner. After all, we want you to have a blast while cleaning and get the best results possible!
Let your citrus peels soak for at least a week before using the cleaner. We know, waiting is hard, but trust us – it's worth it. The longer the peels soak, the more potent the cleaner will be. So, put on your patience pants and let those peels work their magic.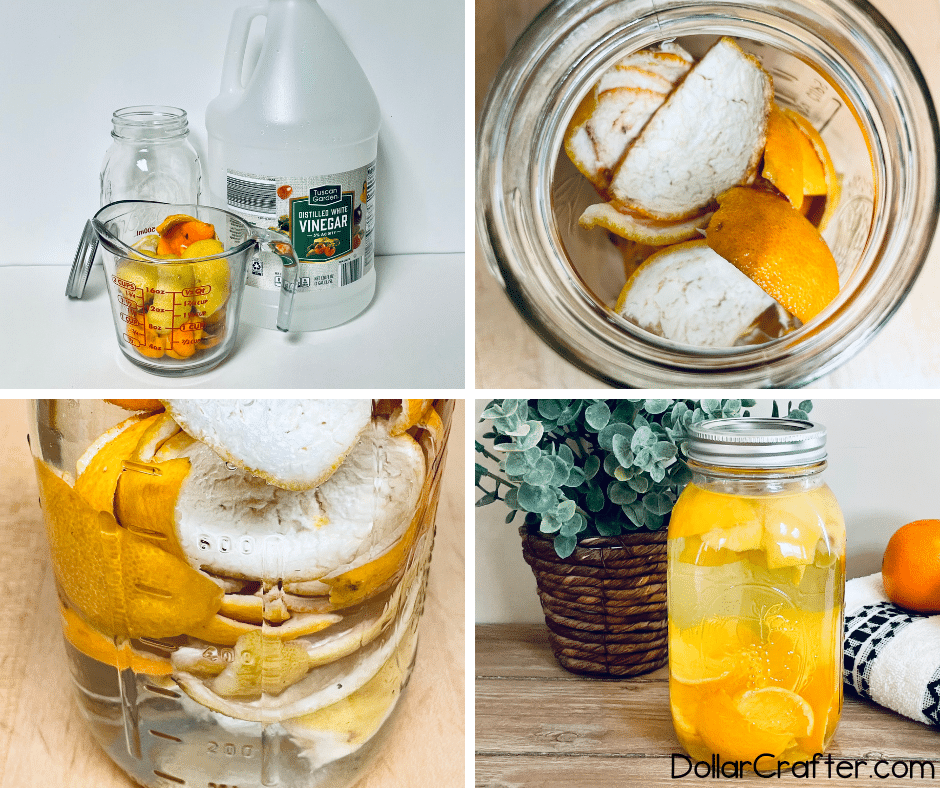 If you're feeling extra fancy, add some herbs or spices to your citrus cleaner. We love adding a sprig of rosemary or a cinnamon stick to give our cleaner a little extra pizzazz. Plus, it smells amazing!
Don't forget to label your DIY cleaner! We've all been there – you make something and then forget what it is a few weeks later. Avoid confusion by labeling your citrus cleaner with the date and ingredients. Bonus points for adding a fun name, like "Citrus Squeeze" or "Orange You Clean!"
Shake it up! Before using your citrus cleaner, give it a good shake to make sure all the ingredients are mixed together. It's like a little dance party for your cleaning solution.
Use your citrus cleaner on just about anything! From countertops to floors to windows, this all-natural cleaner can handle it all.
How to Make Cleaner with Orange Peels
Ready to get crafting? You will find the full tutorial below!
Yield: 1 Mason Jar of Citrus Cleaner
Homemade Vinegar and Orange Peels Cleaner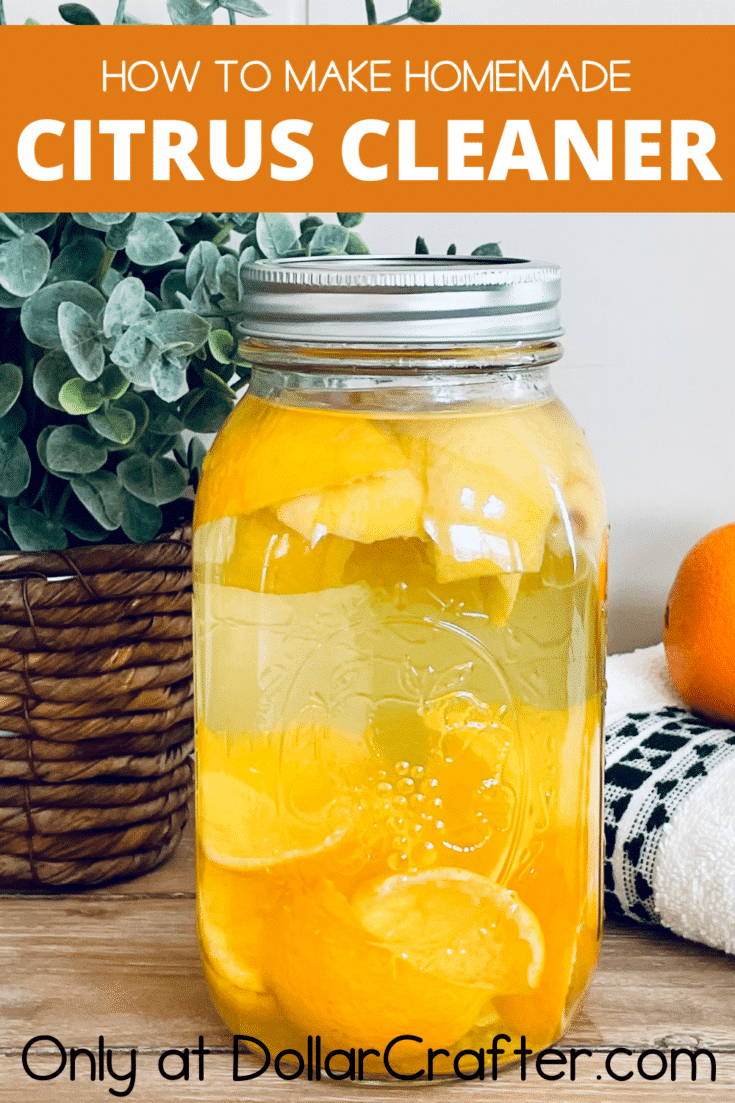 Total Time
7 days
5 minutes
Materials
Citrus peels (we recommend using oranges, clementines, and lemons)
Distilled Vinegar
Mason Jar or any glass container that can be sealed
Instructions
First, gather your citrus peels and place them in your mason jar or glass container. Fill the jar with the peels, but leave a little bit of room at the top.
Next, pour distilled vinegar over the citrus peels until the jar is completely full. Be sure to cover all the peels with vinegar.
Seal the jar tightly with a lid and give it a good shake to mix everything together.
Now, the hard part - let the jar sit for at least a week. You can put it in a cool, dark place like a cabinet or pantry. The longer you let it sit, the more potent the cleaner will be.
After a week (or longer), strain the mixture into a spray bottle or another glass container. You can use a cheesecloth or fine mesh strainer to separate the citrus peels from the vinegar.
If you're in a hurry, you can speed up the process by simmering the citrus peels and vinegar in a pot on low heat for about 25 minutes. Just be sure to let it cool completely before using or transferring to a spray bottle.
Your DIY citrus cleaner is ready to use! Simply spray it on any surface and wipe clean with a cloth. Enjoy the fresh citrusy scent and the satisfaction of using an all-natural cleaner that you made yourself.
Notes
For more fun DIY ideas visit DollarCrafter.com
Please Save This to Pinterest
Your shares are how this site grows and I am sincerely grateful. Know a friend who'd like this? Please share it on Facebook or save it to your favorite crafts board on Pinterest.