Are you tired of using boring old bleach to brighten up your laundry? Well, get ready to shake things up with a DIY bleach alternative that will not only make your clothes look great, but also make you feel like a mad scientist in the process.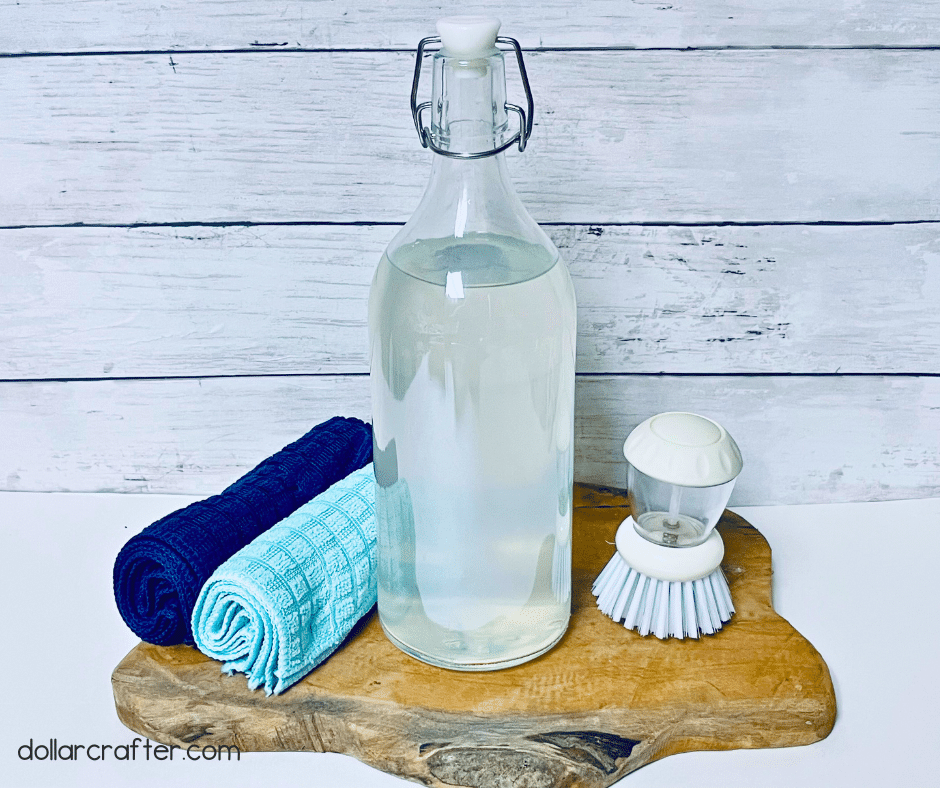 With just a few simple ingredients and a sense of adventure, you can ditch the store-bought bleach and create your very own concoction that will have your whites whiter than ever before. So, put on your lab coat (or apron, if you prefer) and let's get mixing!
Homemade Bleach Alternative
But before we get too carried away with our experimental excitement, let's make sure we have all the necessary supplies on hand. Don't worry, you won't need any fancy equipment or rare ingredients – just a few basic items that you likely already have in your kitchen. So, grab your measuring cup and tablespoon, and let's gather our supplies for this DIY bleach alternative.
Supplies:
Measuring cup
Tablespoon
Hydrogen peroxide 3% (you can find this at your local drugstore or dollar store)
Lemon juice (freshly squeezed or bottled works)
Jar or larger glass bottle to store your mixture
Tips for Making a Natural Bleach Alternative
When making your DIY bleach alternative, it's important to have fun and enjoy the process. To get into the spirit of things, why not wear your "mad scientist" outfit? Whether it's a lab coat, goggles, or an apron, dressing up can make the experience more playful and enjoyable.
Feeling adventurous? Try experimenting with different citrus juices like lime or grapefruit for a fun twist on the original recipe. Who knows, you might even stumble upon a new favorite scent for your laundry!
If you want to add a touch of scent to your laundry, consider adding a few drops of your favorite essential oil to the mixture. This will give your clothes a natural and refreshing aroma, without the synthetic fragrances found in commercial laundry products.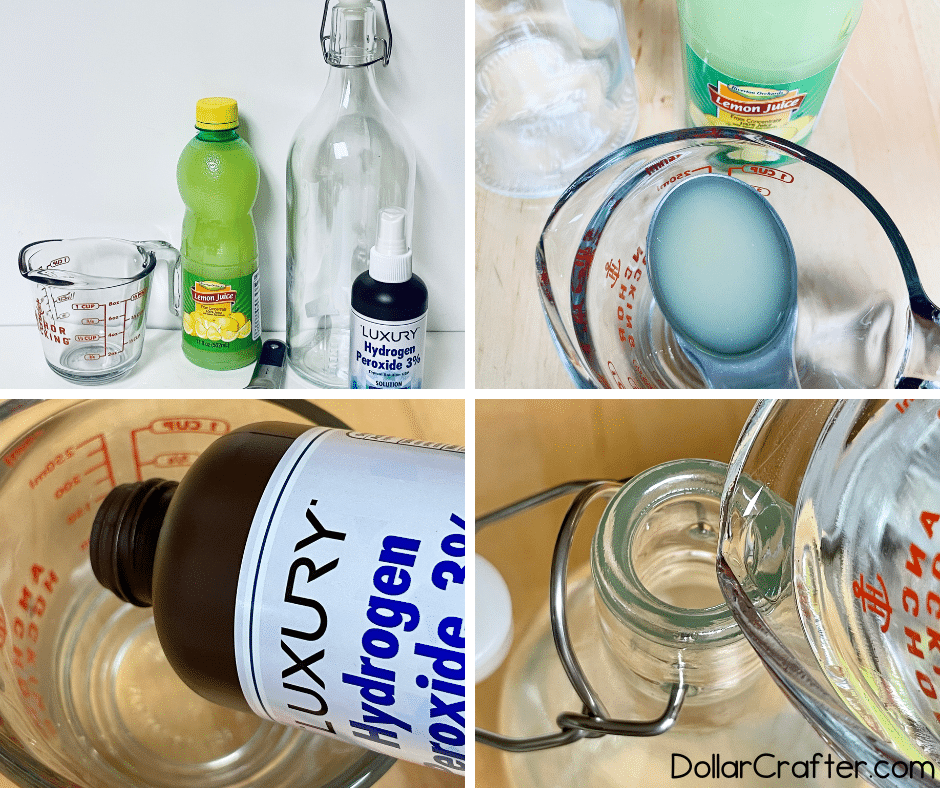 Don't forget to give your mixture a fun and creative name! How about "Brighter Days Ahead" or "Brighten Up Your Life"? Get creative and have fun with it.
And last but not least, remember to have fun and enjoy the process of creating your very own natural bleach alternative. You're doing something good for your clothes and the environment, so give yourself a pat on the back and enjoy the fresh scent of your newly cleaned laundry!
How to Make a Homemade Bleach Alternative
Ready to get crafting? You will find the full tutorial below!
Yield: 1 Quart
Homemade Bleach Alternative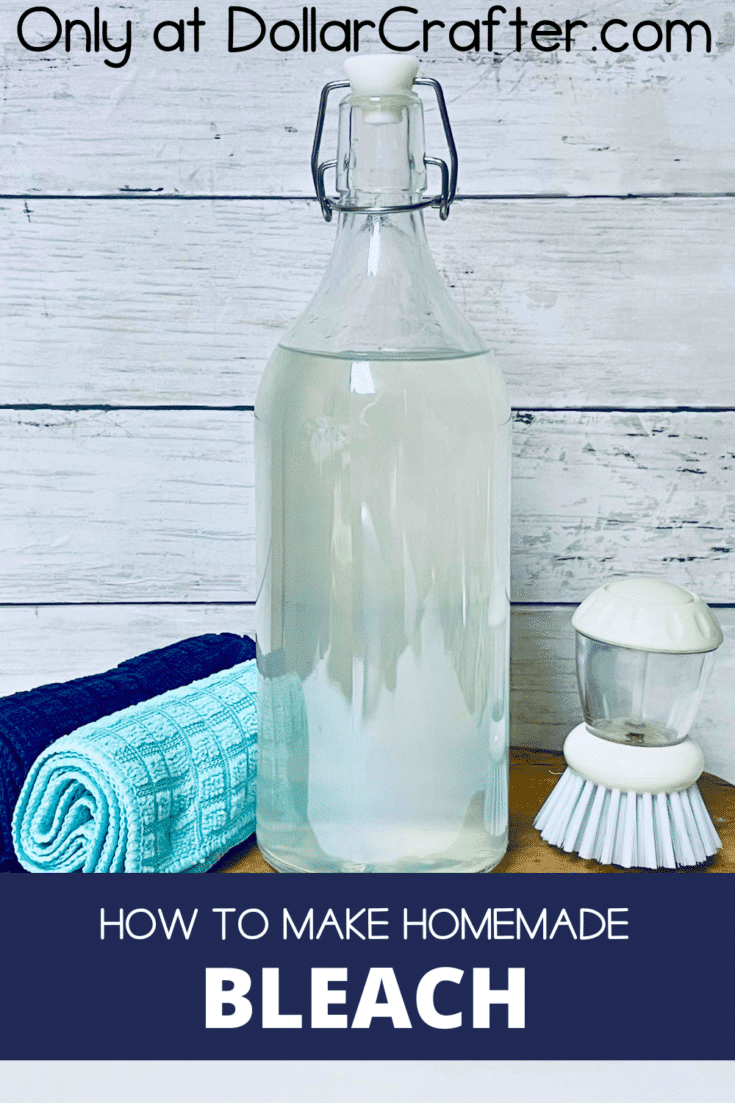 Materials
Hydrogen peroxide 3%
Lemon juice (freshly squeezed or bottled)
Tools
Measuring cup
Tablespoon
Glass jar or bottle to store the mixture
Instructions
In a glass jar or bottle, combine ½ cup of hydrogen peroxide, 2 tablespoons of lemon juice, and 3.5 cups of water.
Stir the mixture well to combine all the ingredients.
Your DIY bleach alternative is now ready to use!
For best results, use the mixture as you would normally use bleach in your laundry. Add it to the wash cycle along with your laundry detergent.
Remember to store your mixture in a cool, dark place to preserve its potency and effectiveness.
For larger quantities, simply multiply the ingredients by 4 to make a gallon.
Notes
For more DIY ideas visit DollarCrafter.com
Please Save This to Pinterest
Your shares are how this site grows and I am sincerely grateful. Know a friend who'd like this? Please share it on Facebook or save it to your favorite crafts board on Pinterest.