Are you looking to add some charming rustic vibes to your home decor without breaking the bank? Look no further than this DIY farmhouse shovel wreath! With just a few supplies from the Dollar Tree, you can transform a simple plastic kids' shovel into a beautiful wreath that will add a touch of rustic chic to your home.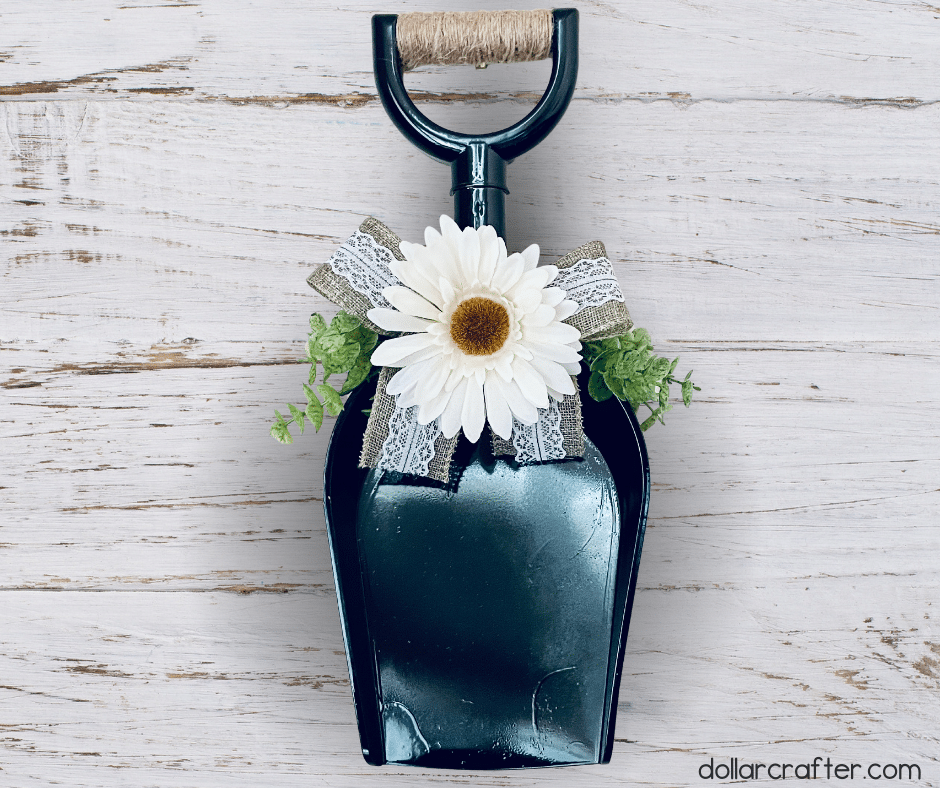 DIY Rustic Farmhouse Shovel Decor
But before we dive into the step-by-step instructions, let's gather up the supplies you'll need to make this charming farmhouse shovel wreath. The best part? All of the supplies can be found at your local Dollar Tree, making this a budget-friendly craft project that's perfect for any DIY enthusiast!
Supplies:
Large Kids Plastic Shovel (Dollar Tree)
Faux Eucalyptus (Dollar Tree)
Burlap Ribbon (Dollar Tree)
Faux White Gerbera Daisy Bunch (Dollar Tree)
Twine
Black Spray Paint
Hot Glue Gun and Glue
Zip Ties
Scissors
Tips for Making a Farmhouse Shovel Wreath
Here are some tips to keep in mind as you create your DIY farmhouse shovel wreath. First and foremost, consider your color scheme. You can choose any color that suits your home decor. Experiment with metallic hues, white, or gray to create a different look. You can also choose different colors for your bow and flower accents.
Using a strong adhesive is important to ensure that your wreath stays together over time. While hot glue works great for this project, you may also want to consider using a stronger adhesive like E6000 for added durability.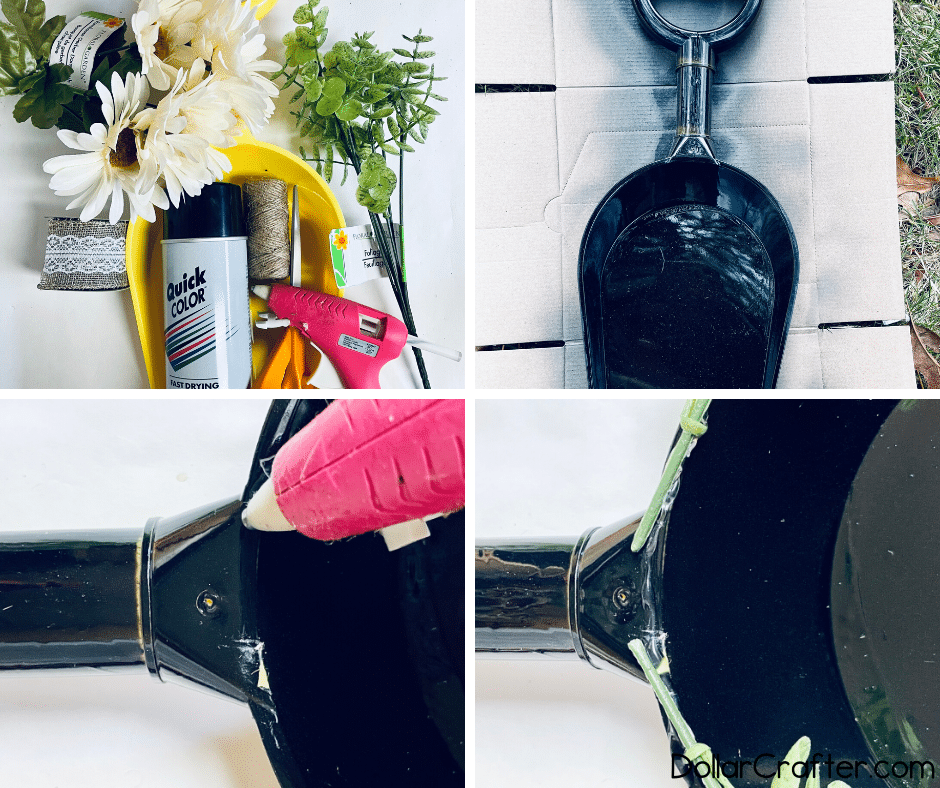 Be patient as you work through the project. Allow ample time for the spray paint to fully dry before adding any other elements to the shovel. Rushing this step may cause the paint to smudge or chip.
Get creative with your accents! While we used eucalyptus and gerbera daisies, feel free to use other faux flowers or greenery that you love. You can also add other accents like ribbon, or even small decorative signs to make your wreath uniquely your own.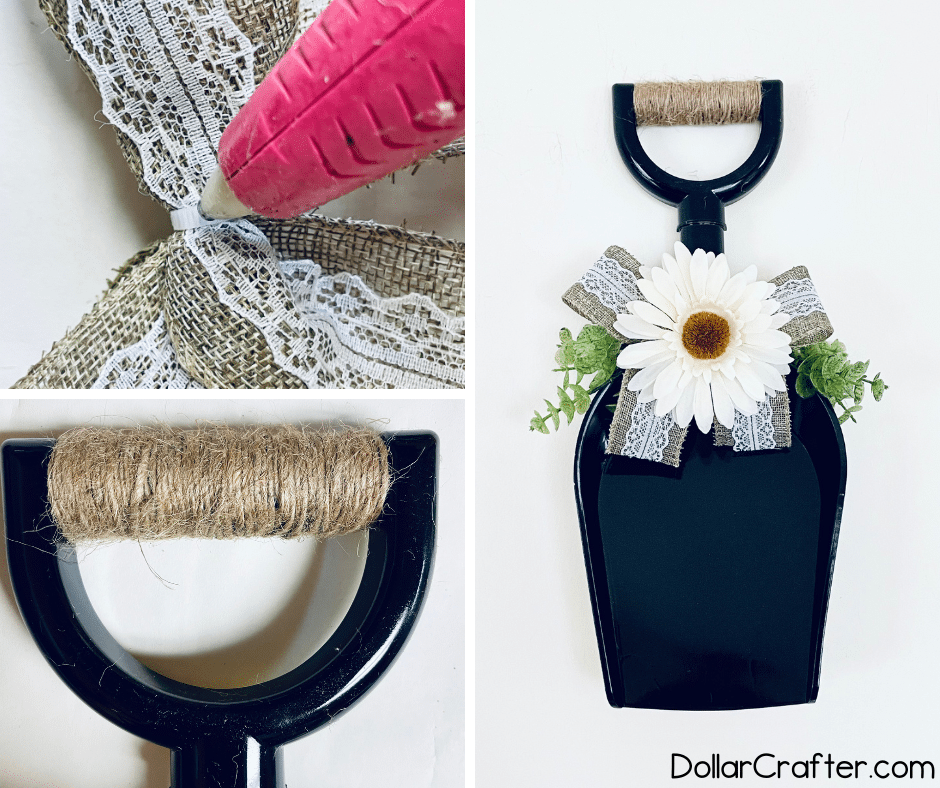 Finally, don't be afraid to experiment. This DIY project is all about letting your creativity shine! Try out different techniques or add your own personal touches to make your farmhouse shovel wreath a true reflection of your style.
How to Make a Rustic Farmhouse Shovel Wreath
Ready to get crafting? You will find the full tutorial below!
Yield: 1 Rustic Farmhouse Shovel Wreath
Rustic Farmhouse Shovel Wreath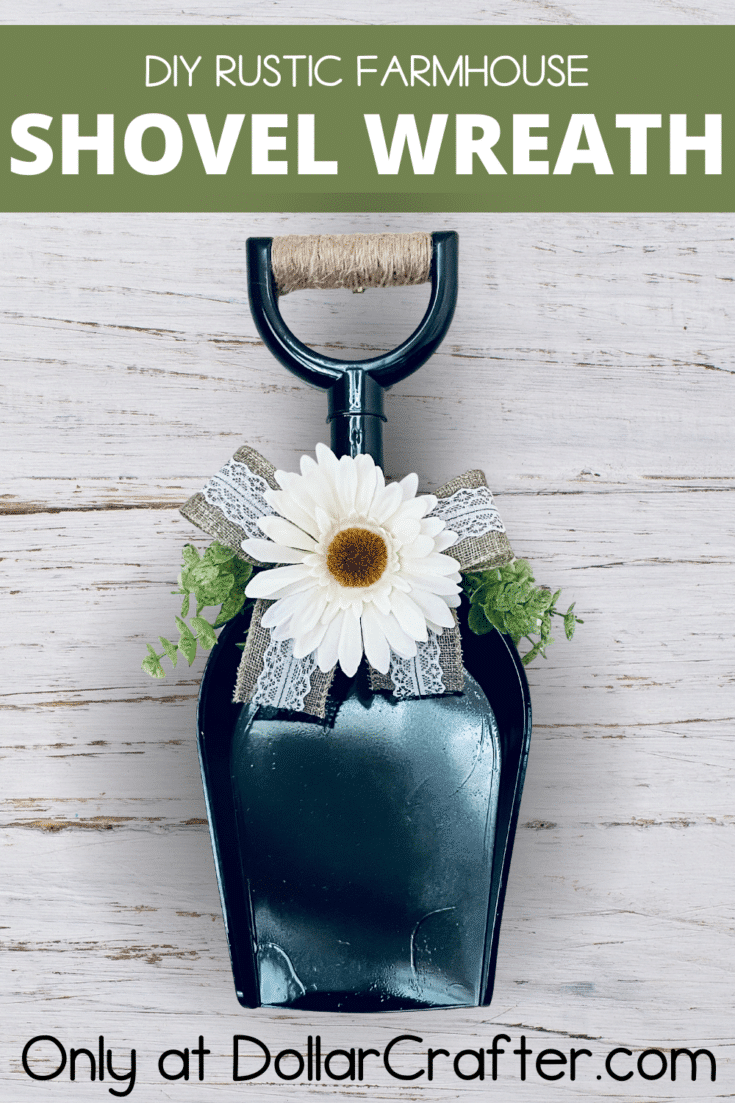 Materials
1 Large Kids Plastic Shovel
Black Spray Paint
Faux Eucalyptus
Faux White Gerbera Daisy
Burlap Ribbon
Twine
Zip Ties
Tools
Hot Glue Gun and Glue
Scissors
Instructions
Gather your supplies.
Start by applying 2 coats of black spray paint to the shovel. Allow the paint to dry completely.
While the paint is drying, create a bow with the burlap ribbon. To do this, take 12 inches of the ribbon and create 2 loops. Secure the loops together in the middle with a zip tie, then cut the ends of the bow to the length you prefer.
Once the paint is dry, add a line of hot glue to the shovel and attach a few pieces of the eucalyptus to both sides of the shovel.
Next, add some hot glue to the bow and attach one of the gerbera daisies to it. Then, add some hot glue to the backside of the bow and press it firmly onto the shovel.
For the handle of the shovel, add a dab of hot glue to the top and start wrapping the twine around the entire handle, ensuring to cover it completely. Cut the end of the twine and use a dab of hot glue to secure it in place.
Once everything is attached, fluff and adjust the bow and flowers as needed to create your desired look.
Finally, add a ribbon or hook to the back of the shovel to hang it up as a wreath.
Notes
For more fun crafts visit DollarCrafter.com
Please Save This to Pinterest
Your shares are how this site grows and I am sincerely grateful. Know a friend who'd like this? Please share it on Facebook or save it to your favorite crafts board on Pinterest.