It's that time of year again where the Easter bunny will be making an appearance and leaving candy and eggs all around. Why not add a little bit of your own flavor to this tradition by dyeing your Easter eggs with Kool-Aid? It's simple, easy, and most importantly, fun. So gather up the kiddos and get ready to have some colorful Easter eggs to show off!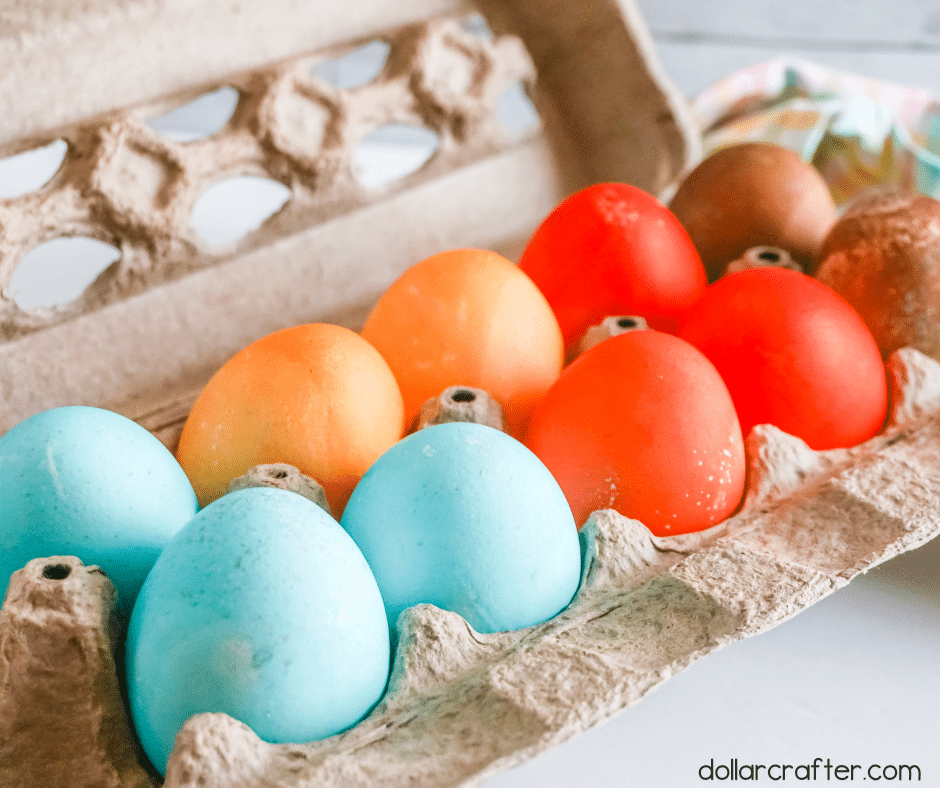 Can You Dye Easter Eggs with Kool-Aid?
You might be surprised to learn that you can actually dye Easter eggs with Kool-Aid! Making Kool-Aid egg dye is a great activity to do with kids, as it's easy and doesn't require any special ingredients or equipment. Plus, it's a lot of fun! Here's what you'll need:
Supplies:
4-5 Packages of Kool Aid
2 ½ cups Water
12 Boiled Eggs, fully cooled
Paper Towels
Bowls
Spoons
Tips on How to Dye Eggs with Kool Aid
It's really simple to dye Easter eggs with Kool-Aid! Simply follow these easy instructions and tips, and you'll be done in no time!
What's in Kool-Aid that makes it easy to dye Easter eggs?

Kool-Aid contains two key ingredients that make it perfect for dyeing Easter eggs:

Food coloring – This is what actually dyes the eggs.
Citric Acid – This helps the food coloring to attach to the eggshell.
Do you need vinegar to dye eggs with Kool-Aid?

No, you don't need vinegar! The acid in the Kool-Aid is enough to help the food coloring dye the eggs.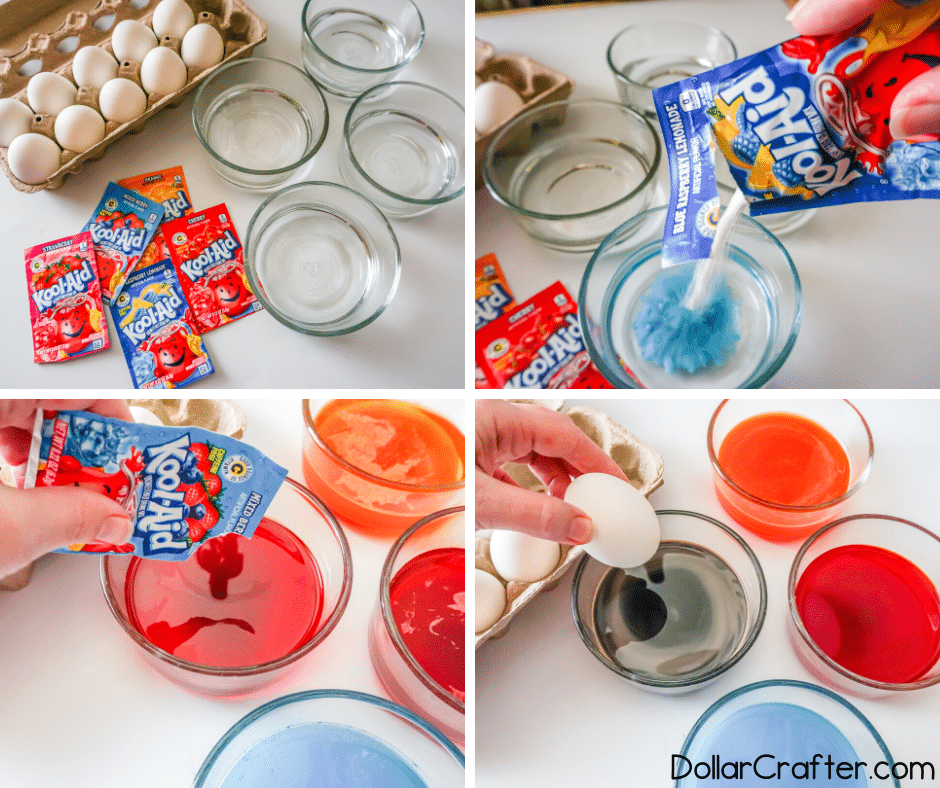 How long does it take to dye eggs with Kool-Aid?

It only takes a few minutes to dye the eggs once they're in the Kool-Aid mixture. However, you will need to let your Kool-Aid Easter eggs sit in the fridge or on a paper towel for a bit so that the eggs can completely dry.
Can you dye eggs with Jello powder?

Yes, you can use Jello powder to dye eggs! Simply follow the same instructions as below with one tablespoon of vinegar added to your dye soak to make Jello dyed Easter Eggs.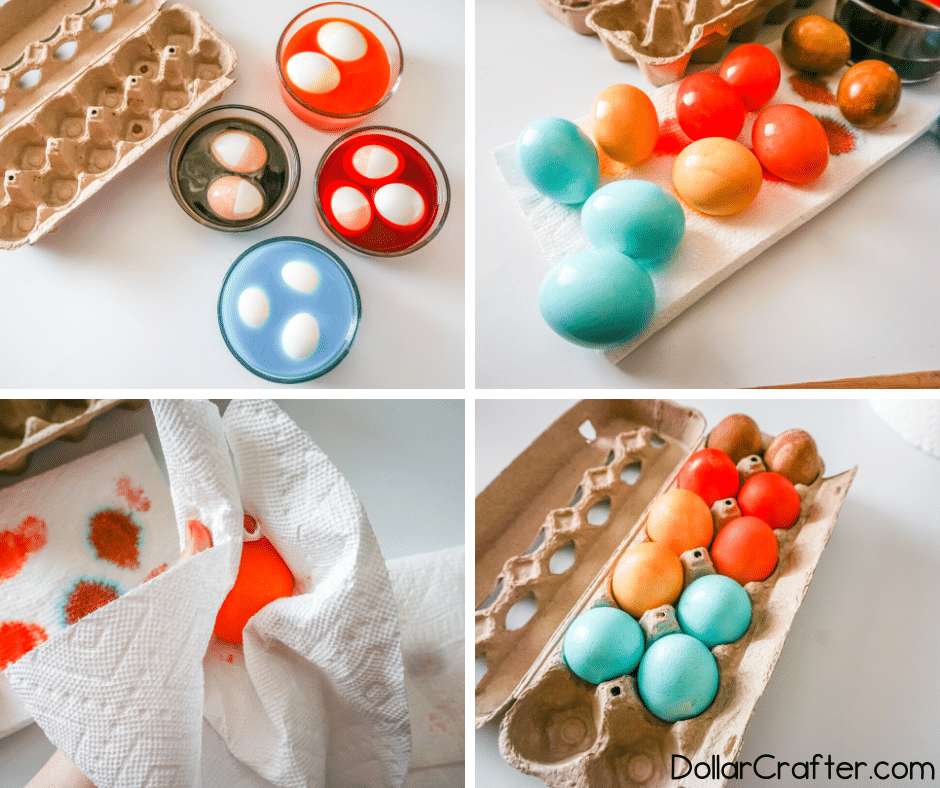 How to Make Kool-Aid Egg Dye
Ready to get crafting? You will find the full tutorial below!
Yield: 12 Dyed Easter Eggs
Kool-Aide Dyed Easter Eggs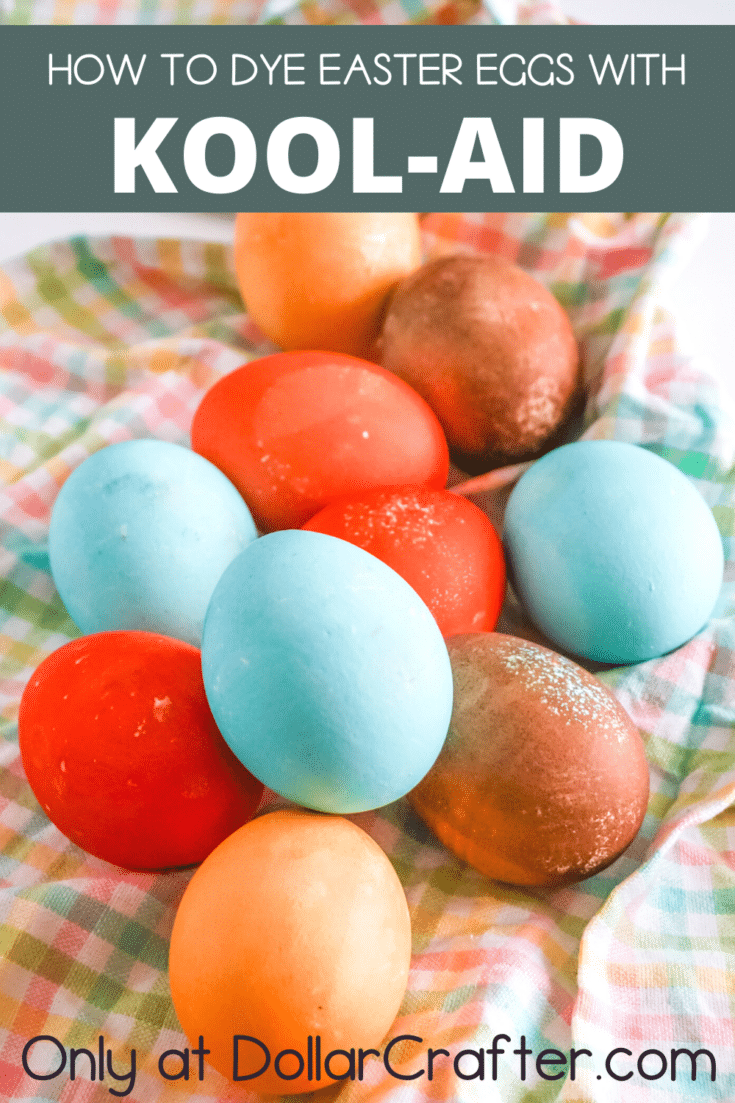 Materials
4-5 Packages of Kool Aid (I used orange, 2 red, and 2 blue)
2 ½ cups Water
12 Boiled Eggs, fully cooled
Tools
Spoons
Bowls
Paper Towels
Instructions
Hard boil eggs.
Place ⅔ cups of water into 4 separate bowls.
Add 1 package of Kool Aid to each bowl, mixing two of the colors, if desired.
Stir each bowl with a clean spoon to ensure that the Kool Aid is fully dissolved.
Place 2-3 eggs in each bowl.
Rotate the eggs in the water every 2-3 minutes.
Remove the eggs from the Kool Aid water and allow them to dry completely, then hide!
Notes
For more fun Easter crafts visit DollarCrafter.com
Please Save This to Pinterest
Your shares are how this site grows and I am sincerely grateful. Know a friend who'd like this? Please share it on Facebook or save it to your favorite holiday crafts board on Pinterest.